Established in 2011, SPEAKeasy Spirits is an artisan distillery nestled in the Historic Nations neighborhood of Nashville, Tennessee. The distillery offers private labeling, bottling, rectifying and processing services to the alcohol beverage industry.
SPEAKeasy Spirits' Whisper Creek® Tennessee Sipping Cream® is the distillery's flagship brand. Recognizing niches as well as creating new categories such as Tennessee Sipping Cream® will build a unique and highly sought after portfolio for SPEAKeasy Spirits.  Tastethedram spoke to Jeff Pennington, the co-founder of Speakeasy Spirits.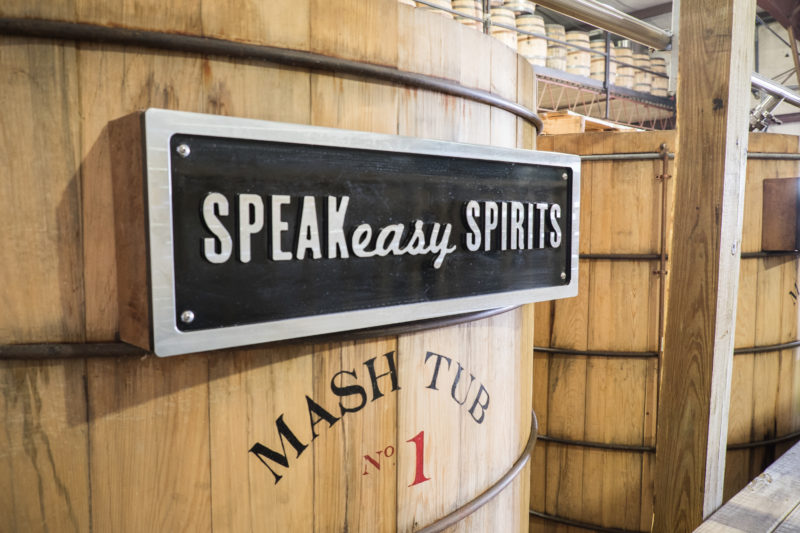 Jeff, tell us a bit about yourself. What were you doing before you got into Spirit Distillation?
JP: After college, I began my career in the spirits industry with a Nashville based wine and spirits distributor. I started as a merchandiser and worked my way to sales.  I feel lucky to have found the industry I am still passionate about today at such a young age.  
Tell us about how you got started at SPEAKeasy Spirits Distillery? What was your vision for the Distillery. Does the name have any meaning?
JP: I left my job at Horizon Wine & Spirits to start my own software company that catered to the wine and spirits industry.  A few years later, I was approached by a much larger company that later purchased this business.  At this time (2009/2010) the laws were changing in Tennessee allowing new distilleries to open. Since I had some money from the sale of my company, I thought this was a great opportunity to get back to what I love the most, spirits. I was able to successfully receive a distillery permit and SPEAKeasy Spirits was born.
Can you give us an idea of a typical day for you at Speak Easy Distillery?
JP: SPEAKeasy Spirits had grown to employ 20 people in the last 6 years.  We distill 2 shifts a day, 6 days a week.  We also formulate, blend and bottle all of our spirits in-house. In addition, we have a sales team and a marketing team. A typical day consists of a lot of moving parts but we all work together to achieve our goals.  Our team is made up of hard working, smart individuals that truly take pride in their craft and enjoy creating brands that are distributed around the country. Many of our employees live right here in the same neighborhood as the distillery so overall, it just feels like a family business.
What type of Whiskey Expression(s) do you currently produce?
JP: We produce 3 proprietary whiskeys that are currently aging and not for sale yet.  We will release our 100% straight rye late this year or early next.  The Tennessee Whiskey and the Tennessee Bourbon will be released in 18 months and will have been aged at least 4 years.
*100% Tennessee Straight Rye Whiskey – 100% Tennessee White Cereal Rye
*Straight Tennessee Bourbon – 60% Tennessee White Corn / 18% Tennessee Red Winter Wheat / 22% Malt
*Straight Tennessee Whiskey – 70% Tennessee White Corn / 25% White Cereal Rye / 5% Malt / Charcoal Mellowed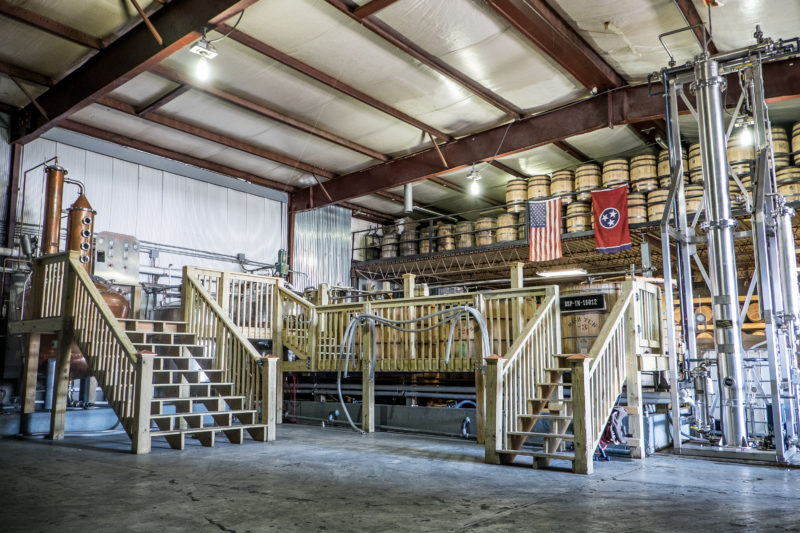 Does the geographic location and the climate affect the maturation process of your whiskey? If so, how.
JP: Yes. Tennessee is an ideal place to make whiskey for several reasons. One reason is that we are the most cavernous state in the US which provides us with great limestone water which we use to cut our whiskey and other spirits we make here. Another benefit is our climate.  We experience all 4 seasons which helps our whiskey age to perfection.  The hot summers and cold winters make the whiskey barrels expand and contract, moving the whiskey in and out of the barrels and providing them with delicious flavor that the American white oak barrels impart. We work with local farmers to purchase high quality grain that we use in our recipes which is also grown in the great state of Tennessee.
What challenges did you see when you began distilling whiskey (if any) that others can learn from?
JP: We learn things every day. That is why I love what I do.  Although we face new challenges, we find solutions that make us consistently stronger. So many factors can vary.  For example, when you cook a mash, the outside temperature can affect it so we have to adjust things on our end to make our product as consistent as possible despite nature's impact.
In your opinion which characteristic of SPEAKeasy Spirits, most distinguishes it, specifically from other Whiskey's in the market?
JP: We believe that you can't cheat time.  We have worked hard to create 3 proprietary whiskey expressions that are tasting great and we believe consumers will agree.  It is important to us that when our straight whiskeys come to market that we know that every grain was milled, cooked, fermented, distilled and aged all here at SPEAKeasy Spirits Distillery.  We are very proud of that.
Do you have any role models in this industry?
JP: Yes. Since the beginning of my career in this industry I have made a lot of connections with different suppliers/producers and continue to learn from them.  I have been lucky enough to have the former owner of Horizon Wine & Spirits, Tommy Bernard (my first employer), come on as my partner at SPEAKeasy. Tommy is a great mentor and friend and I enjoy his energy and passion for this industry.
Do you remember you first dram? Is there a story behind it.
JP: The day we filled our first barrel was very special.  We all came together and watched and then signed the barrel.  It was exhilarating to know that there would be many more to come but provided me a feeling of satisfaction knowing that we had taken the first step on this journey.  The first barrel was filled with our Tennessee Whiskey and although it is still aging, I check on it from time to time to see how it is evolving. 
Can you walk us through the distilling process of your whiskey, from grain to glass briefly.
JP: From grain to bottle, every step is taken to produce spirits of exceptional craftsmanship and quality. We begin by sourcing local grains from Renfroe Farms in Huntingdon, Tennessee. Our Tennessee white corn, red winter wheat and rye are all milled on-site at the distillery before we begin the cooking process. Pennington Whiskey is crafted using non-GMO Tennessee white corn that naturally contains a high starch content resulting in a higher yield of fermentable sugar. Although this method can be costly, we feel that it produces a higher quality spirit. Steam inject cook it.
We use a unique steam injection process for a premium quality cook. The fermentation process takes place in open wood fermenters to maximize the florafonna. We then double-distill the whiskey in our copper pot still. The bourbon and rye whiskeys go directly into the barrels after that. The Tennessee Whiskey is first double-mellowed through the Tennessee sugar maple before it is then put in the barrel. All of our whiskey is stored in 53-gallon white American oak barrels. The rye whiskey will age for a minimum of 2 years while the TN whiskey and TN bourbon age a minimum of 4-6 years.
What flavor profile are you looking for when tasting and bottling your whiskey? 
JP: When we are tasting the 100% Straight Tennessee Rye, we are looking for an amber-colored body with flavor bombs of cinnamon and clove. Spiced apple and honey round out through the palate leaving a nice lingering spice.
When we are tasting our Tennessee Bourbon, the creamiest of the three whiskeys, we are looking for rich brown color, generous aromas of toasted oak, caramel and banana. With the mouthfeel of the whiskey against your cheeks, you really get the flavors of vanilla and spice evenly throughout with the faintest touch of smoke on the finish.  
When we are tasting our Tennessee Straight Tennessee Whiskey, we are looking for a complex, but smooth, sippable whiskey. Full-bodied, it hits the palate with pepper and fruit. Once it settles on the palate, the rich buttery corn flavors come out with a pop of oak and pepper. Spice and citrus hints round out the finish as you taste it right down the middle of your tongue.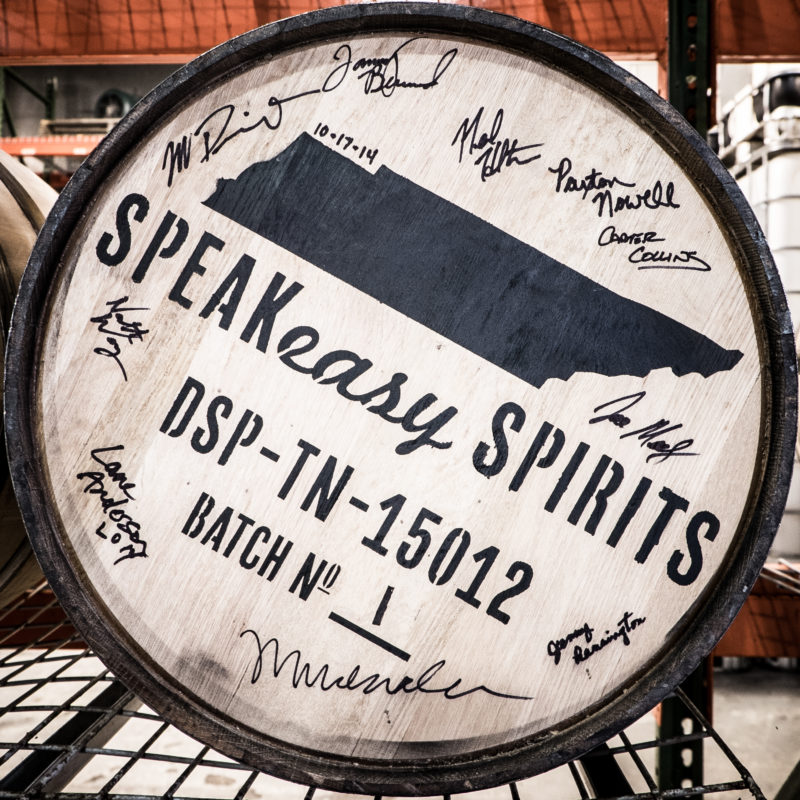 Where do you see your distillery 5 years from now?
JP: Hopefully thriving and making a lot more whiskey and integrating a consumer experience with our tours, tasting room, gift shop and special events.  
When you are not drinking your own whiskey, what whiskey can we find you sipping in your off time?
JP: I enjoy trying different whiskeys with my friends. We get together about once a month and everyone brings a bottle.  We taste through them all and share our thoughts on each.  I find it interesting what different people gravitate towards.  When I am out and enjoying whiskey, my go-to is often Makers Mark and Four Roses.  When I am looking for something more complex, I enjoy an EH Taylor or one of Sazerac's Antique Collection whiskeys.
Describe your Whiskey in 3 words.
JP: Quality. Heritage. Craftsmanship.
For more information on the distillery, please visit the links below:
website:                SpeakEasySpirits
facebook:             SpeakEasyFB