Had a wonderful opportunity to try the last bespoke Compass Box release called the Spaniard. 
The Spaniard. This very limited edition whisky (only 360 bottles produced!) was created in collaboration with Mikey McFerran, co-owner of The Spaniard and comes from a mixture of first-fill and refill American Oak barrels, sherry butt and new French Oak. It was absolutely decadent.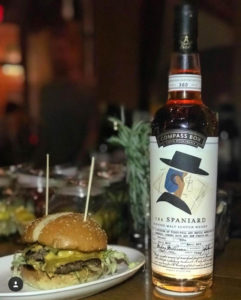 Name: The Spaniard
Distillery: Compass Box
ABV: 46%
Aroma: a nice warm aroma of sherry and spices. Some nutmeg and custard pie. For something 46% abv its very poignant. There is a nice lingering vanilla note if you nose this for a long period of time.
Palate: Robust and bold. Fruits, berries, and dark chocolate on the fore front of the tongue. Rich mouthfeel with a very oily texture. Red currant, vanilla and caramel notes intermingle wildly in your mouth. The longer you swish this around your mouth, the more of the bold spices come through. Towards the end the dark chocolate and honey almost becomes overwhelming but in a very pleasant way.
Finish: Long and lingering and sweet. With every drop tasted you're earning for the next sip.