Tastethedram spoke to the Dragon Distillery proprietor Mark Lambert about the world of spirits.
Mark, tell us a little about yourself. How did you find yourself in the spirits distillation world?
ML: We sort of got here in a roundabout manner. We have a family history in alcohol creation – my great grandfather as well as my grandfather both were moonshiners. I'd always been fascinated with this, but never had the opportunity until a few years ago. After college I joined the military – went to language school for Arabic and then picked up Farsi. After serving for over nine years, I left the service due to a disability. I ended up starting an energy company – where I was for about 20 years. About 3 1/2 years ago I had a heart-attack. At that point, I decided I needed to re-evalute what I was doing – I didn't enjoy all of the international travel – and wanted to spend more time with my family .At that point, my local community (Frederick, MD) didn't have any distilleries. Since we had a family history – and I'd always been interested, I thought it was a perfect opportunity.
Tell us about Dragon Distillery, the history and about the name.
ML: So – I've always been a huge nerd. I was a gamer from the mid-1970s – and still am. I wanted theme that reflects who I am – and my interests. We started in late 2014 and were in production in 2015. We have a 528 gallon hybrid dual-pot/column still, along with a few 528 gallon fermentation tanks and a 528-gallon mixing/mash tank. We use the MPH-10 boiler (from Columbia Boiler) for steam and hot water, and a 10-ton chiller. Our tasting room is medieval/fantasy themed. We have suits of armor, weapons, tapestry, and our dragon mascot, Toast, secured behind a dungeon door. Our customers seem really to enjoy our medieval / fantasy – theme.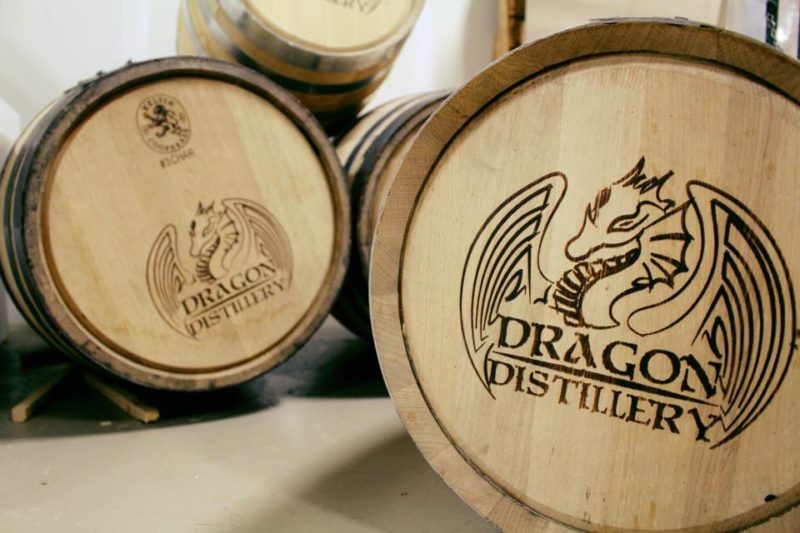 Is anyone else involved in this venture with you?
ML: I couldn't have done this without my wife, my two daughters (and their fiancés), and our friends. My wife manages the tasting room (with the help of our two dogs).
What are your day to day activities?
ML: When I first started it – I was still the CEO of energy company – so I was spending about 10 hours per day at each location. That went on for over 15 months – till about 1 year ago when I went full-time at the distillery. Since I also have an assistant distiller now, my time is split basically into thirds: one-third marketing, one-third regulatory compliance, and about a third in actual production.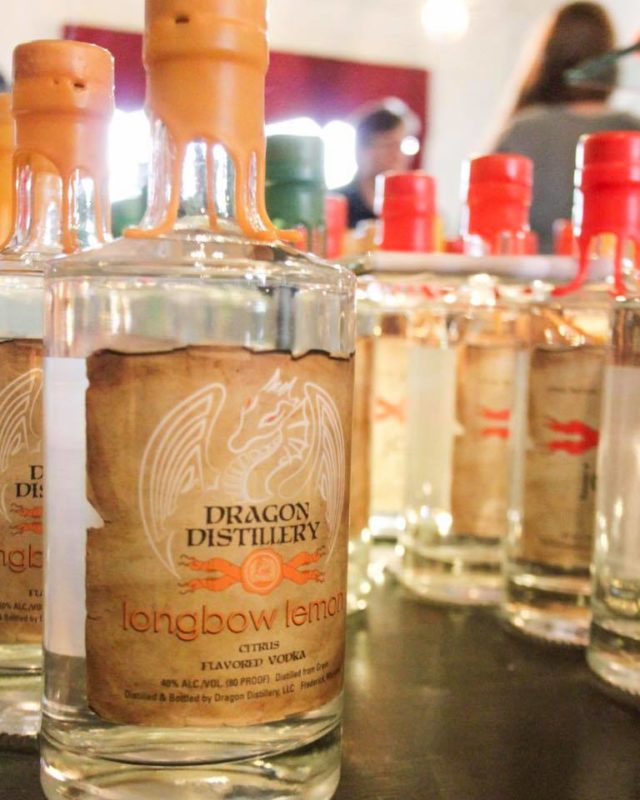 What type of spirit expressions do you currently produce and how are they all different?
ML: We do a number of spirits:
We have two moonshines – our original, based on a family recipe, 'Bad Bill Tutt Moonshine' named after my great-grandfather – with his prison picture on the label. We also have a flavored moonshine – Fannie Tutt's Lemon Meringue Moonshine – named after Bad Bill's wife (my great-grandmother). Both of our moonshines are at 50% ABV – and, like all of our spirits, contains no added sugar.
We have four vodkas. Our premium sipping vodka (filtered over 100 times). We also have three flavored vodkas: Longbow Lemon (our citrus), Chainmail Cherry-Almond (a black-cherry and almond), and then Medieval Mint (a peppermint/chocolate).
We then have three rums: Blackhawk (named after Bad Bill's Brother) – which is our Bourbon Barrel rested Rum, Silver Scimitar (our White Rum), and then Dwarves Morning Blend – which is our coffee rum.
We also have two gins – we call them 'gin for non-gin drinkers' – as they are not Juniper forward. Our first gin, Joust (named for the official state sport of Maryland), has been very popular with bartenders – as it is very versatile in cocktails. While of course Juniper is the primary botanical – we use a proprietary blend of 10 botanicals. We also have a barrel-rested gin, we have developed in conjunction with a local restaurant here in Frederick – Hootch & Banter.
We do a Bourbon – Basilisk Bourbon and a Rye Whiskey – which we do in collaboration with Flying Dog Brewery. Flying Dog developed a speciality Rye wash (using 9 Rye grains) – so they mash for us – and we then ferment / distill / age this as Dragon Dog Frederick Rye Whiskey.
Speaking of collaborations – we do collaborations with a number of local breweries here in Frederick. We have two releasing later this summer:
Fear the Dragon – This is another collaboration with Flying Dog. They have a great ale called 'The Fear' – it's their Imperial Pumpkin Ale. So – we have taken this as a base – then fermented/distilled/aged this – and are releasing 'Fear The Dragon' next month.
Smuggler's Run – Along the same lines – another local brewery, Barley & Hops (also of Frederick, MD) brewed a Malt Liquor a few years ago, called Lando. We took this, distilled it and barreled it – and are releasing 'Smuggler's Run' also next month.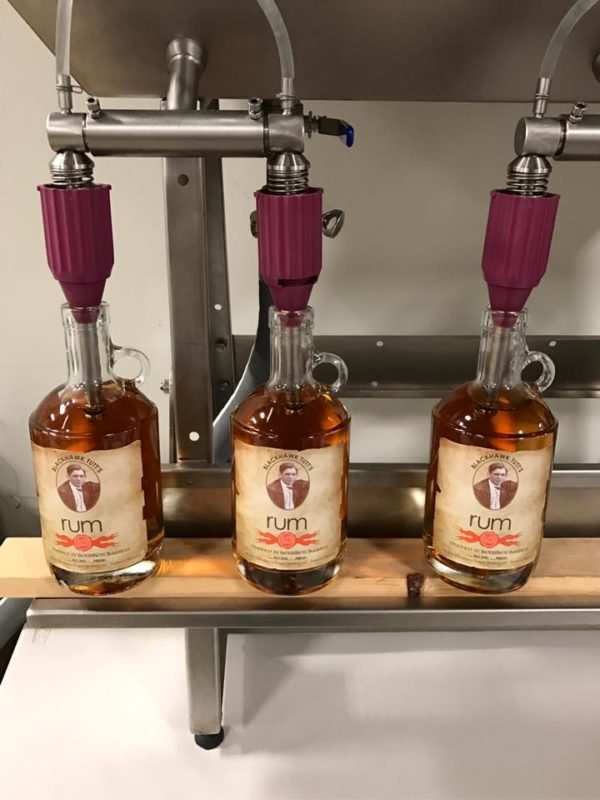 Walk us through the distillation process for one of your products.  Is there a flavor profile you're looking for before bottling the spirits?
ML: Each of our spirits is distilled based on the characteristics we are looking for.  We won't release any product until we are 100% satisfied with it. It took us nearly 4-months of experimentation to get our gin recipe where we wanted it. For our gin, we found that bringing it out between 165 and 173 proof gave us the best flavor profile for our botanical mix.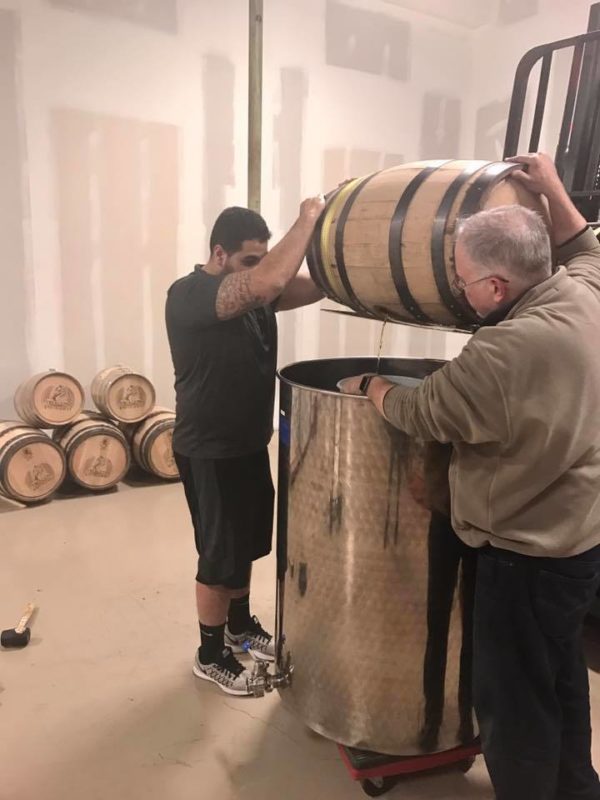 Do you believe now is the most exciting time for a whiskey/Vodka or Gin lover?
ML: Absolutely. There are some really amazing small batch products coming out – and the craft distillers a really pushing the envelope of flavor profiles, ingredients, and aging techniques.
Do you have any role models in this industry?
ML: I was inspired by the stories of my great grandfather Bad Bill – but I also feel it is very important for people to be themselves – embrace your differences.
How do you expand your spirits nationally? Any plans to do so?
ML: We never really want to be national – that's not the goal here. We'd really like to stay regional – as I always want to be hands-on. While there is nothing wrong with expansion and greater market penetration – the larger you get, the more you have to focus on the business/marketing side and the less time you have for production and development.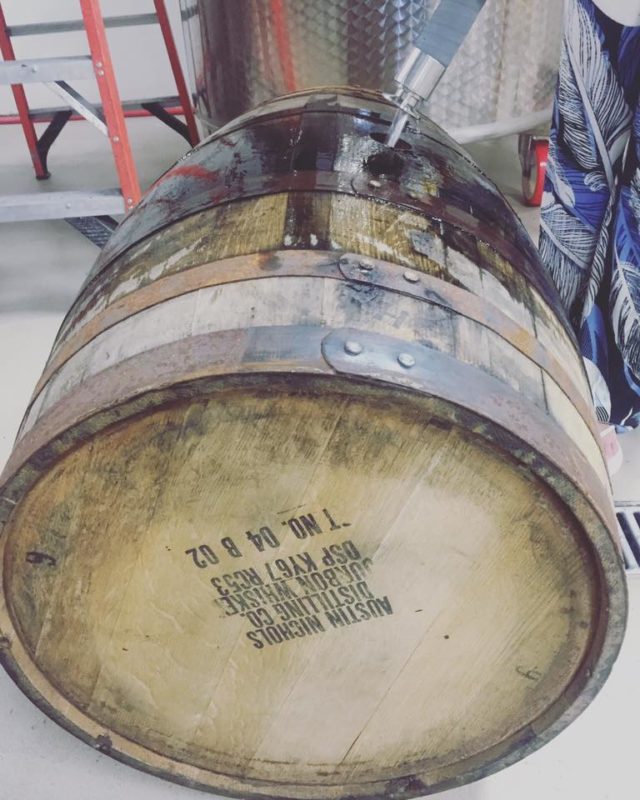 What are your hopes for the distillery 5 years from now?
ML: I'd really like to see us in about 5 – 6 states with tasting room hours 5 days a week.
Do you think that your product is distinctive? If so, what makes it distinctive from other spirits on the market?
ML: Everyone thinks their product is distinctive. We strive to make unique spirits with surprising flavor profiles in an environmentally friendly manner. We don't use added sugar to our flavored products. We also work with a number of local businesses. For example, beyond our product collaborations, we are also collaborating with a local soap company (Savage Soaps). They use our spent gin botanicals to great a really unique soap.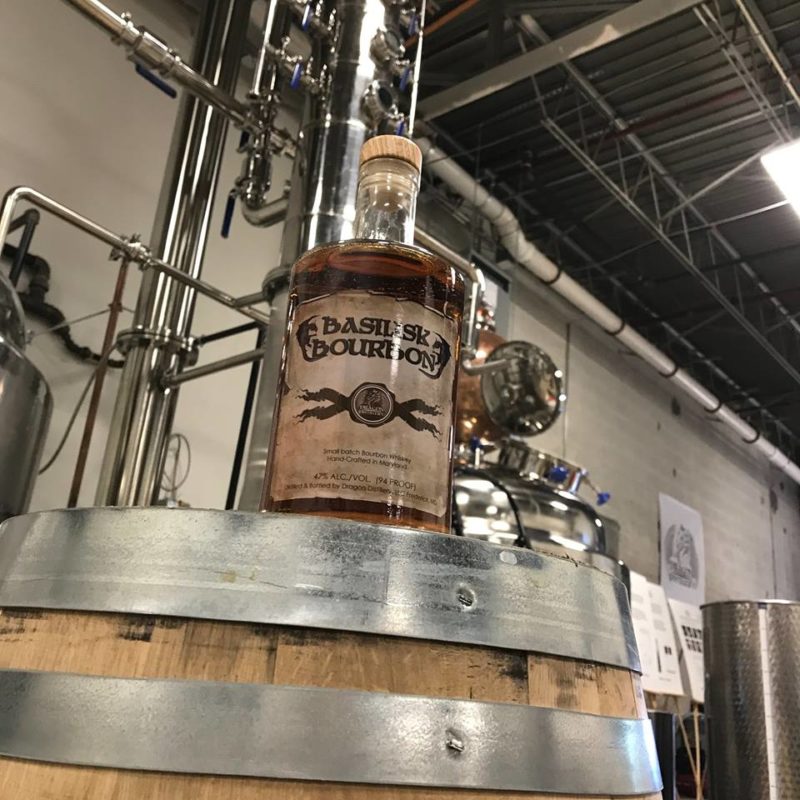 Anything else you'd like to share with our readers?
ML: Simply that I appreciate the time they have taken to learn a little more about us – and if they are ever in the Baltimore/Washington area, to look us up and stop by to experience our products!