Laphroaig distillery is an Islay single malt Scotch whisky distillery. It is named for the area of land at the head of Loch Laphroaig on the south coast of the Isle of Islay. The Laphroaig PX Cask is made with whisky matured in three types of cask – American oak casks, Quarter casks and the titular Pedro Ximénez casks. Pedro Ximénez (also known as PX and many other variations) is the name of a white Spanish wine grape variety grown in several Spanish wine regions but most notably in the Denominación de Origen (DO) of Montilla-Moriles.
Laphroaig is usually very peaty and smoky in nature, but the finish in both American Oak Casks and PX casks give the dram a new depth and much more complexity in the flavor profile.
Name: Laphroaig PX Cask Single Malt Whisky
ABV: 48 %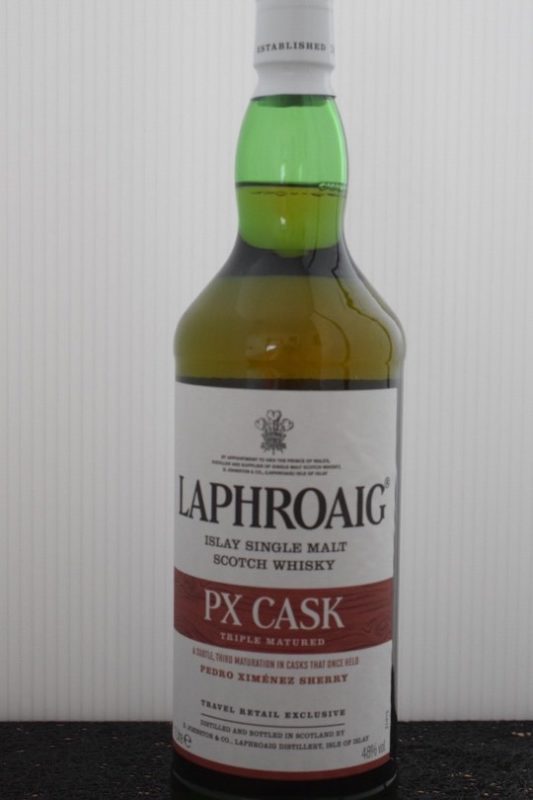 Nose: Golden browned marshmallow skin, slight hickory smoke, roasted malts, dark chocolate and earthy peat.
Palate: Sharp caramel, sweet oak spices and cashew butter. Lot's of depth of flavors. Also has campfire coals, sea spray and tobacco. A drop of water opens up even more of the profile.
Finish: Sherry cask finishing really shines about mid sip as everything just mellows and turns sweet on you.  Some spiciness through a lingering finish. A tiny bit of sweetness at the very end.