A brand new edition of Glenfiddich 30, that was released in 2010. During its maturation (in Bourbon and Oloroso sherry casks) it was carefully watched over by the Glenfiddich Malt Master, and each bottle is now individually numbered.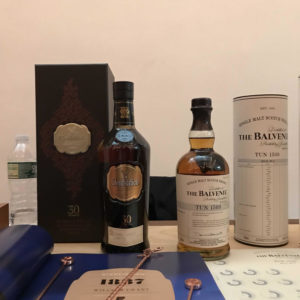 Name: Glenfiddich 30 year Old
ABV: 43%
Age: 30 Years Old
Nose: Cocoa, coffee, butter, and a good amount of sherry. The oakiness and the nuttiness mixed with the sherry make a very arousing aroma. The sublime nose only leads into a more mesmerizing palate.
Palate: Starts off with figs, dates and red fruit berries. A good amount of sweetness of the sherry mixed with apricots and brown sugar. There is a surge of mixed fruits, vanilla and honeycomb. No need to drop any amount of water, at 43% the varieties and range of flavors comes bursting out. Surprisingly 30 years in a barrel, I did not get much tannin or the overbearing wood. It was very smooth. A nice sherry bomb that I did not think Glenfiddich was about. I was pleasantly surprised.
Finish: The finish lasts for a long time, with malt and coco milk chocolate and toffee sweetness.