The Macallan Reflexion is a superb expression from the legendary distillery in Speyside, created by Master Whisky Maker Bob Dalgarno using whiskies matured exclusively in first-fill Sherry seasoned American and Spanish oak casks.
The Macallan Reflexion is part of the Macallan exclusive 1824 Series. This Single malt draws its colors and flavors from the maturation in smaller hogshead casks allowing for a great surface area of wood to interact with the whisky.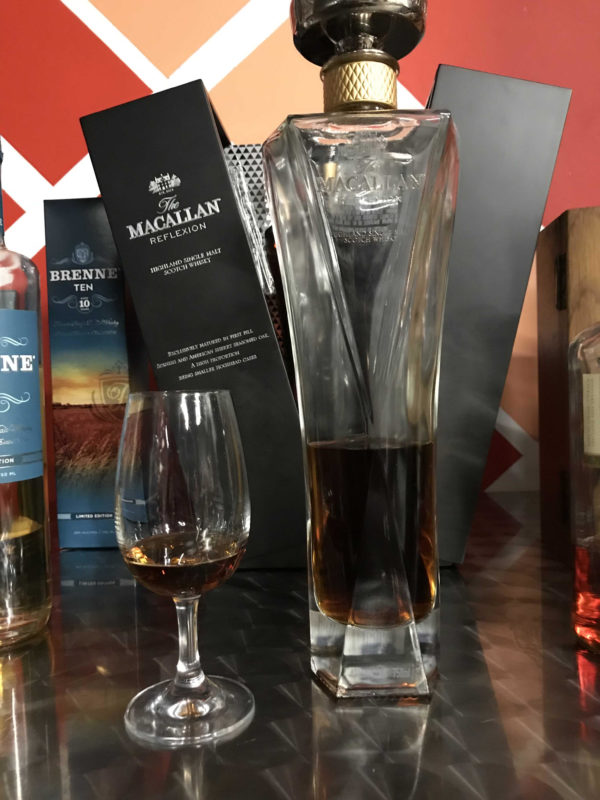 Name: Macallan Reflexion
ABV: 43%
Age:  Unknown
Nose: Orange and spicy citrus with green apples. Chocolate, butterscotch and dark fruits as well as sherry faintly evident in the aroma as well.
Palate: Leather, Tobacco, Citrus and lemon zest, raisins and some sultanas and apples. Lots of fruit and berries, similar to other Macallan's since they are aged in sherry casks. The smaller hogshead gives the taste a more formal and bold punch in the mouth in sherry and robust red berries. At 43% abv it almost tastes cask strength like at times, which is a pleasant surprise.
Finish: It comes down a bit medium to light and has a nice oily softness on the finish.