This vaults bottling comes from the Rosebank Distillery from the Lowlands. Only 170 bottles were released of this bottling by the SMWS. It was distilled on November 14, 1990 and finished for 18 months in second fill Sauternes hogshead before spending another year in a second fill bourbon cask. Bottled at a whopping 58.2% ABV this was an unforgettable dram.
History:
Rosebank distillery was situated in Camelon on the banks of the Forth and Clyde canal between Edinburgh and Glasgow. It received its name from the roses that grew along side the canal. It was originally founded in 1840 and closed its doors in 1993. However, rumor has it, that it is set to be revived by Ian Macleod Distillers.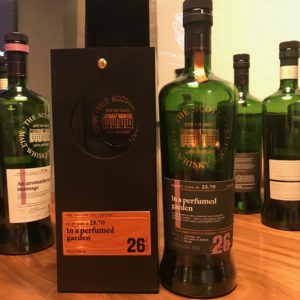 Name: SMWS 25.70 – In a Perfumed Garden
Distillery: Rosebank
Year Distilled: 1990
Age: 26 years
ABV: 58.2% Cask Strength
Region: Lowlands, Scotland
Aroma: Begins very bold with notes of semi sweet chocolate, honeysuckle and creme brulee in the very beginning. A drop of water opens up to be more floral. Notes of rose, pears and light oak begin to seep through. The name in a perfumed garden holds very strong to the aroma of this bottling.
Palate: the palate takes us on a nice journey through the garden with bold spices of cinnamon and nutmeg. Hints of hazelnuts, rose, cocoa nips, honey, chocolate fudge and dare I say even marshmallows come whizzing through. At cask strength the sweeter chocolaty notes are heavily overpowered by the robust spices of this bottling. One – two drops of water draw out the sweetness of the chocolate and the florals. Swirling the liquid brown goodness around your mouth, coating your tongue, you notice that it's very oily but in a good way.
Finish: Long and spicy. Some nuts and honeydew arise on the back end of the palate, but are a lot more mellowed out.