Located in the 'Heart of Speyside', in the North-East region of Morayshire, BenRiach.
Built by John Duff in 1898, BenRiach draws its water from the Burnside springs located underground, deep below the distillery.
Each year, BenRiach's Master Blender selects a small number of casks that have developed to their peak of individual character. They include whiskies that have been aged in virgin American oak barrels and port pipes. The whiskies are individually hand-numbered, non-chill filtered and bottled with its natural color.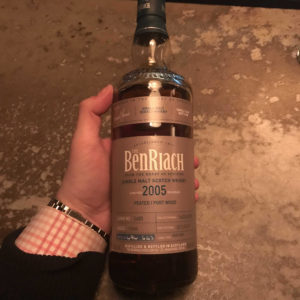 Name: Benriach 2005 Single Cask Peated Port Wood
ABV: 53.6%
Age: 12 year old
Nose: Camp fire like smoke. Very pungent with the sweetness of port wood coming through. Nice tropical red berries, blackberries and light citrus. A good amount of charred smoke upon initial nosing. Letting it rest for a few minutes, the red cherries and herbal elements pierce through. The smoke dissipates and lets the sweetness overpower the nose.
Palate: A punch of red fruit punch sweetness hits you in the mouth. The explosion of flavors of honey, butterscotch and red berries almost smooth velvety like coats the tongue. If you swirl the scotch around your tongue for a good 10 seconds or more, you pick up the soot and raw smoke on the palate as well. I also tasted some honeydew and melon with visceral acidic notes. Too much sweetness I believe comes from the port wood and the balance between the sweetness and the smoke is not even.
Finish: Short and disappointing. Nothing going on at the back end of this dram. Almost dries down and disappears upon swallowing of this whisky. I wished there would be more port wood on the finish, but I was left disappointed and wanting more.