The Vintner's Trilogy from Bowmore showcases the impact of lengthy wine-cask-finishes on the terrific Islay single malt. The 26 year old expression began its maturation in ex-bourbon barrels for 13 years, before being moved over to French oak barriques (that previously held wine) for the remaining 13 years! via @MasterofMalt
Bowmore's legendary No.1 Vaults is the birthplace of coveted and collectable whiskies including the new Vintner's Trilogy. The second in the trilogy, Bowmore 26 Year Old Wine Matured spends time in ex-bourbon barrels and wine barriques.
Barrique barrels are relatively small barrels, but not just any small barrels. Barriques are also known as Bordeaux barrels, because it was in Bordeaux that their shape and size was designed and developed. Barriques are relatively tall and have a capacity of 225 liters (59 gallons)
This was an interesting addition to the already coveted Bowmore line. As someone who intently loves Bowmore, as it was one of my very first drams when I first fell in love with whisky. This release is considered to be a Limited Release part 2 of the total of 3 whiskies. The other two releases in this range is an 18 year old and a 27 year old, both finished in different wine barrels.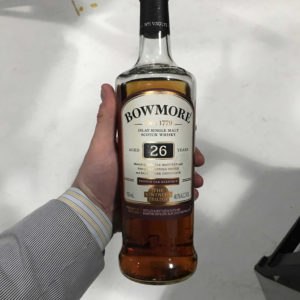 Name: Bowmore 26 – The Vinters Trilogy
ABV: 48.7%
Aroma: At first you breathe in some redcurrants and tropical fruits. Earthy spices and light gentle sea salt filled smoke. There's a hint of apple jam and custard intermixed into something truly divine.
Palate: Oily and velvety mouthfeel with notes of Oak, All spices and oranges. If you let it sit on the palate for 30 seconds notes of dark chocolate and roasted espresso beans. Figs raisins and chocolate are the most potent notes on the palate.
Finish: Long spicy and everlasting. Almost feels like it will burn eternally and never stop. Nice gentle smoke on the lips.