Dalwhinnie Distillery stands in the Cairngorm National Park at the heart of the Scottish Highlands in the village of Dalwhinnie.
Dalwhinnie is aged to perfect maturity in their excellent 15 year offering in ex-bourbon and ex-oloroso sherry casks and is part of Diageo's Classic Malt portfolio.
Located 1,164 feet above sea level, within the picturesque moors of the Cairngorn National Park in the heart of the Scottish Highlands, lies the quaint Dalwhinnie Distillery; the highest distillery in Scotland!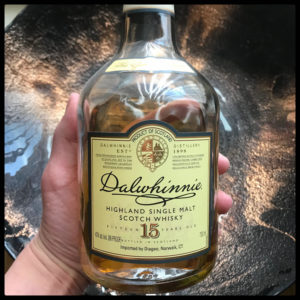 Name: Dalwhinnie 15 Year Old
Location: Speyside, Scotland
ABV: 43%
Added Coloring: Yes
Aroma: White Peaches, honey, oak and slight smoke. A good amount to tingle the nose but quite faint at the same time. Some sherry, almonds and tarty fruits are present as well.
Palate: A good amount of malt, vanilla, cereal and almonds. The peat is slightly felt but not overpowering by any measure. At 86 proof it has a lot going on and very pleasant on the palate.
Finish: Medium to Long with Almonds, butterscotch and vanilla. A touch of sweetness possibly coming from honey.