Bottled by Gordon & MacPhail, this single malt was aged for 21 years in the Scottish Highlands.
We had the pleasure to pick this up at one of our favorite stores in NYC Ambassador Wines. They have pretty huge collection specifically when it comes to independent bottling. Gordon Macphail is one of our favorites, and at this price point we knew we had to have it. Also it helps that we are big fans of Old Pulteney 21 so this was just a no brainer.
Name: Gordon Macphail Old Pulteney 21 Single Malt Scotch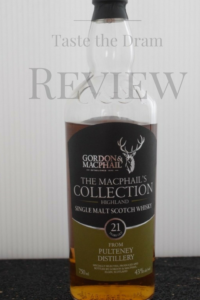 ABV: 43% – 86 Proof
Nose: You can smell the sweetness right off the bat on the nose, with vanilla and honeydew; mangos and peaches, plus a hint of caramel and butterscotch. There are also notes of sherry that are very mild but a sensitive nose can pick them up.
Palate: Intense spices of nutmeg and dark chocolate, mixed in with tropical fruits on the palate, with barley sugar. Becoming nuttier, with an edge of mixed spices. Slight burn on the tongue even at the 43% abv. The sherry and caramel also mix together for a warm mouthfeel.
Finish: Dark, intense and complex. There is a lot going on. The Refill Bourbon gives it a nice caramel char on the end of the finish. Very delightful.