Whiskey Me Up, in essence, is an online discovery engine (much like Pandora or Netflix) for whiskey that has an offline component (the Secret Whiskey Tastings ™). The goal is to help you find those few whiskey loves and have you enjoy them in cool and swanky environments with cool and swanky people.

Rose, tell us what was your first exposure to whisky? What was your first dram?
​RJ: I was first exposed to whisky during the height of (investment) banking​ when all my friends and I went out partying at the hottest clubs in New York City. I realized then the only alcohol I could consume and not be hung over was whisky. Back then, it was a lot of Johnnie Walker Black label. 
Then a few years later, while trying to show-up one of my best guy friends, I naively told him I knew all about whisky and that there were only 3 brands–the 3 J's: Johnnie, Jameson and Jack (Daniel's). He was shocked and embarrassed, and so took me immediately to a whisky bar next door (mind you, this was a Sunday afternoon). There, we sat with the bar manager and ended up doing a private tasting where I had (for the first time): Yamazaki 12, Glenlivet 12 and Lagavulin 16, and Highland Park 12. 
I couldn't believe the varying flavors… but more importantly, I couldn't believe with every taste, I was transported to another realm and another time. That's when I fell in love. Yes, IN LOVE… with Lagavulin 16. I felt the warmness, the comfort, the excitement… all of which, I felt at the height of love… but towards a brown liquid gold so beautifully made, it was perfect for my taste buds. 
This idea of finding the right whisky and falling "in love" is one of the concepts I use in Whiskey Me Up to help people find the right whisk(e)ys for them.
To this day, my all-time favorite whisky is Lagavulin 16.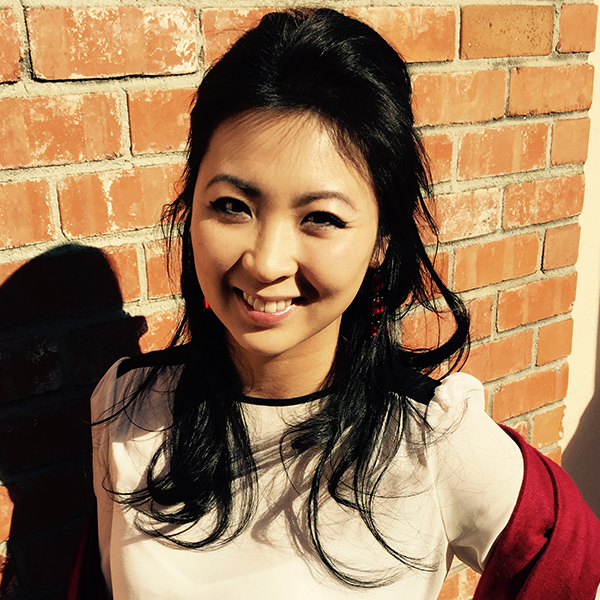 Not many women in this industry, do you feel like being a woman has given you a competitive advantage ? What were some of your challenges?
​RJ: Being a woman in this industry definitely has it advantages and disadvantages. 
The biggest advantage being: I understand the female mindset and I know how to get more women interested in whisky. That's one of my target demographic for my business: women. (The other one is millennials.)
My goal is to inspire and attract women​ into this world, not by undervaluing their ability to discover and learn on their own but by encouraging and bringing out their ability to feel more of the whiskey. Yes, "feel" more. When I do my tastings (focusing on women), I don't separate them into their own gender group. No, I include them with the other male whisky drinkers because female drinkers bring something different to the table: their own take on what they're tasting. So, with that in mind, I have a unique take on whisky tasting, which is to make everyone go into the tastings jargon-free… meaning, I tell everyone to forget the buzzwords associated with whisky tastings and just embrace the flavors of what they're tasting, the atmosphere in which they're enjoying the tasting, and the words they want to use to describe what they're tasting.
As a result, women don't feel like they don't belong. They end up describing whisky flavors that are so spot on, it's amazing! (Quick example: one female guest, when asked to describe what she was tasting in a Widow Jane Bourbon, mentioned toasting marshmallows while camping with her grandpa. Not only was this spot on in terms of the taste profiles she was tasting, but also memorable. Now, she attributes Widow Jane Bourbon with spending quality time with her grandpa. This, in brand marketing, is what we call positive affinity.)
Now, there are definitely disadvantages to being a female in this male-dominated industry. One big one, which many women face in other industries as well, is the mansplaining that gets done. After many years of studying whisky and building my business, I've learned a lot about whisky and yet, in a room where I am not identified as the whisky expert, I have been interrupted and told by male guests I am wrong when I try to explain the differences between whisky and whiskey or what happens when you add ice or water to whisky.
It is frustrating and I can see why a lot of women don't end up wanting to be part of that conversation; however, I also see this as an opportunity for women to step into the "boys' club" and show them who's badass. (This is something I teach in my whisky tastings as well–how to shift the conversation from whisky jargon, which one might not know well, to appreciating whisky, which any woman–newb or expert–can easily talk about.) 
Tell us a little about yourself before Whiskey me Up?
​RJ: Before Whiskey Me Up, ​I had founded another startup called "The TechSeri.es Company." It was an events-based platform to showcase the latest tech and people changing traditional industries (e.g. fashion, music, publishing, etc.). We produced sold-out interactive panels where top startups and industry leaders heatedly debated how tech was disrupting their industries while in front of 200+ consumers. The result was phenomenal. We worked with top brands like Pandora, Universal Republic Records, Conde Nast, Gilt, Bonobos, Penguin Group and more. Our panels were in high-demand and we didn't have enough hands and mindspace to produce panels fast enough. Eventually, the demand outpaced our ability to supply and we had to put it on hold (since my team all had full-time jobs as well).
What I took from TechSeri.es is this idea of unique experiences, which I employ in Whiskey Me Up. At the time, NYC had on average 5-6 tech events happening each night. Our panel was just one of them… and yet, we garnered tremendous support and followers because we produced the most unique interactive panels at the time. Each panel focused on an industry and we ensured we brought in the newest tech changing that industry. For example, back in 2013, our Fashion Panel included a piece of technology used by retail companies to display information as well as create interactions between their products and the customer. At our panel, we showcased it as our TechSeri.es (Product) Runway. 
The unique experiences we created at TechSeri.es allowed for the consumers to feel more connected to the brands, thereby building brand affinity.
I took that concept to another level when creating experiences for Whiskey Me Up by introducing the personal variable–having individual consumers add to the experience of others through the specialized tastings. 
How did "Whiske​y me up" come about?
​​RJ: See one of my blog posts > http://whiskeymeup.com/2013/04/09/history-1-how-whiskey-me-up-came-about/​
What is the goal behind "whisk​ey me up" ?
​RJ: Whiskey Me Up©, in essence, is a trademarked online discovery engine (much like Pandora or Netflix) for whisk(e)y that has an offline component (the unique experiential whiskey tastings). 
The goal is to help people (especially women and millennials) find the right whisk(e)ys and have them enjoy it in cool and awesome environments with cool and awesome people. 
This is done very simply: 1) Sign up to become a Member, which also means figuring out in a super quick personality quiz what is their Whiskey Persona™–the cool, sexy and swankier version of themselves. 2) Discover whiskeys–bourbons, ryes, scotches, international whiskies, and more–fit for their Whiskey Persona. 3) Meet and mingle with other Whiskey Personas at exclusive whisky tastings.
That's right… what better way to experience a moment than to do it through the lens of a person's Whiskey Persona? (Imagine: Whiskey Personas like The Vixen or The Woodsman discovering new whiskies with other Whiskey Personas like The Modern Lady or The Entrepreneur at hidden speakeasies.)
What is the best part about your job? What does your day look like ?
​RJ: The best part of what I do is when I turn a non-whisky believer into a life-long whisky lover. This has happened at so many of my whisky events. It's not just turning women who don't like whisky into whisky advocates, but it's also turning men who've only like a certain type of whiskey (e.g. bourbon) into scotch aficionados or vice-versa.
I believe whisky is a piece of art. Just like how stories behind a painting can color the way you appreciate that piece of art, the stories behind the distillery, the distiller, the cask, the company, and even the people you're surrounding yourself with when you have that first taste–all of that will change the way you appreciate whisky. And, that's what I bring to the table that's different. I create unique experiences, which whisky brands can leverage to get closer to their customers.
What are some of the difficulties you're personally seeing in the whisky market? What can the smaller whisky brands do to raise more awareness for their product?
​RJ: The whisky market as 2 problems: perception and noise.
#1: Perception: For a long long time, whisky was had by men at "old boy's clubs." Thus, young men felt like whisky was for their grandpas and women in general saw whisky as a "man's drink." When whisky brands started realizing their demographic was too narrow, they employed certain tactics to expand into other markets. With the young men, they did well. They created the aura of the modern gentlemen, which included drinking whisky. However, for women, they took on tactics that didn't give it enough thought to the core reason women don't drink whisky.
Brands created sweeter whiskies to appease the "female palette," but that's not what women want. It's not about giving us lighter sweeter drinks, it's about empowering us to explore what we want. I'm a woman and I love peaty smokey scotches. I don't want to have whiskies "dedicated to the female palette." I want to know I can and should drink a Lagavulin 16 like any of my male counterparts. I want to walk into a room and impress people with whisky knowledge as if I am a wine expert at a dinner. In order for brands to change perception, they need to understand the mindsets of their customers better. (And, of course, hire a company like mine who's already tapped into the millennial and female demographic.)
#2: Noise. There are so many whisky brands out there. Every year, I'm hearing about new small batch distilleries taking a crack at the whisky market. This is not a bad thing; however, it makes differentiation very hard. Small brands can't compete in marketing dollars with bigger brands like Diageo or Pernot Ricard. That doesn't mean small brands can't win. What it boils down to is that smaller brands need to be focused–focused with a particular demographic, focused with the message it's trying to convey, and focused with the type of marketing it wants to do.
Because my company works with so many small-to-medium whisky brands for our unique tastings, we've also added advisory service to our product set as well. This is one of the key places we work with the brands on: being focused. Small brands see what the big brands are doing with all of the cross-promotions, big budget advertising, etc. and think they need to do that. No, they don't. They can start off being an niche player and expand once they've captured one aspect of the market. And, my company can help with that.
What advice would you give women who are interested in learning more about scotch and whisky?
​RJ: For women out there who are interested in learning more about whisky​: sign up for Whiskey Me Up and come to one of my private whisky tastings. I guarantee you will find the right whiskeys, with which you will fall madly and deeply in love. *wink*