Matthew J Lurin MD MBA FACEP CPE is currently a practicing emergency medicine physician in New York. He received his undergraduate degree at Johns Hopkins University in Baltimore, MD, his medical degree from NYU School of Medicine, completed his residency training in Emergency Medicine at Bellevue Hospital in Manhattan, and has been in practice for 20 years.  While practicing, he received his MBA in Healthcare Administration from Baruch and currently is the associate director of his department. A longtime season ticket holder for the New York Yankees and Knicks, he is also a whisky aficionado and co-founder of the Whisky Nerds.
We had the pleasure to speak to the proprietor Dr. Matthew Lurin of the event. This is his third year in a row planning such an extravagant event, and we think it's going to be one for the ages. If you are in the New York City area, this is definitely the event to attend.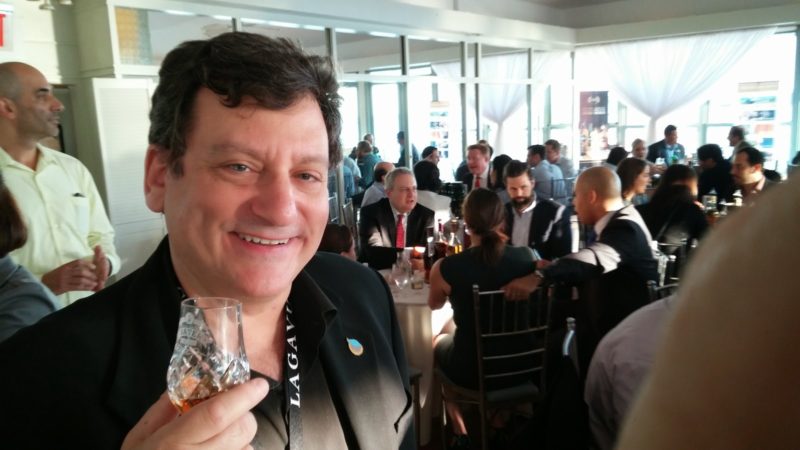 (Photo courtesy : The Coppered Tot)
Matthew, please tell us a little about yourself and your career.
ML: I am a native New Yorker, season ticket holder for the Yankees and Knicks, work as an Emergency Medicine Physician and love to enjoy a good dram and cigar with friends in NYC, in Scotland, on a beach or in a casino.
How did you first fall in love with whisky? Was it love at first sip?
ML: When my mom married my stepfather, Joe Temperley, she wanted us to find something in common. He was not a baseball or basketball fan, and his idea of football was people running around and kicking a ball. Being that he was from Scotland, eventually we found whisky. I had the occasional Jack and Coke, and some Wild Turkey when younger, but once I had my first scotches it was quite eye opening.
Do you remember your first dram? I bet there is a story behind that.
ML: The first dram would have to be a college Wild Turkey. A wonderful dram today, but less appreciated as college man. My first scotch, I honestly do not recall, but knowing Joe it was likely a Highland Park or The Macallan. One of my best friends loved Laphroaig and I joined him in that passion after my first dram.
We understand you are the founder and host of the Water of Life NYC Event. Can you give us some information about the background of this event. 
ML: The Water of Life is a labor of love. A few years ago, my friends knew of my passion for whisky and throwing a good party, and when we lost one of the yearly events in NYC, they joked that I should create a new one. We spoke about what we liked about shows, and what we didn't like. I was determined to make an event to get back the original whisky loving crowd that stopped going. I wanted to make it different, and I realized that I've always loved master classes, so thought something that had a big master class focus would be best. After going to an amazing show in Las Vegas, the Nth, I saw a sign for whisky speed dating. Although their format is quite different from ours, the phrase inspired me to create the fun that is now Water of Life.
Once we had a format, I realized that I was not in the industry, and really was not interested in doing this for money. I thought that it would be great to join with a charity, as what can be better than having a great time and helping a cause. Sadly, my stepfather had been diagnosed with GIST, a rare cancer, and so it became apparent where the money needed to go. Thankfully Joe was able to attend the first show, and although he was only able to nose the whisky, he had a wonderful time among all the happy people who attended the event that shared his passion for Uisge Beatha, the Water of Life.
How do you decide which whisky partners/ambassadors are present for your events? 
ML: The first year, the ambassadors and brands were all those I had a personal connection with. I knew as an amateur whisky fan (I don't get paid so I can keep that status, like an Olympian) it would not be easy to get brand participation, but I reached out to folks I had met at several other events and hoped to spark an interest. The format was well received, they loved the idea of being part of a charity event, the new seated concept and assigned dates intrigued them, and I was pleased with the initial response for 21 tables.
After year one, the one complaint I received was that we needed more American whiskey, as we had just one table. We expanded to 7 tables out of 30 at our second event, and this year we have more than 10 out of 50. We've added Japanese whiskies, Indian whiskies, French whiskies, we now have every active distillery on Islay in attendance, and several popular brands that had either stopped going to other whisky festivals, or were new to the concept. After 2 years of my recruiting brands, we are at the point where they have been reaching out to me, eager to join. Most important though is that we keep the quality of the whiskies high. I am personally familiar with over 90% of the drams poured, and the other 10% I discuss with other passionate whisky nerds and only add if the feedback is positive. And then I get to try them at the show as well.
Tell us about the charity aspect of the event. Why is it so important to you personally? 
ML: As mentioned, the man who got me into whisky, my stepfather, was diagnosed with a rare cancer known as GIST, and as an ER doctor I was not that familiar with it. I realized that less common diseases face challenges finding research support, so it was easy to make the connection between Water of Life and GIST charities. The first 2 years we worked with The Life Raft Group, and this year we are working with The GIST Cancer Awareness Foundation. The phrase "Drink Whisky to Fight Cancer" resonates with me on so many levels, and I think that most everyone has had a friend or family member face cancer. What better reason could there be to have a dram or 30 with friends old and new. 
How can other's reading this story get involved in these events with you either on a donation or a partner side of things?
ML: Anyone reading this is obviously welcome to attend. We have several tiers of tickets to suit the desires of most whisky fans, and if folks would like to support our cause but unable to attend, they are welcome to donate a bottle, or whisky memorabilia to the event, or make donations directly to the GIST Cancer Awareness Foundation via Paypal on their site. Volunteers at the event or spreading the word about us are always appreciated as well.
How is your event different from the other Whisky Events around the city?
ML: Our event is extremely different from other events due to the intimacy of the speed dating format, and whisky blogger Joshua Gershon Feldman summed it up best. "It sounds like such a simple and small thing, sitting down with the brand ambassador rather than just standing at the table, but it turned out to be much more than that.  In the normal whisky show format people mob the tables and the people pouring are racing to fill the extended glencairns and rushing to give a basic orientation spiel over and over.  With the the "speed dating" format of The Water of Life Event there are no mobs and you have a solid piece of time in a small tight group at each table so you can relax and get the full attention of the rep and the people you're with.  It's civilized and more relaxed.  It fosters real conversations and more careful tasting.  It actually made an unexpectedly huge difference."  Add in the fact that this is all done for charity just adds to the feeling of love in the room, and the vibe at the Water of Life is incredibly palpable and positive.
Tell us the difference between the Standard Ticket and the VP ticket?
ML: Another difference is how we treat VIPs. I love being a VIP at most shows, but am usually disappointed that the difference is just an extra hour, as I have to race for the VIP drams, and often miss a few I would like to try. At WOL, you are a VIP all night, and if you show up at a table at 615 or 945 you will still be given wonderful special pours. There is an additional 2 dates for the VIPs to start off, but through the night the main difference (other than price) is that VIPs get 3 or more drams to try on each date at a VIP table, while standard ticket holders get 2, and sometimes more. I try not to have mixed tier guests at tables as I don't think it would be right for some folks to get a special pour while others watch. Some friends have said that may inspire the sale of more VIP tickets, but it's not my style. And if VIP is not enough, we have a third tier, the Ultra-VIP, who get their own event the night before the main event. This is where brands really look forward to showing off some amazing pours, and we have seen things from American whiskies distilled in 1902 and ones sold during prohibition, to a cask sample of the Dalmore Constellation appear in the past Ultra-VIP event. This year we will enjoy a 40 yo Karuizawa and a few 'secret' for now drams. But they will be quite amazing indeed.
What do you see down the line for this event in the future? Perhaps spreading out to other parts of the country?
ML: In the future I definitely see the Water of Life spreading to other cities, both in the US and internationally. If I can have guests come all the way from Australia to attend, the least I can do is bring the show on the road. A few friends in whisky clubs around the globe have reached out to me, and I think this is something we will see in other cities soon. I feel we are still in the growth stage here in NYC, and I would want this to 'stabilize' before focusing on new places. But I think we will be adding new cities in the next year, with events likely in the following.
What are your top 3 drams and what is your go to dram. 
ML: My top 3 drams. Wow. There are so many wonderful ones. My all time dram may be the Bowmore Gold, an epic dram I was fortunate to have more than once, and one I would love spending some more time with. The old Laphroaig 30 yo was also an incredible dram. Fortunately I have a few bottles of that left, and it's a wonderful celebratory dram. Both drams show how  peat evolves over time. It's like a person, a little less fire than in youth, more mellow, and if one is patient with it, extremely beautiful and interesting. Third dram, I will cheat and say it's close between Yamazaki 1984, the John Ramsey from Glenrothes, the Ardbeg 1815, a distillery pour of a 25 year old Bruichalddich Yellow Submarine, Highland Park 18 (and up), Balvenie 30 yo Glenmorangie Signet, and a few more wonderful independent bottlings.
Is there anything else you'd like to share with our readers?
ML: Well I can share a discount code. When buying your tickets, click the appropriate link, and enter the code gcaf2017 for additional savings on either VIP or standard tickets. If interested in Ultra-VIP, email us at the link on the site. And remember if you are looking for an amazing way to spend an evening, enjoying fantastic company, whiskies, gourmet foods, and cigars, while at the same time fighting cancer there is only one place you should be on May 18th, 2017 – the beautiful IAC building for the third annual Water of Life Event. Hope to see you there, first dram is on me! Slainte!
For more information on the event please visit the website below:
http://www.wateroflifenyc.org/ticket-info.html