Connosr is the place where a global community of whisky enthusiasts meet to review, rate and discuss their favourite whiskies. Everyone is welcome from novice to expert so drop by to check our site some time.
Tastethedram spoke to the co-founders Pierre Thiebaut and his brother Jean-Luc about how they are challenging the norms of whisky communities and what services they offer for the whisky lovers in all of us.
Tell us about the vision for Connosr. Why did you guys decide that now was the optimal time to start this company. Did you see a gap in the market ?
PT: Connosr has actually been around since 2009, however there probably was a gap in the market at the time. We won't claim to have spotted it, in fact it spotted us. Jean-Luc – my brother and co-founder – and I both come from a digital agency background and built Connosr to showcase a piece of technology. At the time there were plenty of whisky blogs and fan sites around but what set Connosr apart was that it was the first bespoke whisky community built by digital professionals. As such it got noticed and went through a period of rapid growth.
We relaunched the site last year – completely redesigned and redeveloped from the ground up. It's probably fair to say that growth had slowed a little compared to the early years but the new site is turning that around, which is possibly why you think we are a new business. Alongside Connosr we also developed the Whisky Marketplace sites – combined traffic across our network is approaching 5,000,000 visitors a year so we're pretty well established!
In terms of the vision, our strap line is "A place for whisky lovers." We've always strived to create an inclusive, approachable environment and encourage whisky newbies to join our ranks. I've heard people suggest that it's a whisky beginners site but in fact we have a great blend of experience levels. We prefer to see it as a welcoming environment where newcomers and experts can interact and share their whisky experiences. And to a large extent it's been very successful in that regard, you can come on Connosr and ask very basic questions without fear of feeling intimidated by more experienced members.
Tell us a little bit about the name.
PT: If you think back to 2009 the name will make perfect sense. It was the heyday of sites like Flickr and abbreviating words for the web was the fashion. Connoisseur became Connosr! But the name isn't claiming that this is site for experts or connoisseurs, most of the content is generated by our members. Individually they know what they know, together they are Connosr – the whole is greater than the sum of the parts. It's become a huge resource for whisky reviews, currently there are over 11,000! (https://www.connosr.com/whisky-reviews)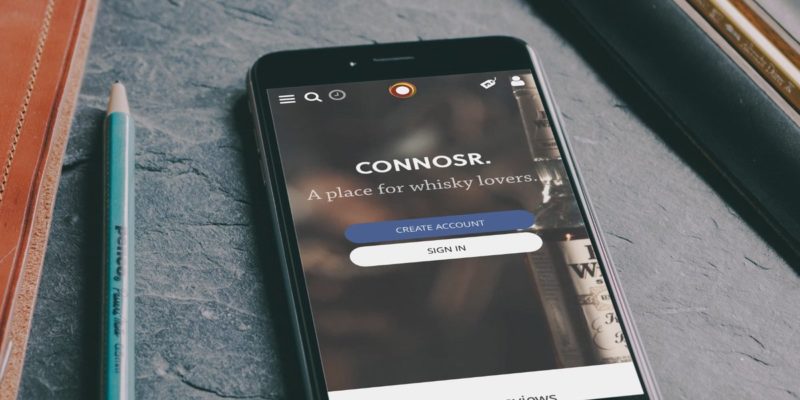 What is your role with the company.

PT:Well Jean-Luc's the clever one, the brains of the operation, I'm the mouthpiece. We're brothers so we work really well as a team. I'm the older loudmouth brother so I tend to be the outward facing partner – whether that's managing relationships or acting as the public face. Jean-Luc does all the clever technical stuff, he's made himself more visible recently but he used to be the unsung hero of the operation. Our backgrounds are in digital, me on the creative side and him on the technical side. On Connosr we actually split the creative duties and he does all the tech stuff, which sounds a little unequal, so on reflection I'm riding on the coattails of his genius.
Tell us about your day to day activities as the co-founder of the company.
PT: Most of the content on Connosr is created by its members. What we have to do is maintain the infrastructure that allows them to do that. When we redeveloped Connosr we made the decision to create our own whisky product images. We came up with an illustrated style and I'm gradually drawing them one-by-one. I'm also gradually realising the scale of that task, so I spend a lot of my time drawing whisky bottles. Whisky Marketplace refers traffic to online retailers so I manage those relationships. I also write the news section of Connosr (https://www.connosr.com/whisky-news) and we are planning some more ambitious content. Watch this space.
How did you find yourself in the world of Whisky?
PT:Accidentally! The site didn't happen by accident but we never imagined it would grow to its current size. As the site grew so did our profile in the industry. I ended up as a judge on a number of competitions including the World Whiskies Awards. I went from whisky enthusiast to international whisky judge in the space of a few years. I remember siting next to master blender David Stewart on one panel, he was asking me for my opinions on various whiskies and was genuinely interested in my answers. That's when I knew I really was 'in' the world of whisky!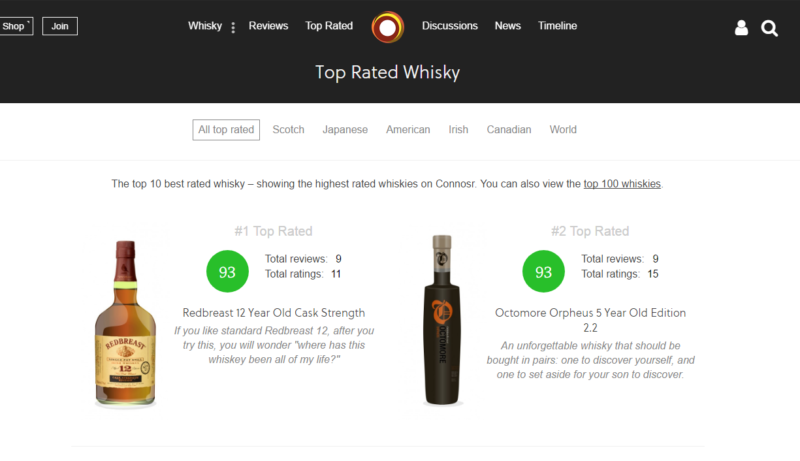 Do you remember your first dram, or what led you into this industry?
PT: My first dram was Glenmorangie 10 (they didn't call it Original in those days), sitting by a river whilst on a canoeing trip when I was far too young to be drinking whisky! That is not where my love of whisky started, in fact I couldn't understand how people found it enjoyable, it burned! My appreciation of whisky came years later. It was Jean-Luc who got me into it. He had discovered single malts at university tasting sessions. I was more of a wine enthusiast, which had developed my palate and he kept turning up at my house with whiskies. Eventually I got the bug.
Who else is involved with this company?
PT: 90% of the work is still handled by the two of us. We do occasionally bring in specialized help when it's required and have added some admin support to help with some of the more repetitive tasks so that we can focus on the creative and strategic parts of the operation. But it's still very much a family business.
Tell us a bit about the website. What features are distinct. What makes your website stand out from all the rest in the market?
PT: There are a few whisky communities out there but our background working in London's top digital agencies means that Connosr has a polish and usability that others might not. In our old day jobs both of us were involved with projects for huge global brands – including more than one whisky brand but I'm not telling you which ones! That's why Connosr is so slick – even if I do say so myself. Most independent whisky sites are built on third party platforms, whether that's for communities or blogging. Connosr is completely bespoke, our own platform. What that means is we can effectively do anything we want. We're not limited to the tools others provide us and we can do it with a production value and aesthetic sense which comes from decades of working at the cutting edge of digital for global brands.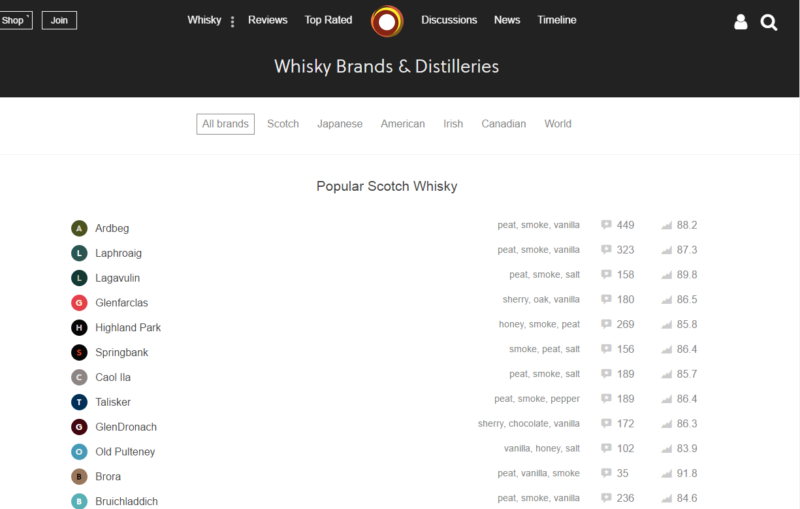 The whisky market is seeing a huge boom, do you feel that now is the most exciting time to be a whisky lover?
PT: There's no doubt there are exciting developments in the industry, particularly with the boom in craft distilleries opening all over the world, but, is this the most exciting time to be a whisky lover? Not if you're a beginner. And it's mainly to do with the rising prices and the proliferation of mixed quality NAS expressions. If I think back to when I started building my collection, as a beginner, you could probably buy four pretty decent bottles for £150 (in today's money) to start your cabinet. Now you'd be hard pressed to build the same cabinet of four bottles for less than £300. So I wonder what it's like to start now. You'd have to make a pretty big commitment to get anything that's really going to blow your mind. With hindsight we didn't realize how lucky we were.
We track prices and hold data going back a few years. I can tell you that there are Scotch single malts, and we're talking core range bottles, that have close to trebled in price in the UK since 2013. In that time we've had almost zero interest rates and very low general inflation. Which all makes me wonder how exciting it can be for a newbie, once their palate starts to develop, once they realize that the NAS expressions in their local store aren't blowing them away. OK they can go to a whisky show and taste drams that will excite them but they're going to have to spend £100 plus to own them. If that trend continues, it'll only be the very wealthy that can afford more than one or two bottles of the really good stuff each year. So tell me, where are all the new committed enthusiasts going to come from? And when does demand start to decline? With all the investment in new production facilities the industry doesn't need to go into decline if it wants to avoid a boom to bust cycle. So I think at some point it has to self-regulate if only to preserve its own future. Of course the powers that be may see expanding horizons and new sales territories opening up that I'm not aware of. Maybe they can see sustained growth globally and aren't concerned about runaway prices in the home markets dampening demand.
What are you guys doing to scale, or grow your business?
PT: Connosr is first and foremost a labour of love. The redevelopment and relaunch of Connosr towards the end of last year was only the first phase. There are more new features in development and we're constantly working to improve the experience. On top of that we're stepping up production of richer content and we hope that later in the year when we start releasing that people will like and engage with it.
Lets get personal. What are your top 3 favorite whiskies? And what is your everyday go to dram.
PT: When you tell people you work in whisky they always ask you what your favourite whisky is and I dread the question. I always go blank. Usually I can only think of what I have open and am enjoying at the time! There have been so many limited release single cask bottles that I've enjoyed over the years but they're all in my memory not my cabinet. I have some favourite distilleries, Ardbeg & Highland Park spring to mind. There was a bottle of William Larue Weller bourbon that still lingers in my memory.
I've been privileged to taste some ultra premium, insanely old scotch – the stuff that costs five-figure sums but I'd have to say most of the really amazing scotch I've tasted is in the 18 to 22 year old range. That seems to be the sweet spot. These days, for my go to drams, I always have a bottle of Lagavulin 16 and a decent blend, usually Johnnie Walker Black on the go. I love a good old fashioned so I keep a selection of bourbons for that and for drinking straight. I'm also really enjoying a bottle of Teeling Single Malt right now.
What is in the pipeline for 2017? Are there any new features you can give us a preview to?
PT: Lots but nothing we can talk about! We've over-promised on timelines in the past so these days we're really cautious about telling people what we're up to until it's close to fruition. What I can say is we have some substantial new features in development. Connosr relaunched last year but that was only the beginning. We have been rolling out incremental, small improvements ever since but there are some bigger pieces of functionality we're developing including something entirely new. There will also be some redevelopment on Whisky Marketplace. Watch this space!
Where do you see your company 5/10 years from now? What do you want to be known for?
PT: Still growing and still offering a place for whisky lovers of all levels of experience to share. Connosr for the most part has been a positive and welcoming place, we'd like to be remembered as the guys who made the nice stuff happen.
Is there anything else you'd like to share with our readers?
PT: Yes but it's more of a message to consumers. Despite what I've said about NAS whiskies, old isn't necessarily better but… quite often it is. Don't worry about the lack of a number on the bottle or if there is one what the number is. Trust your nose and make your own decision. At the same time don't be fooled by the marketing hype. Demand transparency and above quality at fair prices.