What is the essence of travel and how do we incorporate our greatest love to match our expectations. From the bars in Japan to the deserts of Dubai, Sarah aka the WhiskyNomad brings her global travel and the love of whisky directly to you every day on Instagram. Sarah is not your average "travel blogger", in fact, she is not a travel blogger at all. Sarah is the whisky nomad. Sarah is a wanderer, of all places far and wide that hide some of the best whisky in the world. In our interview today, Sarah gives us a small glimpse into who she is. I hope you enjoy the read as much as we enjoyed writing about her.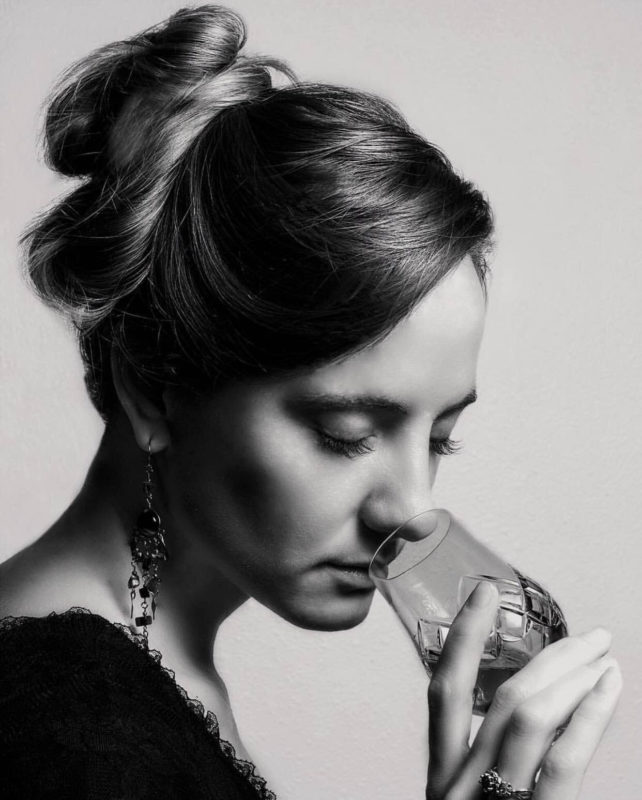 Sarah tell us how you became involved in whisky and why you're so passionate about it as a subject?
S: When one door closes, another one opens.  I used to drink a lot of tequila until one-day tequila betrayed me.  I don't remember much about that night except that I pantsed my brother on the dance floor while looking for my contact lens after doing a flawless rendition of Thriller.  I'm sure it was flawless.  I do remember the next day though… and I swore off tequila forever.  Which made me so sad because I had loved it.  So, I decided that the next spirit that I learned to love I would cherish and not abuse.
Once I started studying whisky, I fell deep down the rabbit hole.  I love learning about the history, the science, the culture, and of course, the taste.  It's endless!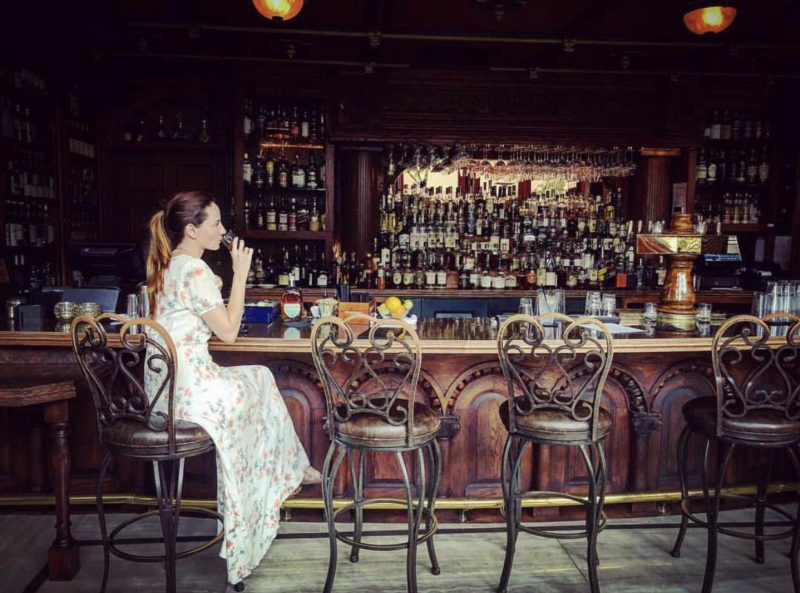 What is your current favorite everyday whisky and favorite distillery?
S: Four Roses! I go back to it all the time, I introduce my friends through it, and I challenge aficionados with it often.  Plus, I got engaged in their tasting room sooo that definitely affects my opinion.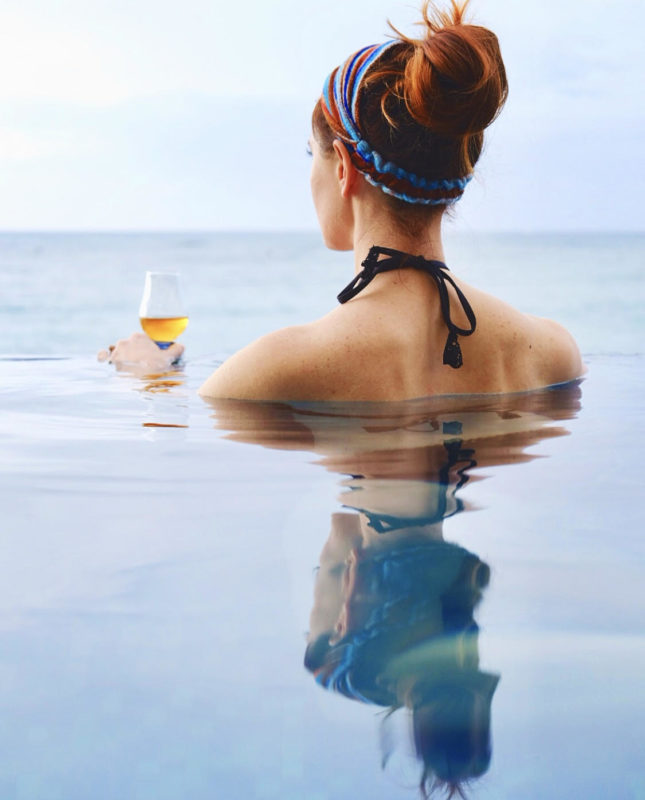 Tell us about your Instagram name WhiskyNomad? What is the symbolism behind the name?
S: I've always been a nomadic person.  My father was an airline pilot for TWA so I grew up jumping on planes on a whim and traveling the world.  I was navigating airports by myself at the age of 11 and I couched surfed and lived out of my car for much of my college life.  After discovering whisky, my traveling took on more of a purpose.  Whenever I would travel, I would make a point to go to the local distilleries and learn about the local whisky, which in turn meant learning about the local culture.  And when I met my fiancé, it became our hobby to hunt down bottles and travel to unique places just to see what the whisky was like.  The name WhiskyNomad felt right to me.  I'm not just here to do reviews, and I'm not just another travel Instagram.  I am always seeking something new.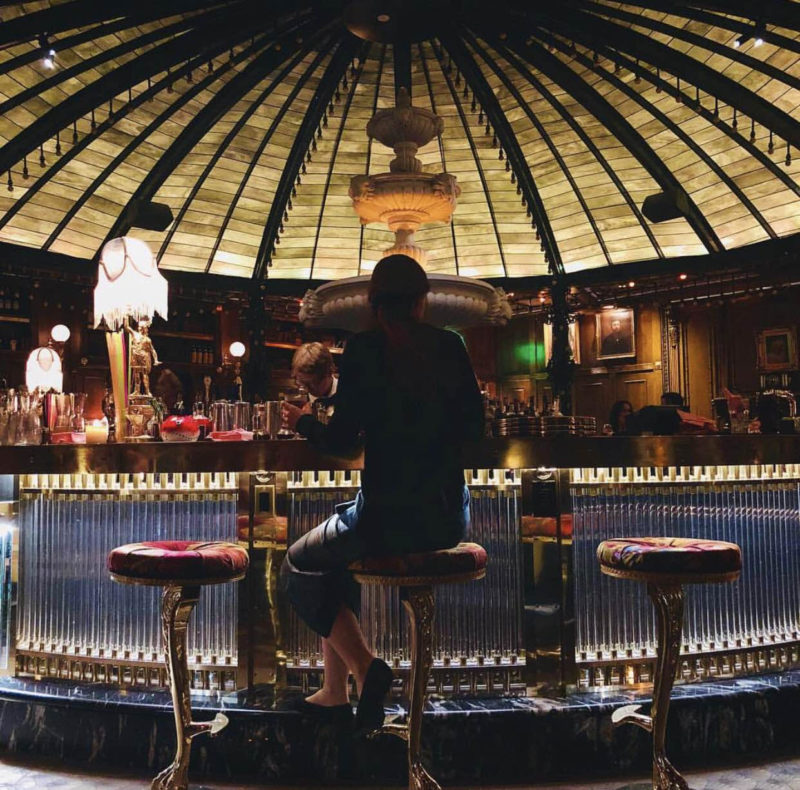 Sarah, you've traveled far and wide and tried some amazing whisky over the years I would imagine. Give us a rundown of some of your favorite places. Maybe not the most popular ones, but some that really stood out in your mind as a special whisky haven.
S: It's hard to say what my favorite is! I can tell you that the ones that stand out on my mind really have a lot more to do with the people than the place.  I sat down with Marion at the Ardshiel Hotel in Campbeltown last year and asked her to pour me her favorites from the bar.  She talked my ear off about what it was like to run her business and why each drink was her favorite (her favorite was a Glen Scotia Barrel Pick.  It also happened to be her barrel pick).  I'll never forget that place because of her warm Scottish hospitality!  Then there is Ondre in Prague at the Hemingway Bar.  I spent four days in Prague and I went there every night.  His genuine love of spirits was infectious, and he served every drink with a story and a smile.  If I had to pick a physical location, my favorite places I've ever sipped a dram at was above the Monastery in Petra as well as the JökulsárlónGlacier Lagoon in Iceland.  I highly encourage everyone to hike in your own Glencairn and enjoy whisky during your travels.
How would you answer – if you could change something in the whisky industry, what would change?
S: Can we all please decide whether to spell it whiskey or whisky??? Just kidding.  One of the things I love most about the whiskey industry is the inclusivity and education.  But every once in a while, I will run into a whisky elitist.  These are the people who make a self-imposed rulebook on what "good" whisky is and then try to force everyone to follow their lead.  So what if you drink your whisky with ice or put it in a cocktail.  And so what if you prefer a blended scotch to a 25-year-old single malt.  The whisky game is changing every day and there is no room for arrogance, in my opinion.
What do you like most about being in this industry?
S: The whisky…definitely the whisky.  As a real answer, I would say the community.  Although whisky has boomed recently, the community still manages to be small and genuine.  Other Instagramer's are competitive but still supportive, and that alone should show you how unique and wonderful the community is.  Second, is the education.  There is always someone who knows more than me and I never stop learning!
What is your greatest ambition that has yet to be fulfilled?
S: To drink whiskey on every continent and probably in every country.  Next on the list – Japan, Tasmania, and Taiwan for sure.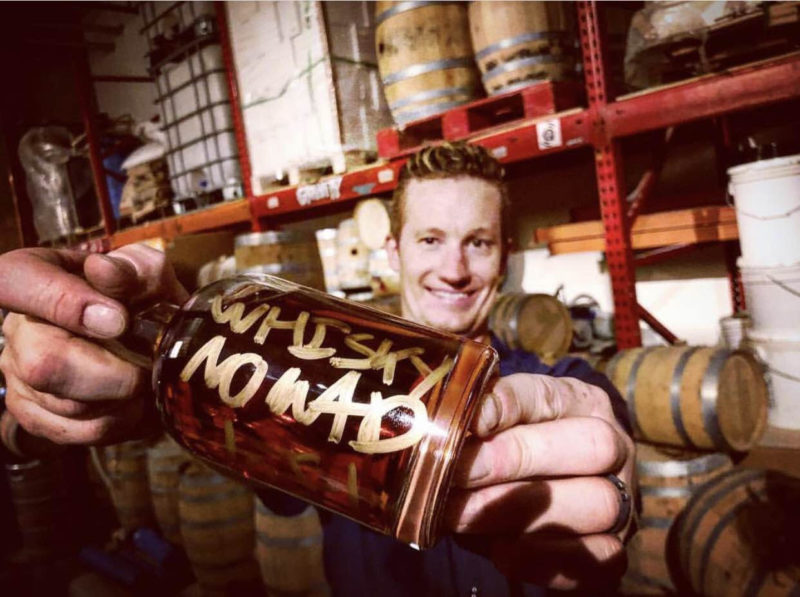 How do you drink your whisky? Neat? Ice… a few drops of water perhaps?
S: Pickleback shots and flaming hot Cheetos.  JUST KIDDING.  I drink it neat most of the time and occasionally add water when I'm really studying a dram.
Give me your top 5 best drams had:
S: That's such a hard question!  Right now, it's Starward, Aberlour A'Bunadh, Last Drop 48 year, Colonel EH Taylor Four Grain, and this random Charbay experiment that hasn't been released yet… it was the Racer 5 IPA aged in a Chardonnay Cask.  It had a lot of lychee notes.  That, or Longrow Red.  I have a thing for finished, peated whisky.
Do you remember your first taste of whisky?
S: Well, to be honest, I was about 15.  I was standing in the kitchen with my Uncle when he cracked open a bottle of Macallan.  Everything about it intrigued me – the label and the way he and his friends checked out the bottle and smelled their glasses.  I kept looking at him, and looking down at the glass, and looking at him, and down at the glass.  Eventually, he offered me and my cousin a chance to try it.  I nearly choked but I played it cool and swore it was delicious.  Self-fulfilling prophecy?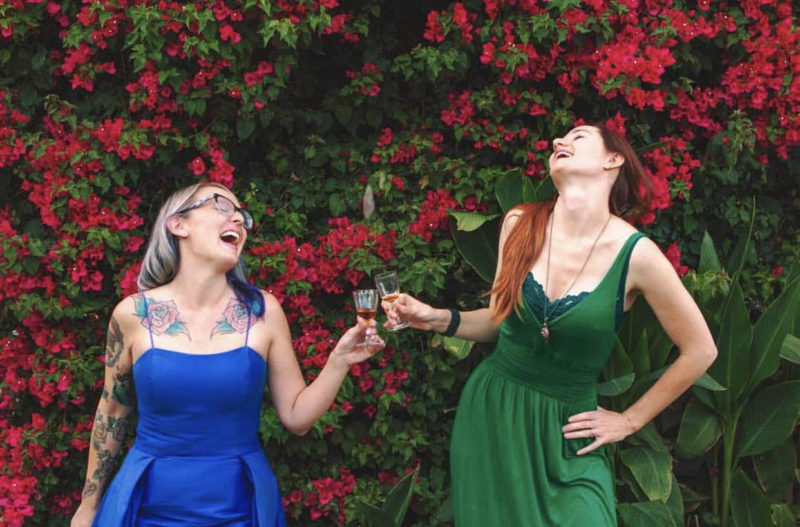 We are personal fans of independent bottlers and the craft work they have been releasing. Is there any independently bottled whisky high in your list of favorites?
S: I am most familiar with Scotch Malt Whisky Society nowadays.  I love that they focus on flavor and not on labels or brands.  It forces people to be true to their taste buds instead of their preconceived notions.  Jenna Elie, the Member and Brand Relations Manager for SMWS got me hooked line and sinker on their 68.11 Honey cake with elderflower icing.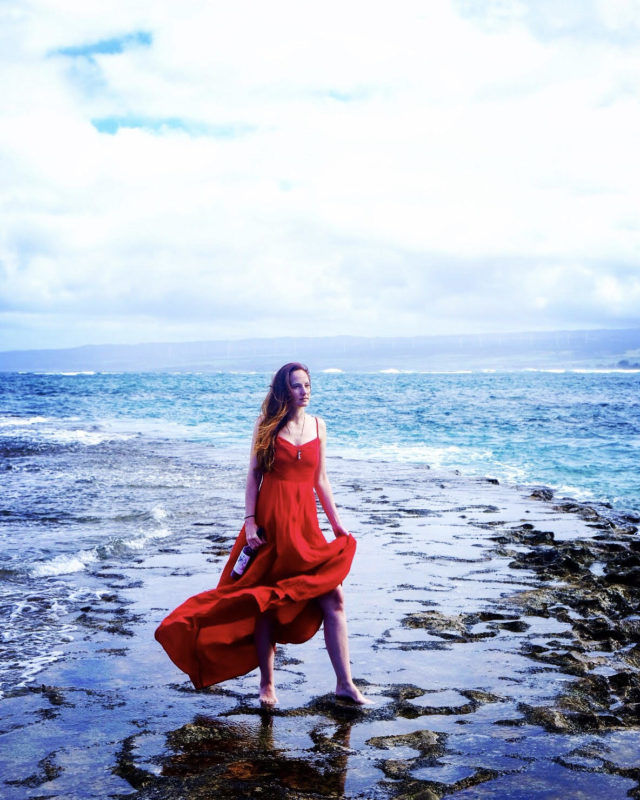 There is a growing interest in whisky from small, independent distilleries, so what are your thoughts and feelings in these craft whiskies?
S: I love craft whiskies!  I think innovation and experimentation is exciting.  Bourbon itself was an experiment back in the day after all!  Right now, I can't stop drinking San Diego Distillery's beer whiskies.  My favorite is the Dark Star November from Bottle Logic Brewing distilled into whiskey.  The Distiller, Trent Tilton, blended a special 1 of 1 bottle just for me.  My bottle is a blend of Dark Star November aged in an ex-bourbon cask blended with Dark Star November aged in a French oak cask.  It doesn't even have a name yet.
What does whisky mean to you?
S: Every whiskey is a representation of the culture that it came from.  Just take Japan for example.  Japan as a culture is bound in thousands of years of tradition and yet is also constantly shifting, adapting, and mastering technology and change.  Japanese people grow up mastering the art of subtlety, where they value objects that appear simple but include subtle details that balance simplicity with complexity.  They take their culture and mimic it into a whisky that is simple, subtle, complex, and balanced in a way that isn't replicated in the bolder cultures of America and Scotland.  Suddenly, and almost overnight, they became a worldwide whisky superpower.  The science of whisky is essentially the same across the globe, but the culture of whisky is what comes out in the glass.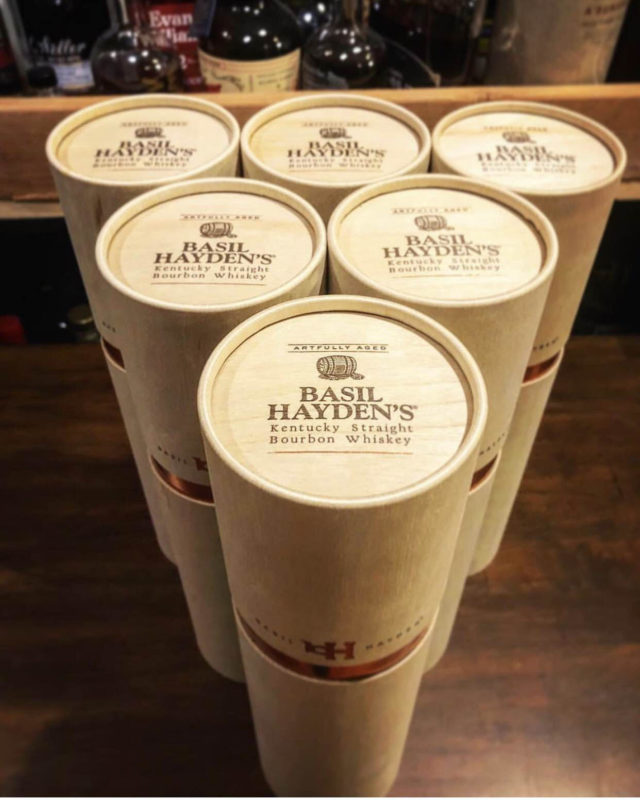 Do you have a favorite whisky and food pairing combination? 
S: Definitely chocolate.  The way that chocolate can pull out or cancel out certain flavors in whisky is really fun.  I did the Kentucky Bourbon Trail last year and stopped by Evan Williams Bourbon for a whiskey and chocolate pairing.  There, I learned how pairing milk chocolate with a spicy rye will actually mellow out the whiskey and help pull out different flavors.  Conversely, pairing dark chocolate with a bourbon will turn it into a spicy flavor explosion in your mouth.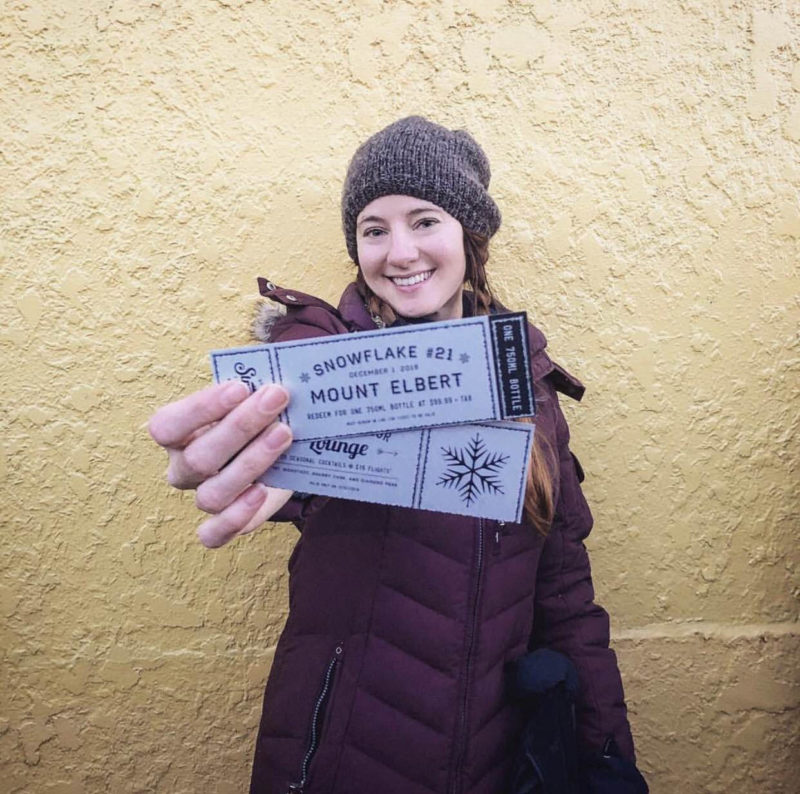 What do you think is going to be the next big thing on the whisky horizon?
S: The Scientific Renaissance.  We all know that the supply and demand module is pretty imbalanced out there in Whiskyland.  Japan no longer does age statements and Scotland is blending more and more.  Combine that high demand with a new influx of young whiskey drinkers that value unique flavors, integrity, and quality over brand power, and craft products, and science will come to the rescue.  Picture a twenty-year flavor profile being accomplished in six days.  The industry is forcing science to evolve and distillers, artists; creators will all find unique ways to produce quality products that have never been done before.  And they will do it without fear that people won't buy it because it isn't an 18-year single malt traditionally made.
Anything else you'd like to share with our readers?
S: My best tip for whisky drinkers is to try drinking your whisky in unusual places.  Get out of the bars, pack your Glencairn, and explore.  It will change the way you perceive your whisky as well as the world.  You could drink the cheapest whisky on top of Mount Everest and still have an amazing story and fond memory.  Whisky, like life, is meant to be experienced.