2018 was a big year for Taste the dram and all the wonderful opportunities we had to interview some amazing Instagram personas. To keep 2019 rolling we wanted to start off with the bang. Today we bring you a very interesting interview with Sydney or shes better known on Social Media @Sydney_Scorch. A few cigar aficionados urged me to speak to Sydney about her passions in the cigar industry, and I am glad I did! She has a wealth of information on the industry and the cigar community as a whole. Enjoy the read.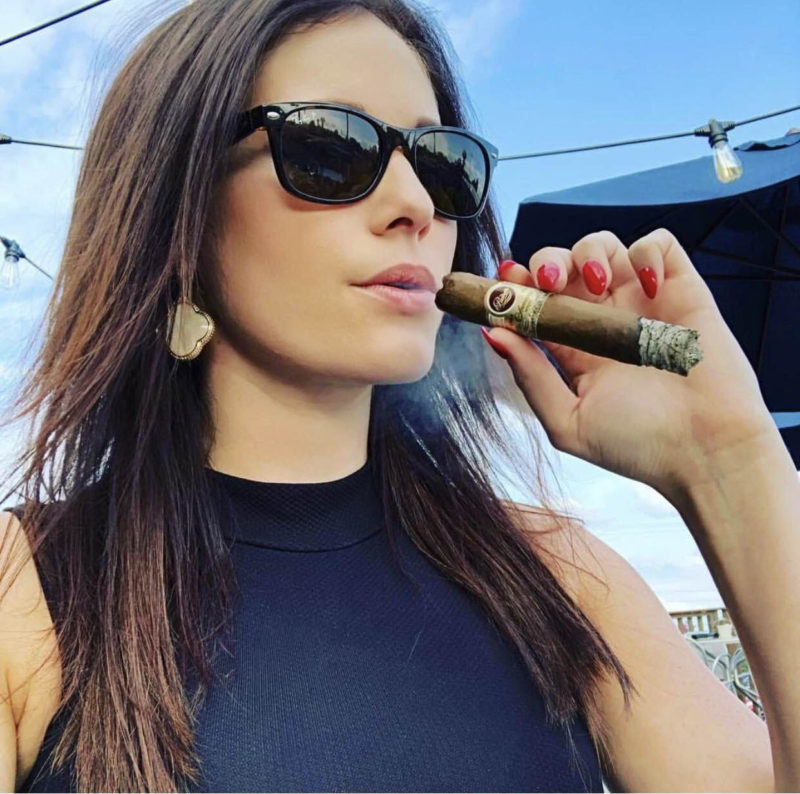 Sydney, please tell us a little about yourself. Give us a glimpse into who you are. How did you start smoking cigars?
SV: Growing up, my father always smoked cigars in the summertime. We live by a lake and the relaxing atmosphere and smell of bonfires and cigars always appealed to me. I smoked occasionally with him, but only regularly began smoking about three years ago. Meeting a great group of cigar smokers really increased my interest. I smoke anytime I can now!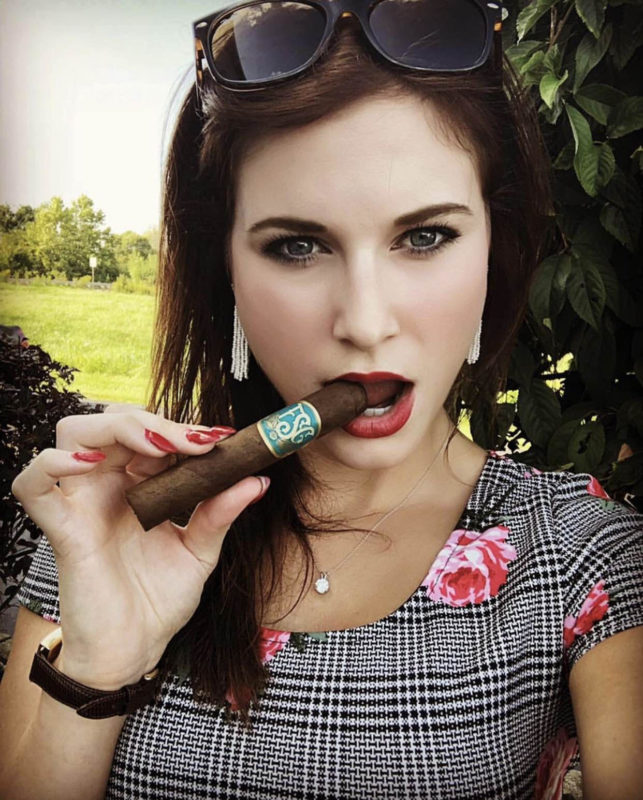 What was the most interesting reaction of a man seeing you smoke a cigar? Can you share an anecdote?
SV: I don't have any crazy stories, but about once I week I hear someone say, "SHE'S SMOKING TOO?!" It's still amusing to me that people are so shocked by it! I think it is a great conversation starter, especially when people are curious about cigars but might be too shy to ask about them. Something about a woman smoking must lower their guard!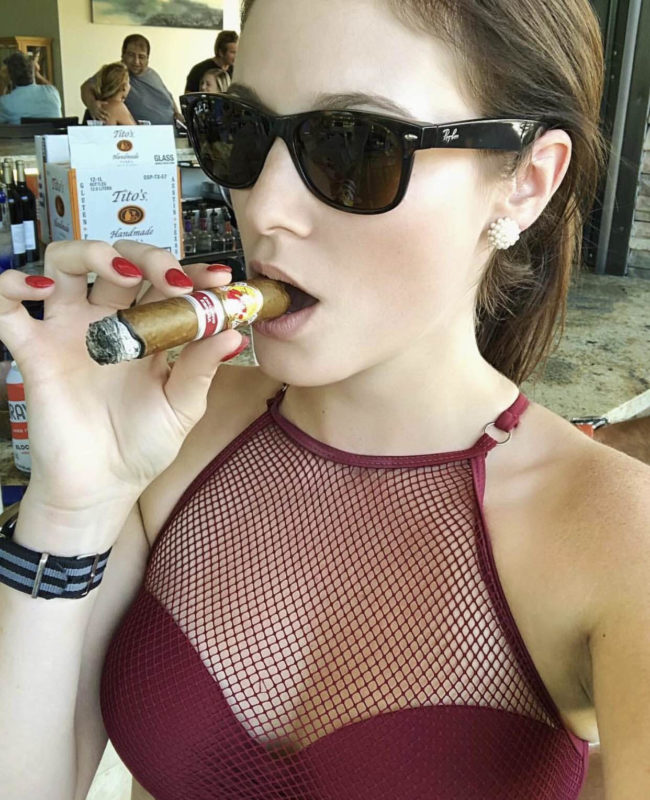 When and where do you like to smoke the most?
SV: I'm what I like to call a "situational smoker" – the setting is everything. If I can't relax and really enjoy a cigar, then I'd rather not smoke. I'm not too picky though… anywhere with a nice atmosphere and friendly people will do the trick! The weather in Ohio makes it difficult to smoke outside, but we have a few good indoor spots. Some of my favorite cigar lounges in my area? The Lanai Lounge, The Lake Club, and of course, Burn by Rocky Patel.
What attracts you to cigars and the tobacco industry?
SV: As I said before, my dad drew me to the industry initially, but I've really grown to love the people along the way. I don't think I've ever smoked a cigar with an unfriendly person. I've learned almost everything I know by sitting down and smoking cigars with people. It helps that anyone who wants to smoke cigars, rich or poor, can enjoy them. Besides the people, I absolutely love how complex and varied cigars can be. Its similar to enjoying fine wine or bourbon, two things I also enjoy very much.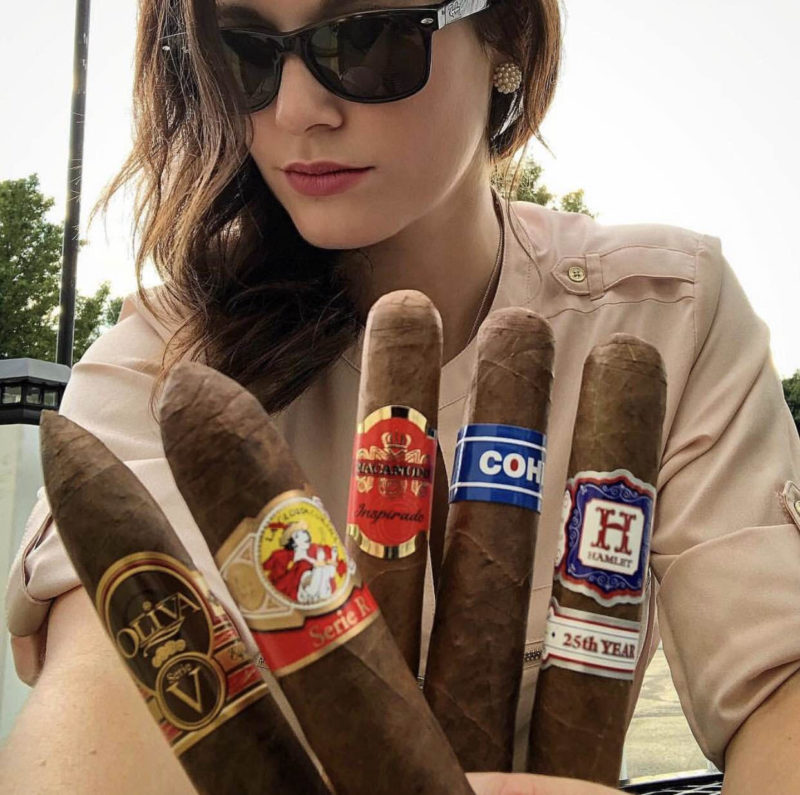 What is your favorite vitola?
SV: I think my favorite vitola is a petit robusto. I say that because my favorite cigars at the moment are all that size. I really enjoy a cigar with a ring gauge of about 50 because they usually have an ideal draw for me. I'm a slow smoker compared to my group, so a length of 4-6" allows me to enjoy a full cigar at my own pace and still finish around the same time.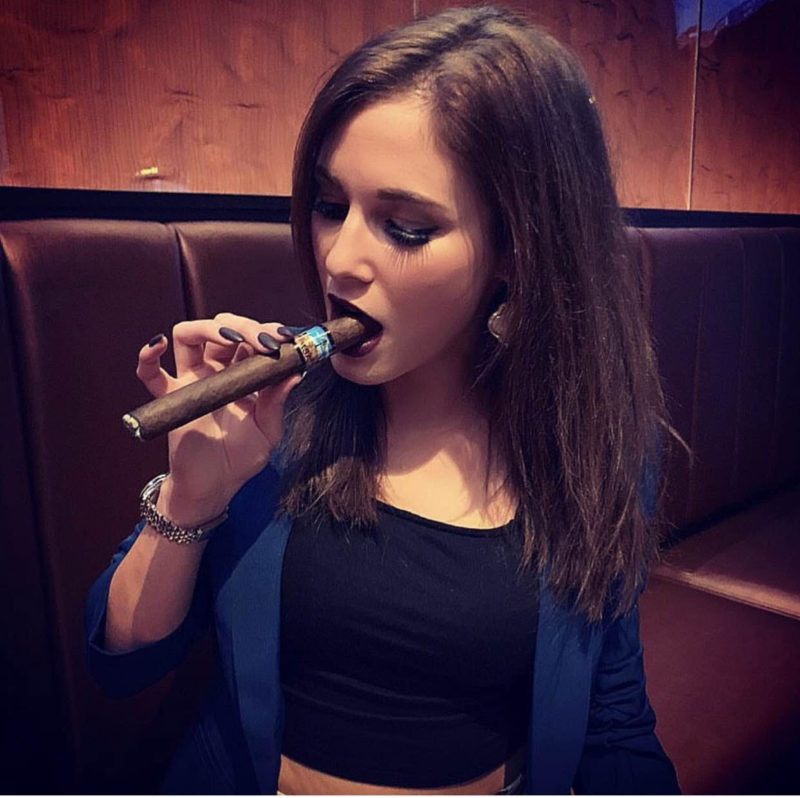 How do you think women smokers can make their stand against men in the cigar world?
SV: I don't necessarily think women need to "make their stand against men" in the cigar world, but I do think men should respect women smokers. I don't think anyone in the cigar world should feel inferior because that defeats the purpose of smoking cigars. In my opinion, cigars are for personal enjoyment, relaxation, etc. and everyone should be entitled to them. Aside from polite disagreements in cigar choice, I've been pretty fortunate and haven't had anyone make me feel like an inferior smoker because I'm a woman.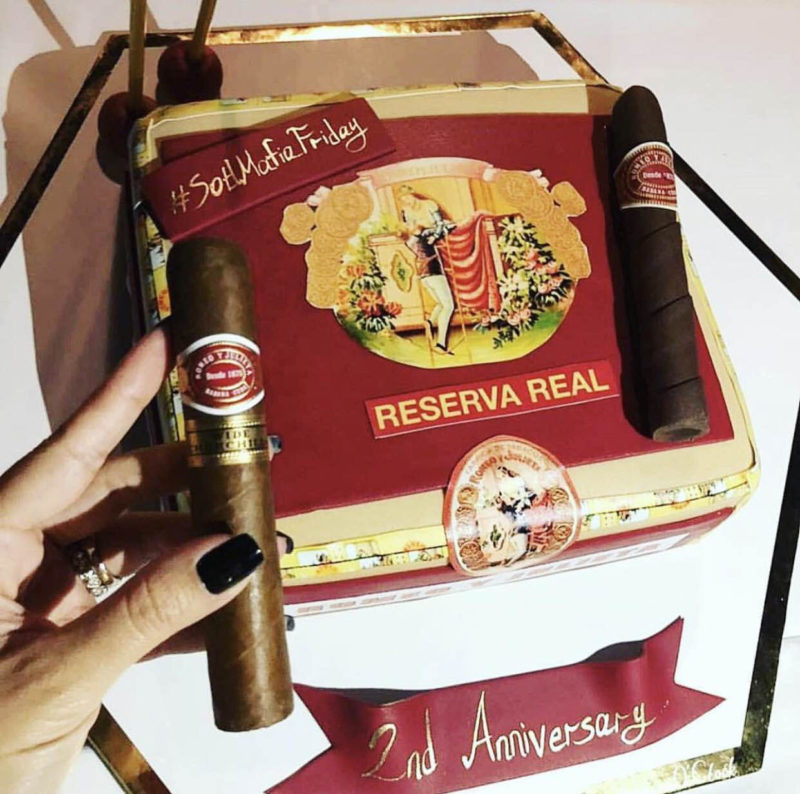 We have been seeing more and more women get into cigars. What do you think is personally responsible for this movement?
SV: The people. This ties into my previous answers a bit, but I really think my experiences and interactions with others in the industry have allowed me to really dive in! I also think society is opening up to the idea of women smokers, and the women smokers I've encountered have all been incredibly empowering. I was recently invited into the SOTLmafiafriday group (a group of women smokers who discuss cigars and post smoking photo on Instagram), and it has given me a lot of validation. It really boils down to this: the more people see women enjoying cigars, the more they accept it.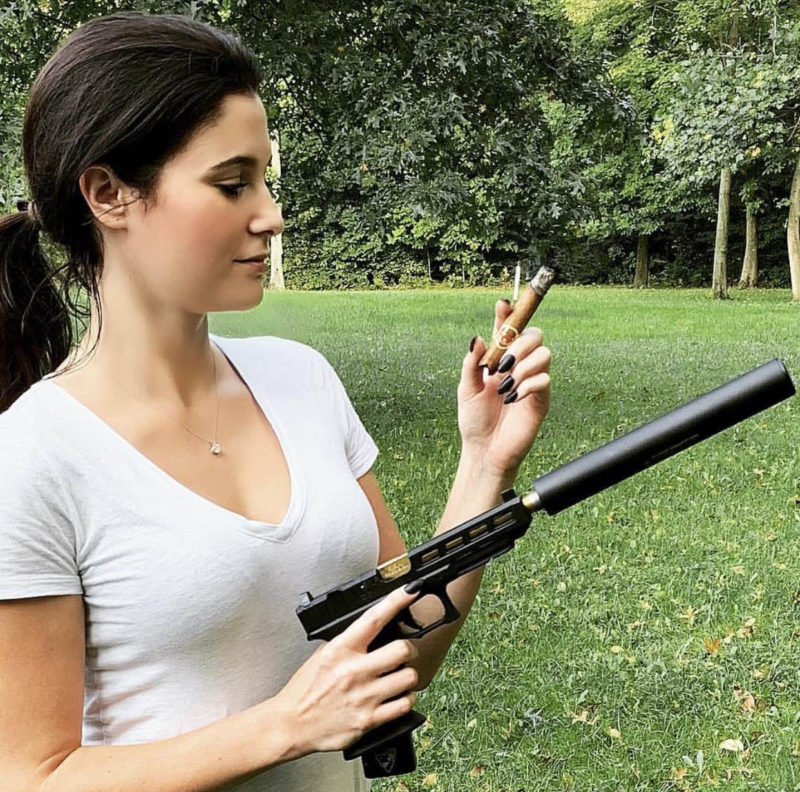 What are your favorite cigars and their place of origin? Give us your top 5 list of best cigars ever smoked.
SV: My favorite cigars are undoubtedly Cubans. While some people disagree, I think they have the cleanest and richest taste. I love the last third of a Cuban cigar that develops a nutty chocolate flavor. My top five cigars I've ever smoked:
KSA Robusto (Kingdom of Saudi Arabia)(Unbanded) – I was fortunate enough to be gifted a few of these from PK and I cannot adequately explain the favor. They are everything I enjoy about a Cuban.
TIE between Hoyo de Monterrey Epicure De Luxe (LCDH) and Partagas Serie D No.5 – Both of these are my daily go-to's. I've found them to be the most consistent box to box. They also pack a bunch of flavor in a smaller cigar and burn slowly enough to enjoy.
La Gloria Cubana Exclusivo Paises Bajos – I absolutely HATED these when I bought them because they were entirely too young. I let them sit for about 6 months and they really showed me the beauty behind aging a cigar. I think the flavor is fantastic now and I can't wait to see where they are in a few more months.
Behike 52 – Although I think Behike's are a bit overpriced, you can't beat this classic.
Trinidad Reyes – I've had some bad luck with boxes recently, but my first box was phenomenal (I wasn't smart enough to catch the year). This smoke solidified my love for Cubans and was the first full box of Cuban cigars I purchased by myself.
What are your thoughts on Cuban cigars vs New World cigars?
SV: I think I've made it pretty clear that I prefer Cubans to New World cigars. If I'm being honest, a lot of New World Cigars pack too much of a nicotine punch for me to enjoy them. I also think the taste lingers too long after smoking, but these are just my personal preferences!
Are there any women in the industry you look up to? 
SV: I look up to every woman in the industry because I think they each can teach me something about cigars, but I really look up to the women in the SOTL group I mentioned earlier. A lot of them have been smoking longer than I have and they have already taught me so much! Another woman that really inspired me, in the beginning, was Delicia Silva (the Cigar Vixen)—her knowledge and experience gave me a great starting point.
What advice would you give women who are looking to wet their feet in the cigar world?
SV: The best advice I can give to women looking to join the industry is: just go out and smoke! Go out, smoke, meet other smokers, don't be afraid to ask questions, and do and smoke what you enjoy. The industry is full of people willing to help you find what you like and learn along the way. The best way to get a "quick and dirty" look into the industry? Instagram. You have to weed through some fakes, but it's the easiest way to meet people and get unbiased reviews of cigars.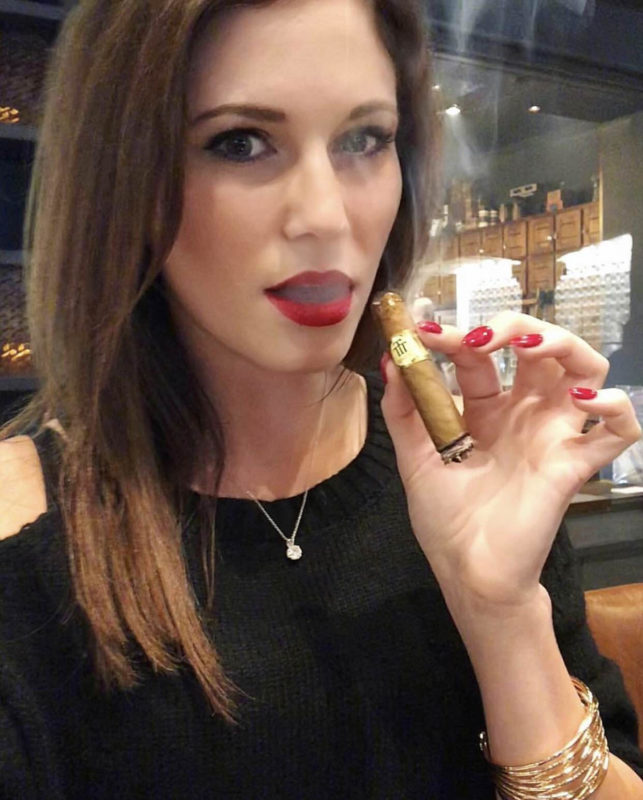 Anything else you'd like to share with our readers and followers?
SV: The only other thing I'd like to share is that I still consider myself a novice. I'm confident in my personal tastes, but I still have so much to learn about the industry and cigars in general.