Pierre is an artisan bespoke craftsman from Aberdeen, Scotland specializing in bespoke furniture and accessory business. Currently Pierre and Gene from Tastethedram have a contest running until the end of November 2018 to win 2 custom bespoke cigar boxes. To check out the contest please visit Instagram @Tastethedram and @Faitmaiz for rules and details!
Tastethedram decided to sit down with Pierre to find out more about this master craftsman.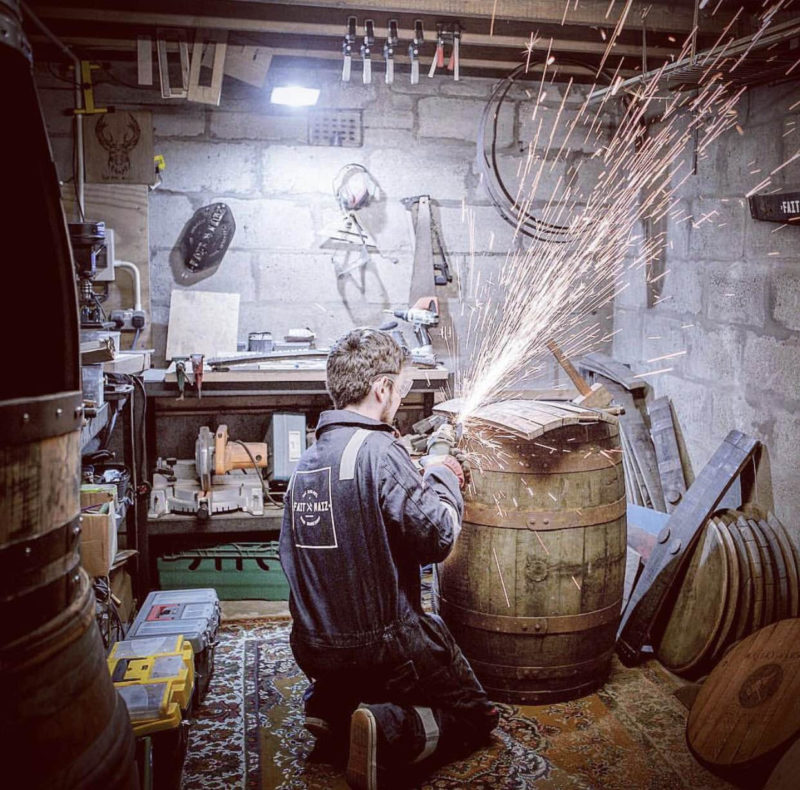 Pierre, let's kick things off with a small introduction of you to us. Tell us what you were involved with before starting your company Fait Maiz.
PV: I'm a trained nurse. I was working in the hospital and nursing homes. I started FaitMaiz as a hobby between nursing and being a dad at home when we had our first child. So it was only a part time hobby and now it's a part time job. I'm currently also helping in a whisky shop after building them a bar-rel and a desk. It's fascinating as I'm learning a lot more about whisky!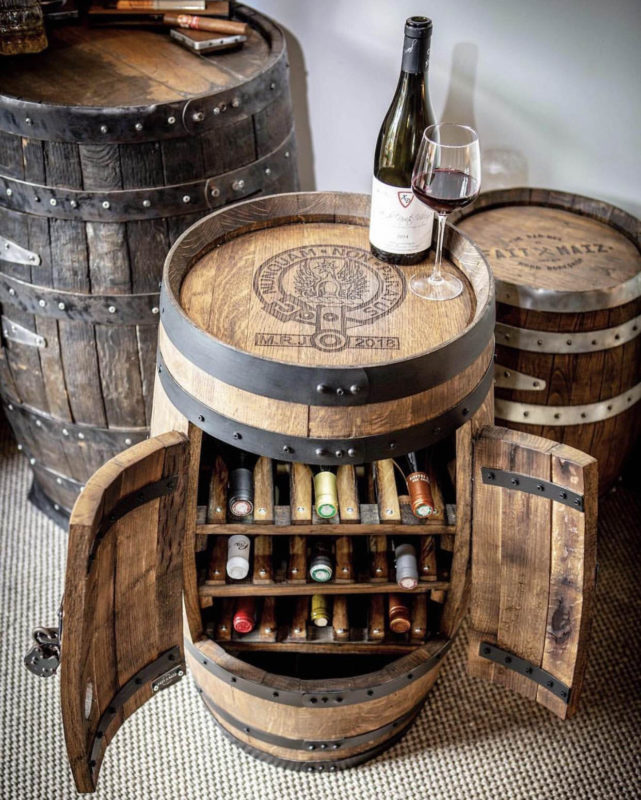 For those of us who have no clue, what does Fait Maiz mean? Does it have any special meaning?
PV: Fait Maiz come from the French words "faire" and "maison" which means "doing" and "home". Indeed my workshop was our conservatory until it became difficult to store all those barrels! Now I've got a garage near the house but it's still home to me.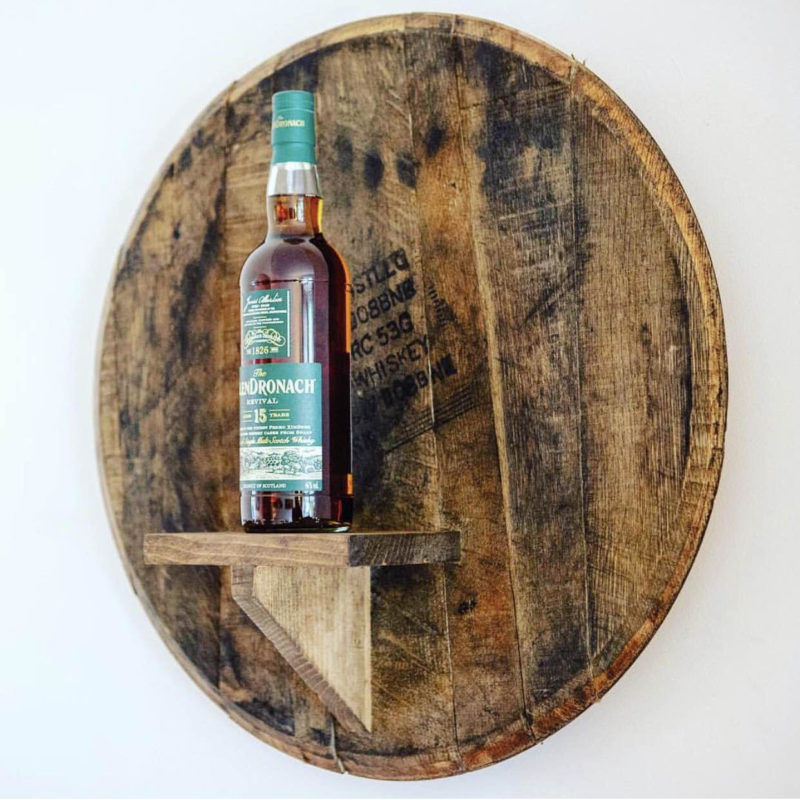 Tell us the process that goes into creating the beautiful woodworking pieces you currently sell.
PV: For the Large Bar-rel, first we need to find a good old oak cask that has matured Scots whisky for decades. It doesn't have to look pretty at this stage but it needs to have some soul! Because they're freshly emptied they'll dry completely over the next year but when you first open them, it's a whole story for your nose. When you think about all the years the oak and the spirit worked together to produce such aromas – it's a beautiful smell and every time it's different.
Then we need to reinforce the cask to ensure it has integrity before opening the doors. After that, its FaitMaiz magic: hours of brushing, drilling, screwing, sanding, cleaning, nourishing, polishing…
I'm working on bar-rel number 48 at the moment and for a few weeks, it will be mine until it finds its forever home. I like that! They're all unique with their own history and future.  They've all got numbers as they're all different and I care about every one of them.
It's so satisfying to know that my customers get to own a piece of whisky history and give those masterpieces a second life.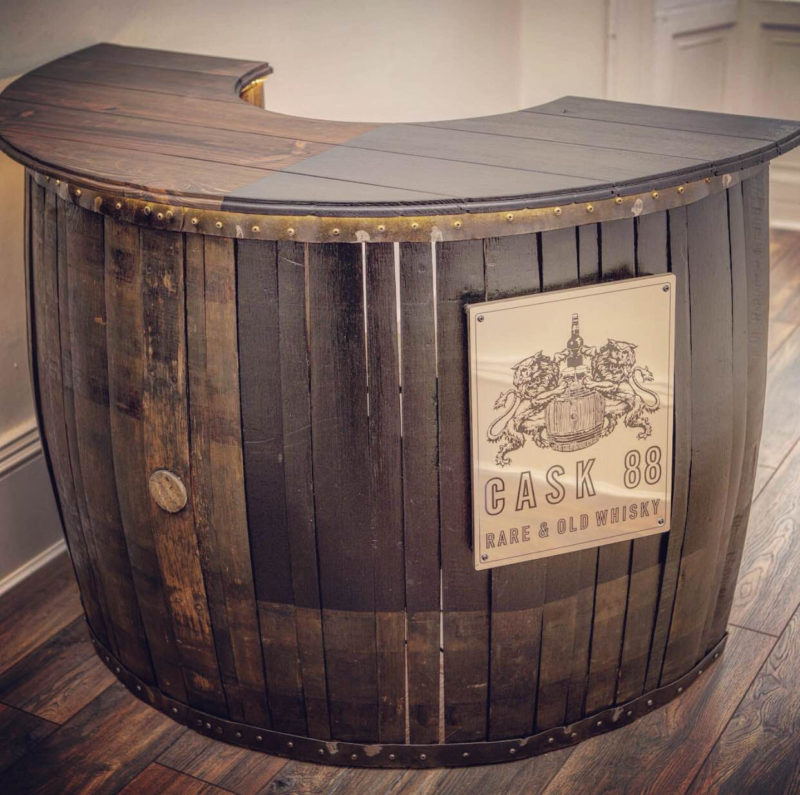 What is it about used whisky barrels that you find so interesting that you love incorporating either whole barrels or parts of the barrels into your products.
PV: I just find them beautiful, they are just awesome! I always wanted one in my living room and that's how Bar-rel number 1 was born. When I see some of them dying outside under the rain, after all those years in the warehouse maturing our whisky, I just want to give them another life.
I think it's a beautiful piece of wood to work with, each barrel having its own character and its individual charm. It's solid aged oak. You can't find anything like it. Never the same grain, never the same color, it's unique and it takes time, like it does for the whisky.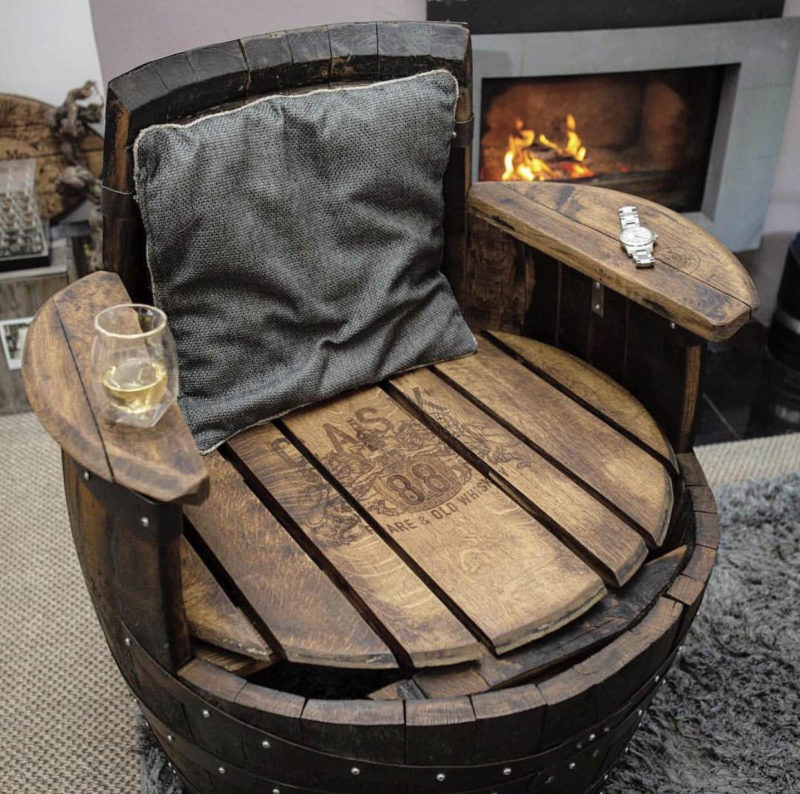 What products are currently available for purchase as of today?
PV: The Bar-rels drink cabinets are my main products and they come in 3 sizes to fit the best in your house.
I make a few other items such as tables, shelves, clocks and wooden light fixtures and always love a new challenge.  Most of these creations have come about from a customer request. My last creation is a whisky optic but I've also made personalized whisky clocks, cigar boxes, staves signs, coffee table, whisky chairs, lamps, trays, key holder, desks, etc…
I don't have any stock though, it's all bespoke. You can see all my creations on the website and social media.
If you could use 3 words to describe your product, what would they be.
PV: Authentic – Quirky – Bespoke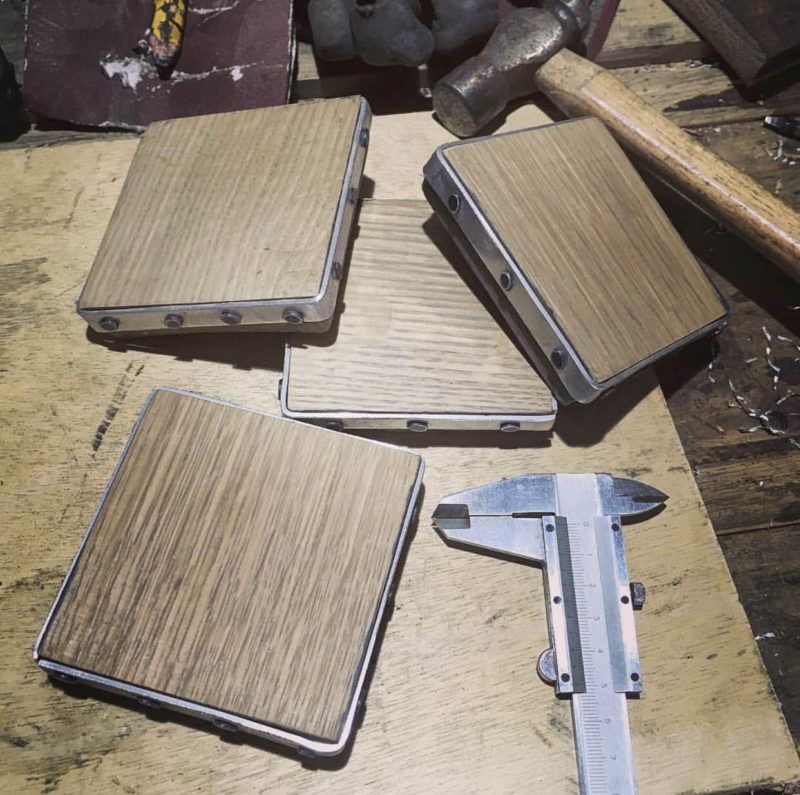 Let's get personal. Do you drink Scotch? If so how did you get into that? Also what is your favorite dram?
PV:  Yes, I do drink scotch, at least since I've moved to Scotland! I didn't really know much of it before and I was limited to French wine which I still love. One day though, a friend let me try a Lagavulin 16 and for many years I thought that was the only whisky I'd like to drink! Today, I'm living in Scotland and I've got many new favorites! It's almost every day that I learn something new about single malts. It's fascinating! And good!
I've recently opened a 15 years old revival from the Glendronach which is amazing but it's difficult for me to say what is my favorite dram… Old Pultney, Glengarioch, Scapa, Arran, Ancnoc… so many I like to share.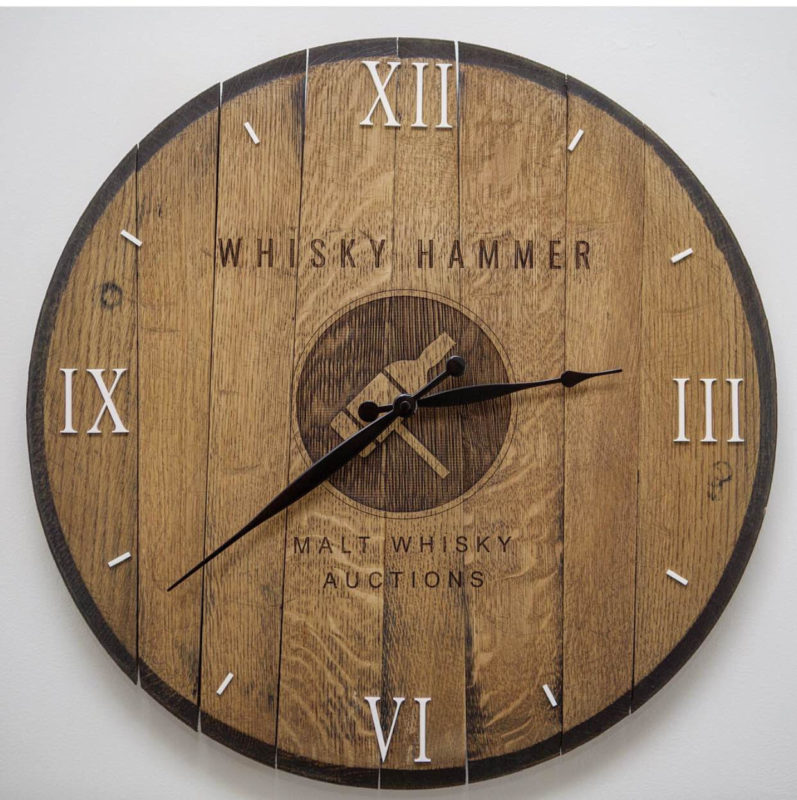 Starting your own business is very difficult. What advice would you offer others who are looking to become entrepreneurs and work for themselves?
PV: If like me you're lucky to get this opportunity, just do it! Stick at what you're good at and believe in it! It's a very rewarding experience.
Best advice someone has ever given you?
PV: "Keep your fingers away from that blade!"
Fait Maiz also does some custom bespoke pieces. Can anyone contact you directly and commission your company for a product or does it have to be of a certain industry or product type?
PV: All FaitMaiz products are bespoke and it will take more or less time to build depending on the request. Usually my customers like something I've already built, like a bar-rel or cigar box and they contact me and often have some specific requests or finishes. Sometime, they also come up with a product I've never made, like a cigar stand, which is even more exciting! Then I create their very own product and keep them updated during the process until they're happy with it.
Some restaurant's offer you to build your own burger or pizza. Well, on the faitmaiz website, you can build your own bar-rel drinks cabinet, choose size, color, finish, engraving… and more.  Request a quote if you're interested.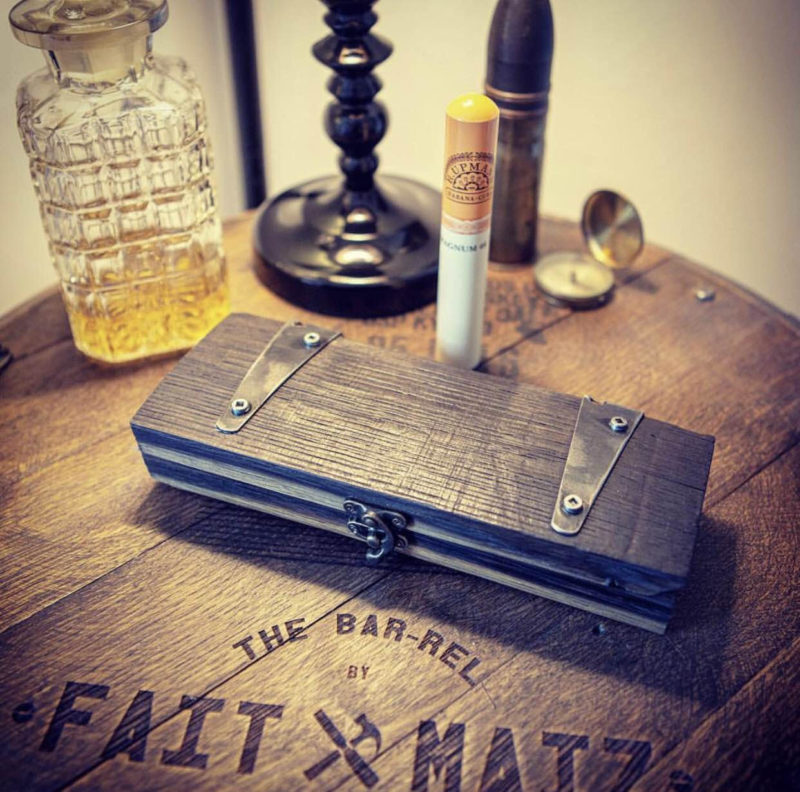 How do you plan on using social media to grow your brand? What has been working thus far?
PV: I'm using Facebook, Instagram and YouTube to show my creations and tell the world who we are. I think it's amazing to be able to share it on the web and social media's definitely help to reach more people, it's today's world. I don't really expect to grow FaitMaiz only on social media though I see that as a tool to make sure that interested people can find us. For me, it's quality over quantity. You buy Faitmaiz creations because it's been made just for you!
Pierre, is there anything else you'd like to share with our readers?
PV: Nothing especially thanks, but I'll be happy to answer any reader's questions if need.