We've had the pleasure to speak to William aka Billy of Instagram. Most of you best know him by his handle @BK23XXIII. Billy is a down to earth humble human being who enjoys a dram, a cigar and great company. Those are the three things he says have attributed to his success. Get a small glimpse into his lifestyle below and also follow him on Instagram at BK23XXIII for inspiration. We just hit the ground running with this interview.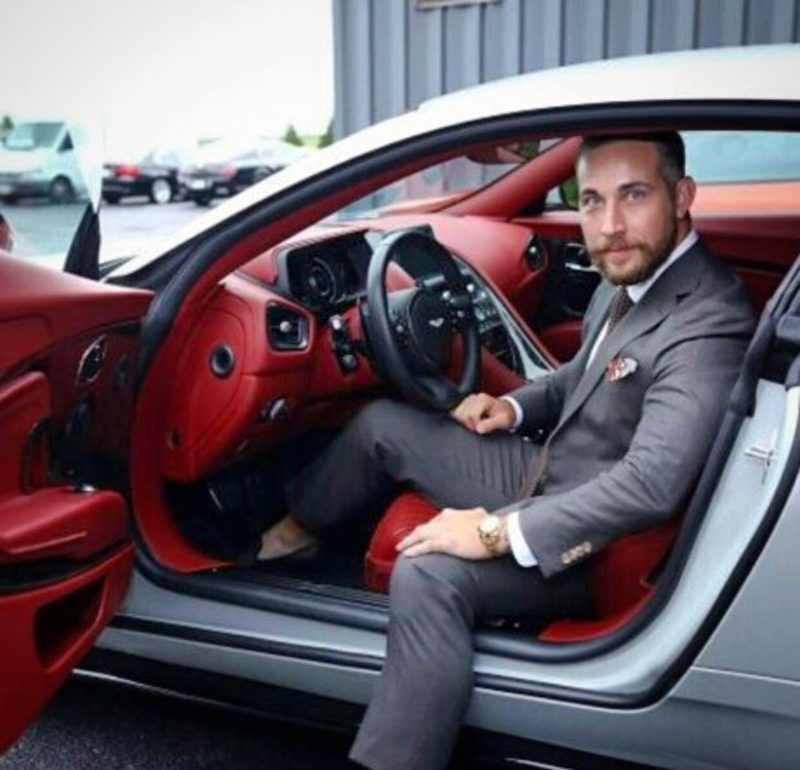 When, where and how did you fall in love with cigars?
WR: As a kid I remember walking past a tobacco store and smelling the pipe tobacco and watching the old guys laughing and telling stories and chewing on unlit cigars like you'd see in a movie. I thought they looked SO cool and the smell of the aromatic pipe tobacco was almost intoxicating. There was always something about a cigar that seemed rugged and masculine yet almost romanticized in a way, like the days of "Casablanca" or Pacino in "Scarface" in his tuxedo, cigar in hand at the restaurant table with Michelle Pfeiffer next to him or kicked back in the hot tub in his mansion. It just resonated with me. It was the epitome of "Cool"… and then I tried one, and the love affair officially began.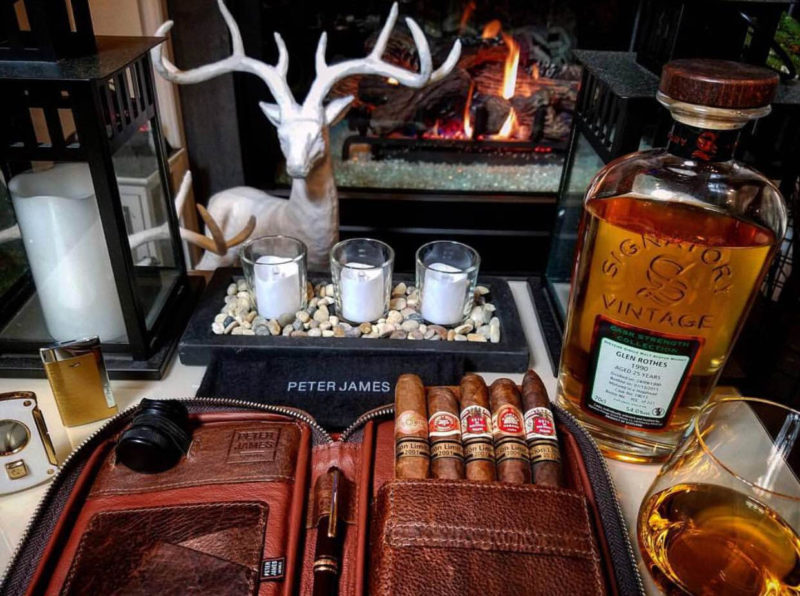 Do you remember your first cigar? Tell us about that experience. Also do you prefer to smoke Cuban cigars or a wide spectrum of variety?
WR: Vividly, lol! It was a Montecristo no. 2 (Still one of my favorite cigars). It was a humid summer day and I took a client to play golf on my home course. The bugs were terrible and he offered me a cigar and said the smoke would help keep them at bay while we played! It was such a sensory experience in that I remember how it felt in my hand, using his cutter and torch to light it up, the smell of the medium bodied Cuban tobacco, the taste. It was something I immediately knew I wanted to try again… and I have always been the type to go hard or go home, and in this case, I went all in, quickly amassing a good size collection of sticks in a desktop humidor.
At the time, acquiring Cubans was far more difficult, so I tried a bunch of different Dominican and Nicaraguan brands, vitola, blends, etc. As my collection evolved, so did my palette (and the size of my humidors)… as did my access to Cubans which I quickly developed a preference for as they tend to be more medium bodied with a flavor profile I found more developed and complex than other regions.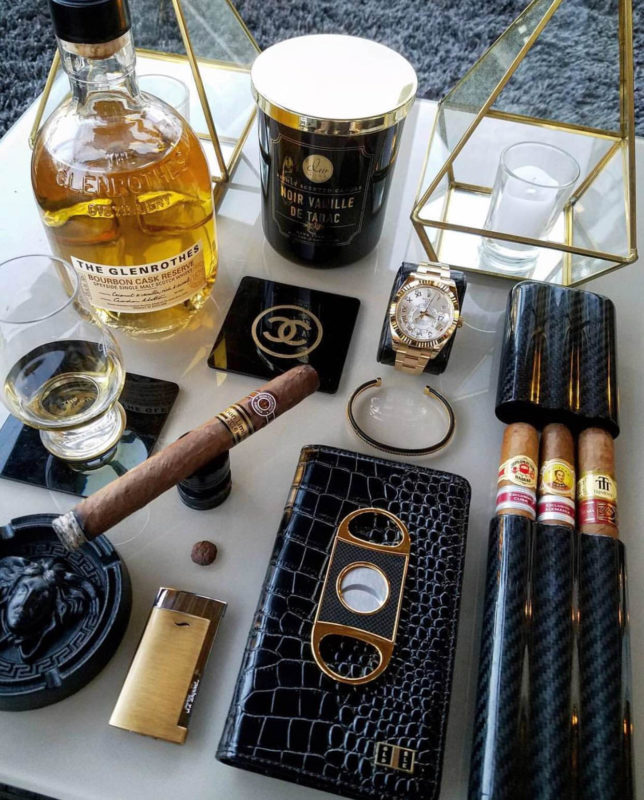 Let's use the term influencer loosely here. But anyone who is anyone on Instagram who loves cigars follows you. Tell us about the name BK23XXIII.
WR: So, had I known that my page would evolve into what it's become, something of a glimpse into my lifestyle and my collection of cigars, sneakers, watches and love for fashion, I likely would've come up with a screen name that was more fitting to my interests. With that said, my page is still JUST my personal Instagram page. I never really had the intention of building a brand or becoming an "influencer" in any way. I just liked the concept of having a forum to engage with like-minded people and I am grateful that so many people enjoyed my pictures enough to start following me. BK stands for Brooklyn, which is special to me and the 23 is my lucky number and stems for my love of basketball and Michael Jordan, which if you have seen my man cave, you know I am a fan of.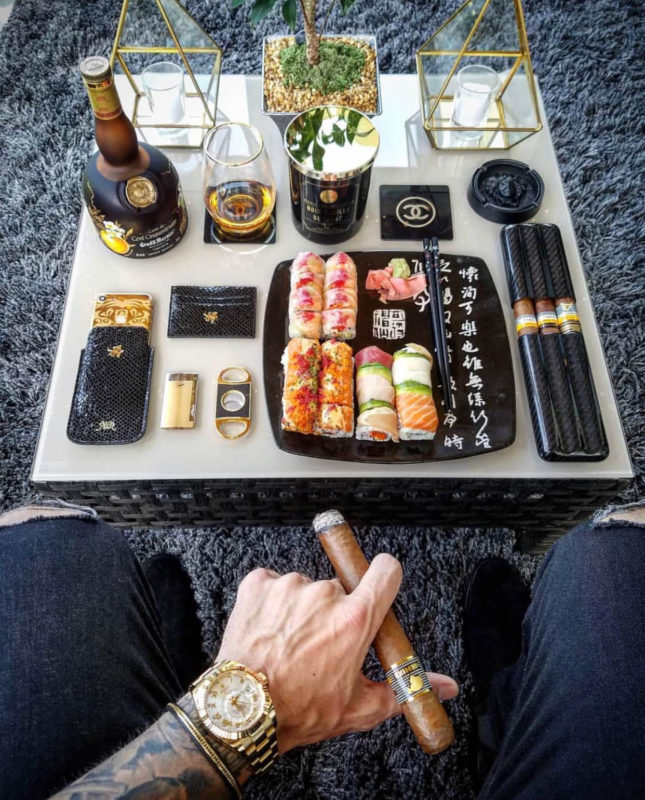 We know you're a huge Chicago Bulls fan, particularly Michael Jordan. What is it about his airness that impresses/inspires you? Also, did you ever get a chance to smoke a cigar with Michael Jordan himself? Or is that on the bucket list?
WR: Never been much of a name dropper, but I have been blessed to smoke some great cigars with some AMAZING people, which is a big part of what makes the cigar culture SO special. As a matter of fact, spending an hour over a cigar and great conversation has led to many of my fondest memories. As far as Michael is concerned, his dedication to greatness, his level of intense competition, that killer instinct and desire to succeed, whether it be in building his sneaker empire and Jumpman Brand or his incomparable success on the court inspired me.
His success and his career motivated ME to strive for greatness. In business, in life, I am an ALL or NOTHING kind of guy. I don't settle. If I want something, I BUST MY ASS until I get it. Then, I set a new goal and work towards accomplishing it… Equally important, I take time to rest and reflect and be grateful for what I have accomplished. No point in working hard if you can't enjoy the spoils of your labor, right?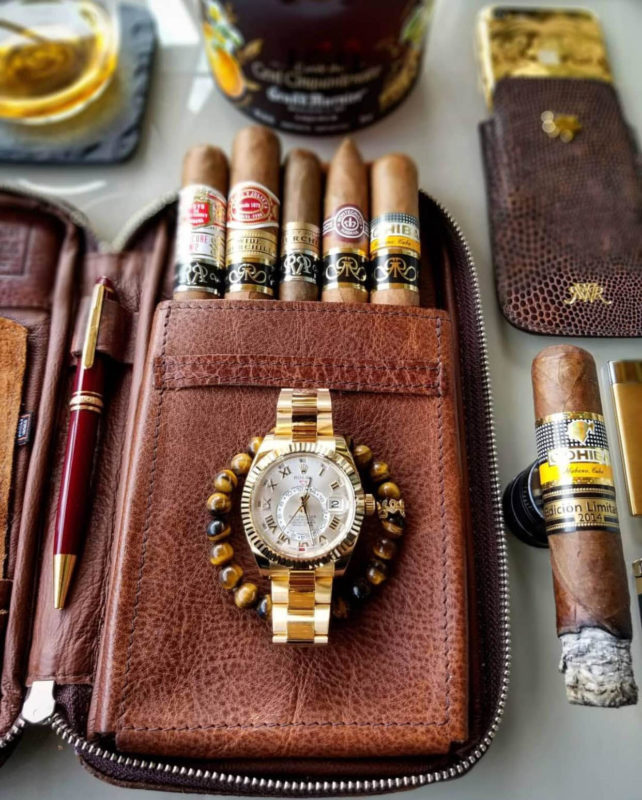 Right, so how has your life changed in any way because of Instagram?
WR: Not necessarily "Changed" but I have met some really remarkable people who I have befriended, had amazing conversations with, sometimes over cigars and whiskey and even recently, had the opportunity to go into business with (Stay Tuned).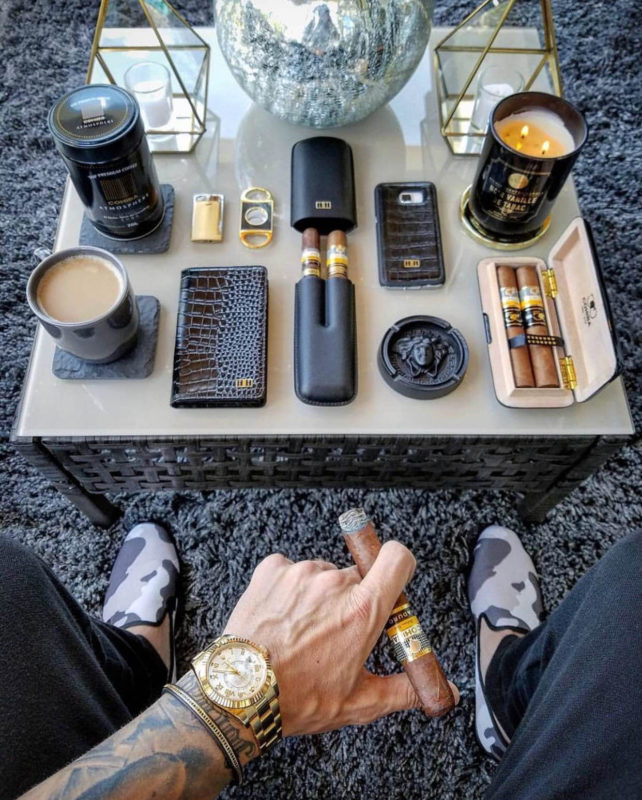 We can't wait to hear what you have coming up. Tell us a little about your posting style. I noticed all your photos are very uniform and have great lighting and color schemes. Is that on purpose?
WR: Lol, I have always been a bit OCD. I like my houses to look like nobody lives in them, a bit modern, with a lot of symmetrical lines. Possibly a "Feng Shui" vibe as I really like the feeling of creating my own ZEN.  Even as a kid, I would hang posters on my walls (MJ of course and make sure they were level and evenly spaced. That symmetry and coordination has definitely spilled over into many aspects of my life, especially my Instagram page. People ask me a lot "How long do your setups take" and "Is it just for Instagram" but in reality, they only take 2 or 3 minutes to set up and whether I take a picture or not, I feel like each cigar is an experience and my surroundings enhance that experience.
So much like you would set the table for dinner; I do the same for a cigar and cocktail. What's interesting is the number of other cigar related accounts who have started doing the same. It's cool to know that my pictures inspired them.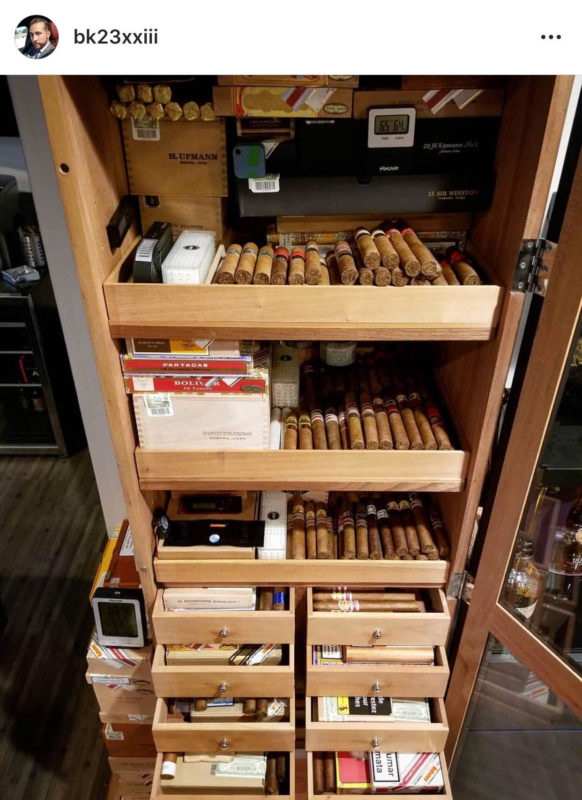 You're the creator of #whatwouldbk23xxiiismoke. Can you tell us more about that?
WR: I can't actually take credit for it! I posted a picture of my humidor a little while back and mentioned that it was a bit of a regular conundrum for me to stand in front of it with the door open, letting all the relative humidity out trying to decide what to smoke. The picture was pretty popular and someone jokingly posted #Whatwouldbk23smoke… I liked it so much; I responded with my choice for that day and started incorporating it into each of my posts. It was neat to see so many people start using it. I think nearly 6,000 people have used it in their hashtags over the past year or so which is crazy!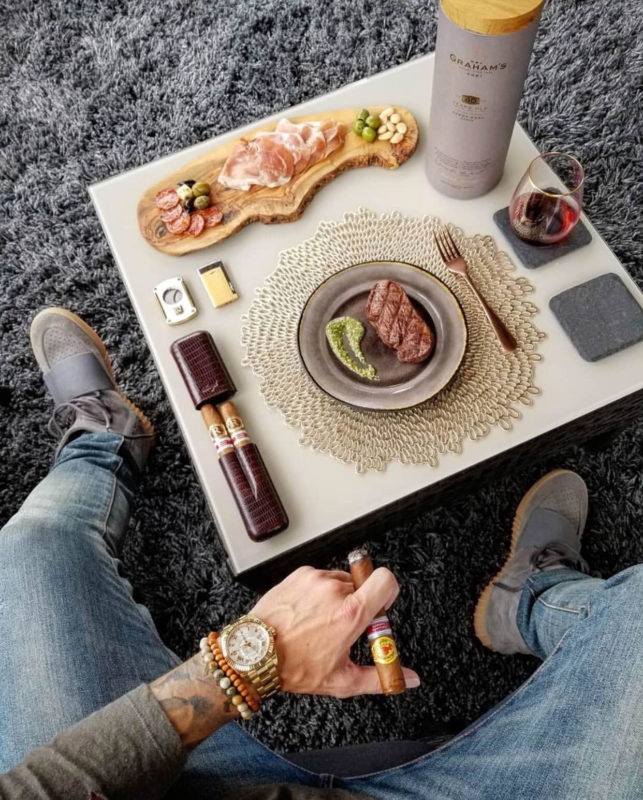 There are many communities on Instagram. Two particular communities that are huge are the whisky community and the cigar aficionados. What do you think attributes to such a success within these two groups?
WR: Unquestionably the passion of the people who make up both communities. It's amazing to me to see the amount of knowledge, the size of individual collections, the willingness to share and trade within BOTH communities. It's so classy! In the cigar community, there is a term "BOTL" (or SOTL) which stands for "Brother/Sister of the leaf"…Granted, a little cheesy, but in regards to what it represents, it's an amazing concept and rings true throughout the community of cigar smokers.
It is a term of endearment, a sign of respect and equality. Unlike so many "clubs", there is no focus on race, creed, color, religion. We are all family…Brothers and Sisters with a common bond and a passion that connects us regardless of those other factors. The whisky community is the same. People often don't realize the dedication it takes to refine your palette and truly appreciate your passion. Sommeliers spend YEARS refining their palette and learning about wines, the regions, the grapes, the Terroir. Cigars and whiskies are no exception! You could spend a lifetime truly exploring every aspect of both.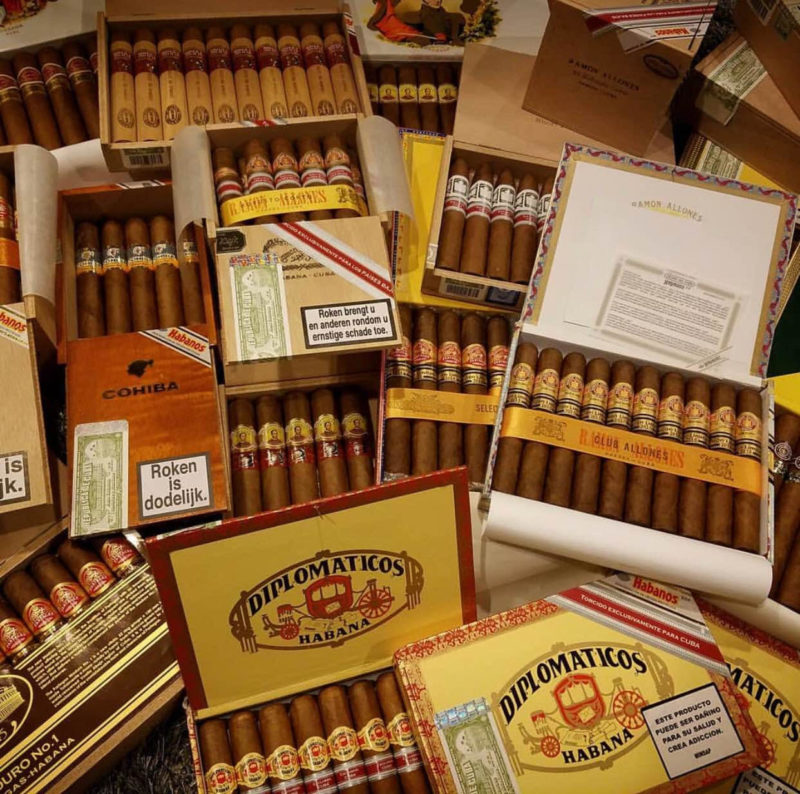 Let's dive into cigars. Give us your favorite cigar and why?
WR: IMPOSSIBLE! Picking a favorite cigar is like picking a favorite child! Sometimes you like one more than another, but it all depends on your mood, lol! A few of my favorite cigars include:
Cohiba 1966 Edicion Limitada 2011
Partagas Lusitania Gran Reserva
Por Larranaga Sobrasaliente RE Gran Bretana
Romeo y Julieta Wide Churchill Gran Reserva
Ramon Allones Robusto Corto
But there are so many others that I have smoked that created such an unbelievable experience, it wouldn't be fair to say I had only one favorite.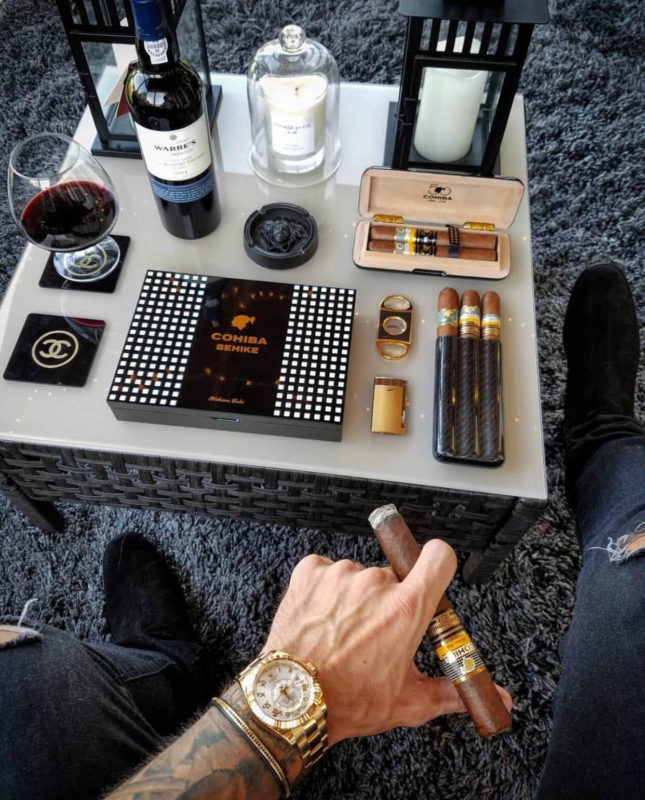 Proper way of cutting, lighting and smoking the cigar, please educate the masses to get the full flavor of the stick.
WR: Great Question to which there is no definitive answer! The cut of a cigar depends solely upon someone's personal preference and can change based on the flavor profile or vitola of the cigar. The most popular is the guillotine cut. It is a symmetrical straight cut above the triple cap of a cigar that allows for the most smoke to be evenly distributed through the cigar and into your mouth allowing for a more robust amount of smoke from the draw. It also creates a more mild experience based on the distribution of smoke.
The next is a V-Cut which can alleviate the risk of cutting too deeply into your cigar but also keeps the amount of tobacco debris at a minimum. Also, the "Punch" is a popular cut, but my least favorite in that it tends to direct the smoke to your tongue creating a "Tongue bite" where the concentrated smoke hits a smaller surface area of your palette. This typically results in more harsher, hotter smoke bringing out some of the tones of a cigar that I don't enjoy as much. If your cigar is rolled a bit more tightly than it should be, the punch adds to the challenge of pulling air through the cigar making it less enjoyable…but again, to each his own!  There are many thoughts on which cigars you should use what cut on, but it's truly relative.
Lighting your cigar can be just as much of a process. You should never use a Sulphur match or gas lighter other than a clean butane torch lighter. The gas could affect the taste of the tobacco otherwise. And if you're using matches, use cedar matches, wait for the head of the match to blacken and wait for the flame to burn to the wood before bringing the foot of the cigar close to the flame. You can also use a cedar strip. Light the cedar and just like you would with a butane torch (My preference) toast the end of the cigar allowing the flame to just barely, if at all, hit the cigar. This helps to create an even burn and ignite the wrapper and outer layer of tobacco. From there, I typically hold the cigar at a 45 degree angle, puff the cigar and rotate it ensuring it lights the tobacco, including the interior tobacco (Filler) evenly. This is where the magic happens.
With each draw, take the smoke into your mouth, allow it to sit on your tongue, take note of the flavors and nuances, and breathe it out. Be careful not to inhale, especially as novice smoker… it won't be a mistake you make twice!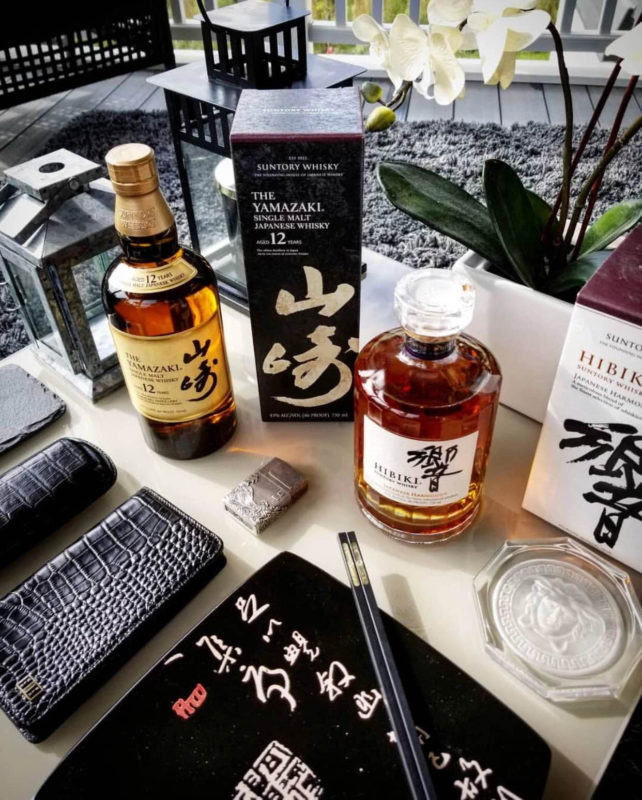 Billy, I know you're also pretty big into rare whisky. What is it about the cigar and the whisky that makes such a perfect combination? Give us your favorite pairings of cigars & whisky.
WR: The two are such a perfect pairing. All of the amazing nuances of a whiskey, even on the nose and finish, can be complimented by the many different tastes of great cigar tobacco. Finding a great combination of both makes it an unforgettable experience. I would have to say my favorite pairing lately, and it often changes as my cigars age and so do my whiskies, would have to be Hibiki 21 and the Por Larranaga Sobrasaliente RE Gran Bretana. I have become a big Japanese Whisky fan the past 5 years as they have had some exceptional releases and the oak, Sweet caramel and smokiness with just the right amount of fruit and spice really enhance the exceptional flavor of this Cuban regional. A surprising new release from Michters, the limited release toasted barrel bourbon also offers a great pairing for a cigar. It caught me off guard with the amount of honey, vanilla and caramel with that toasted barrel smoke on the finish which transitions to a bit of oak and leather as it lingers.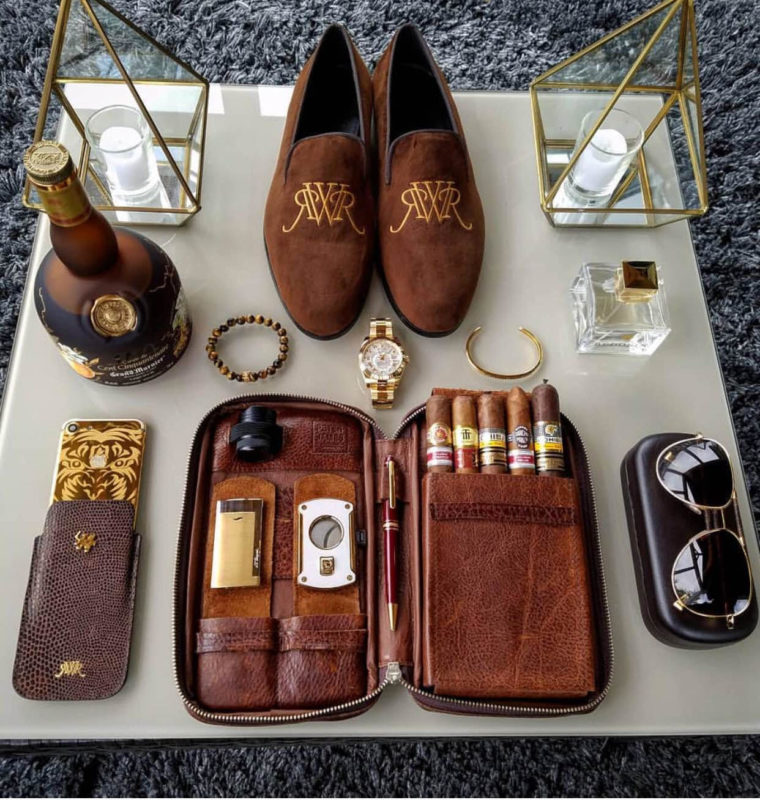 As you know, many people consider whisky that is older to be far superior to the younger stuff. Would you say from personal experience smoking some fantastic cigars that this holds true in the cigar world as well? Or have you found yourself being surprised by some younger sticks? If so which ones?
WR: I think the caliber of the distillery plays a huge roll in whether or not newer bottles and younger releases hold up to the aged classics. As I mentioned above, the Michters toasted barrel surprised me but whether it holds up to a Dalmore 50, well that's a matter of opinion and the size of your bank account. There is no doubt that age does WONDERS to whiskey and equally to cigars. It creates a maturity that can only come from age and character that you can't always explain with words, but you can absolutely taste…and THAT is why we love it!
In regards to cigars though, I tend to buy multiple boxes of the same cigar for several reasons, but mostly to try each in different phases. I will smoke a few from a box when they are young, then let the other boxes rest for at least 3 to 5 years, occasionally sneaking one out of a box to see how they are coming along. I age my cigars at 65% humidity and 65 degrees Max. But consistency is key! Younger cigars tend to be a bit harsh, but there is always a rare exception, like the new Diplomatico Nortenos and the Romeo 2018 El. Both were great right out of the box, which typically means they have a TON of aging potential.
A lot of people in the Instagram cigar community look up to you, but is there anyone else you personally look up to in the cigar industry?
WR: Honestly, there are so many guys and gals on Instagram that I talk to regularly that I look up too. Not because of their cigar collections or the material things on their pages but because of their generosity, their willingness to teach (and learn), their uncompromising passion for, and the lengths they go to acquire, the things in life that are meaningful to them. I don't aspire to be anyone but who I am, but who I become certainly is molded by the people I choose to surround myself with… and I can confidently say there are a LOT of great folks in these two communities that I am honored to call friends.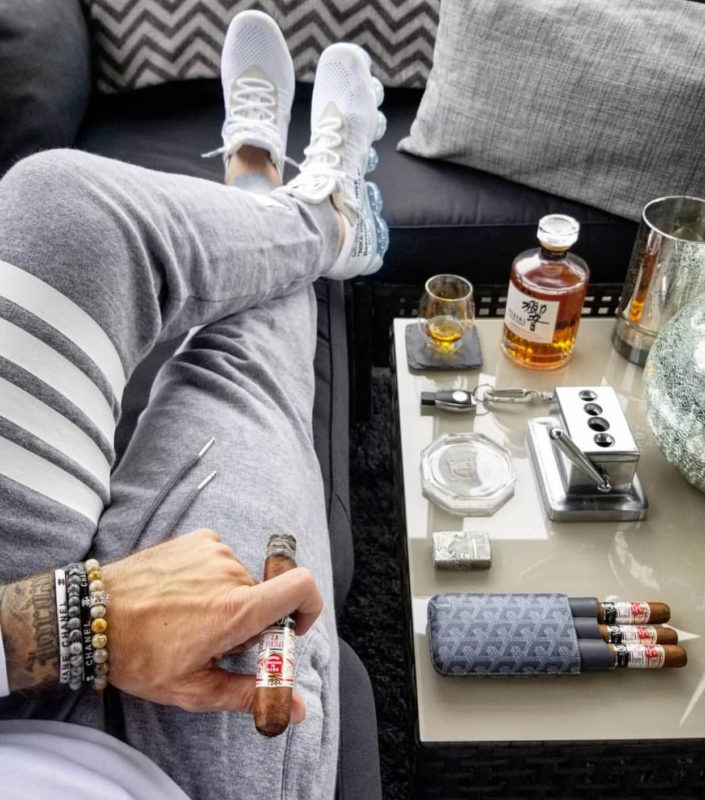 If you could sum up your life with a quote, what would it be?
WR: "Some people want it to happen, some wish it would happen, others make it happen."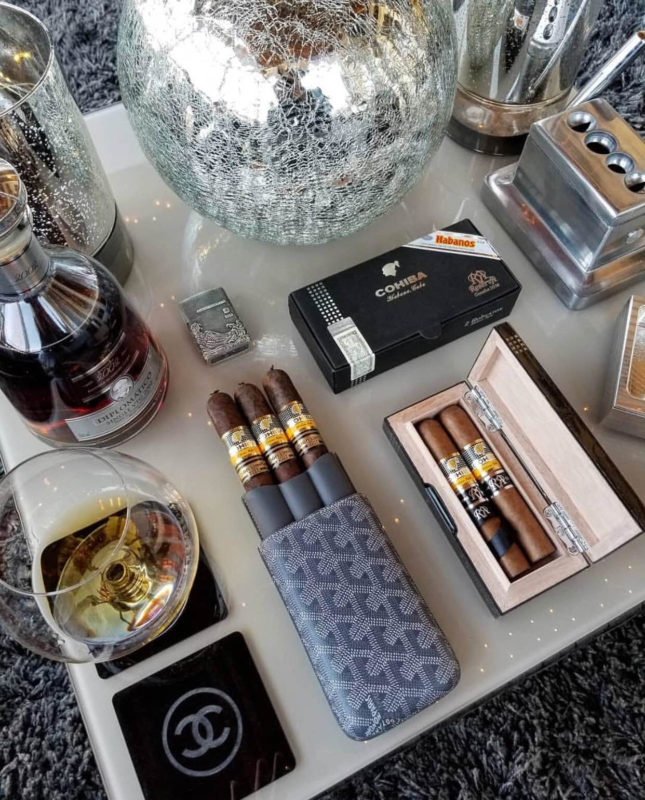 Anything else you'd like to share with our readers?
WR: Only that I am grateful for the opportunity to share a bit of my passion with each of you! Thank you for that!