Over this last year as I began my journey into the cigar world, I have come to appreciate everything this beautiful world has to offer. At first with cigars as with whisky, it was really difficult to overcome the robust spices of the tobacco. This is where I went wrong. Looking to start with the more full body non-Cuban cigars, was my mistake entirely. In the last 6 months I have come to really appreciate what a good cigar is supposed to taste like. And by good cigar for me it means mostly true Cuban sticks.
The Romeo y Julieta Tacos Edicion Limitada 2018 was introduced in the 20th annual Festival del Habanos.
General Information about the Cigar:
Name: Tacos Edicion Limitada 2018 by Romeo Y Julieta
Country: Cuba
Wrapper: Cuba
Binder: Cuba
Filler: Cuba
Ring Gauge: 49
Length: 6.6 inches
The construction of the cigar is marvelous.  The wrap was nice and tight. Good looking veins. Nice triple cap top. The double band of the brand and the gold limited edition 2018 is a nice touch. Silky smooth and quite oily to the touch. I used a straight cut on the cigar. I used the @BK23XXIII method to light the cigar so not to let the actual flame ruin and overpower the taste of the tobacco.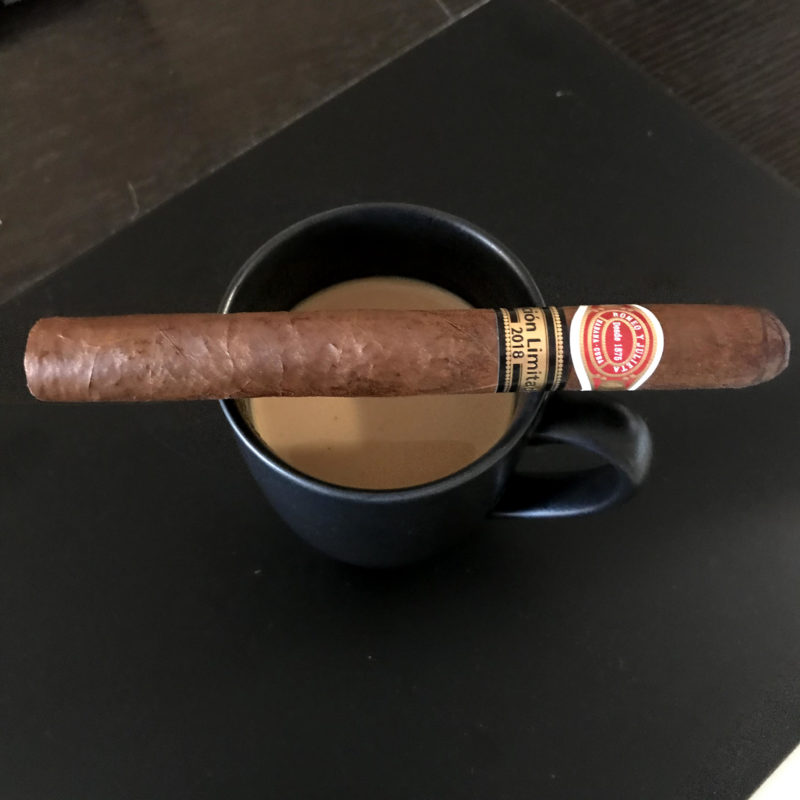 First 1/3 of the Cigar: Nice and smooth nutty flavors. The beginning is very earthy and nutty combination. Nothing too overpowering. The initial draws were smooth and had no issues with the smoke traveling perfectly through the center of the cigar. I attest that to my cut. The cigar still tastes pretty young. A good 3 years of age on it would give it a more full and robust flavor.
Second 2/3 of the Cigar: This is where I really began to fall in love with the cigar. Notes of cedar and dark chocolate with hints of vanilla and pine began to come through. The draw remained constant at this point. The burn was even and the ash remained in tact. Really attributes to the master blenders personal touch I would imagine. Just as with whisky, when you let it "open up" or in this case smoke a little longer, the full robust flavors begin to come to the top. A few more pulls and I got notes of Espresso, Creamy cocoa and raisins. I did not pair this cigar with anything, because I wanted to enjoy it for what it was.
Last 3/3 of the Cigar: At this point as you can imagine the ash began to fall down but the draw remained constant. Really surprised me of such a young cigar. As the cigar began to dwindle down, licorice and more mineral flavors came out. Very earthy and very pungent. Not the best way to end what began a great cigar, but at this point since I already enjoyed an almost 1 hour smoke, I really could not complain.
Final Thoughts: Age really was a big factor here. I am lucky I have another one of these cigars laying around in my humidor which I will let age for 2-3 years before I pick it up again. With that said, if I was looking at the cigar based on what I smoked, I would say it was pretty superb for something so young. Great flavor profile, great burn, good construction of the cigar. It's really hard to go wrong with this one.