My colleague Billy and I had the pleasure to sit down with David Sheridan the proprietor of Wheated – a cocktail pizza bar, and a hidden gem in Ditmas Park, Brooklyn. Wheated also boasts a whisky collection of over 740 unique spirits. If you've never been to Wheated, time is ticking. No better opportunity than right now, to stop what you're doing, get on the local F Train or Express B and head over to Church Avenue, where a few blocks away sits the Restaurant Bar of your dreams. But do not take our word for it. Experience it for yourself. Tell them Tastethedram sent you.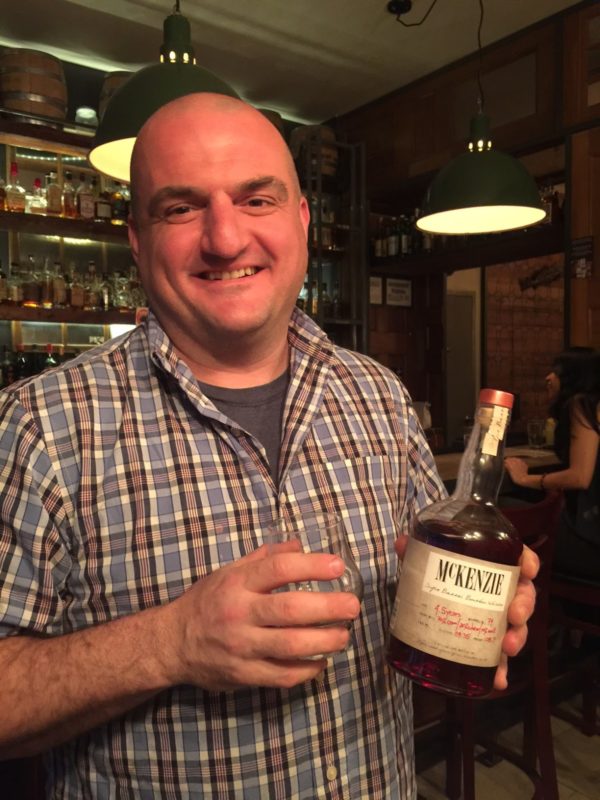 (Photo Courtesy: SmokyBeast)
G: David, as if we do with all of our other interviews, let's kick things off with what you were doing before starting Wheated?
David: I started Wheated with goal that is was something my wife and I could to do together at a future point. After having worked in the same industry for a long time, over 11 years, and being let go, I wanted to control my own destiny. Wheated was the fruition of the ideas my wife and I had. It was supposed to be pizza and cocktails in the beginning, and the whisky sort of came along for the ride.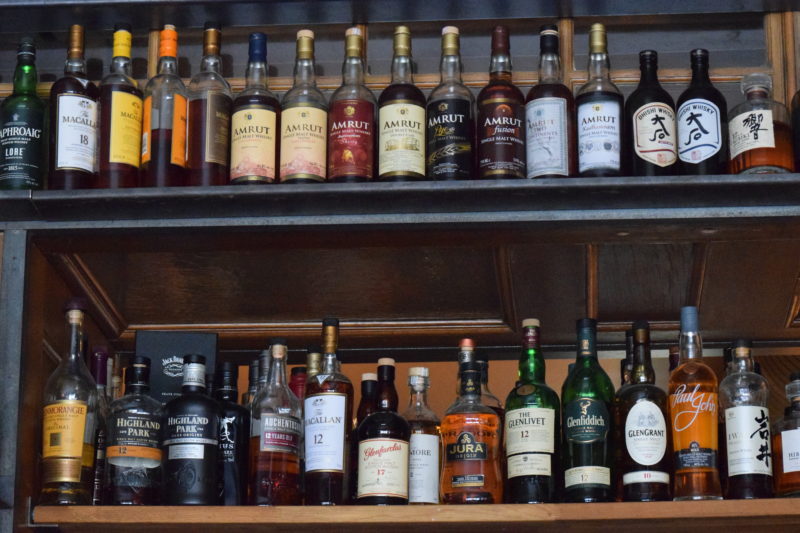 G: What was the original concept for Wheated, and did you see it come to fruition as you originally imagined for it to be?
David: The original concept is basically what it's become. The whisky was not part of the original business plan, but the pizza and the cocktails were. So it's stayed true to its form in that respect.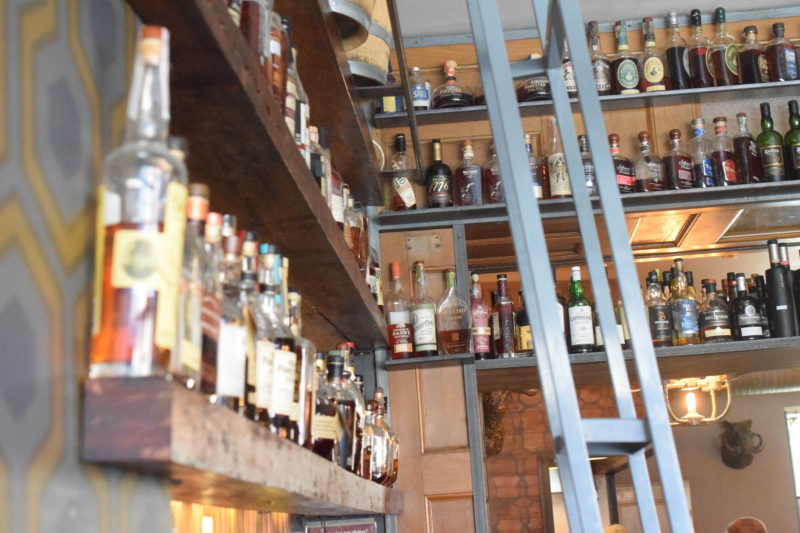 B: So how did you first come to exploring whisky for the first time? Have you always been a whisky fan?
David: Probably not. As a kid I grew up in Louisville, KY, but that is not the reason why I am into whisky. I got into whisky when I started getting into cocktails. Some of the cocktail bars that I was going to were using some exceptional whisky's or had whisky behind the bar to try. Wheated started as a reference to bourbon, we wanted to bring in bourbons, particularly wheated bourbons, and it just grew from there. If you ever look at our yelp pictures, there's a couple that have of our early back shelf, and now we have bottles everywhere you look.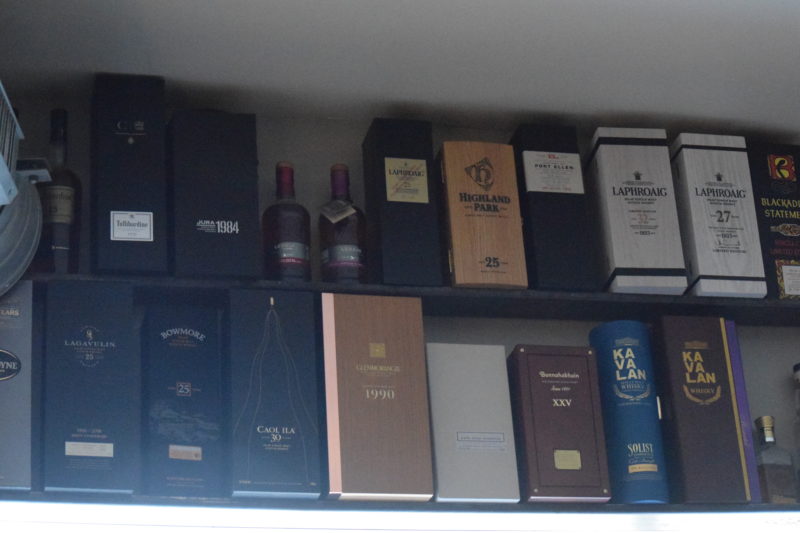 G: What is your current whisky collection at?
David: I think it is around 740 right now.
G: How do you stay current with all the releases and the independent bottlers?
David: I wish I had more help with that. We have to buy through a wholesaler, and unfortunately they do not tell me when a lot of things come out. You would think the brands and the wholesaler would want to do this for a customer. Honestly, I find Instagram to be very helpful.
B: Would you say because of where you grew up and with the name Wheated that you lean more towards bourbon in the whisky field? Or have you had so much that now you want other things?
David: I definitely started out with bourbon in mind, I couldn't even tell you what Scotch was when we opened, beyond that it existed. At some point I started drinking peated whiskies, peated single malts, and that was the segway into single malts. At this point if its good whisky ill drink it if its bourbon, or single malt or rye.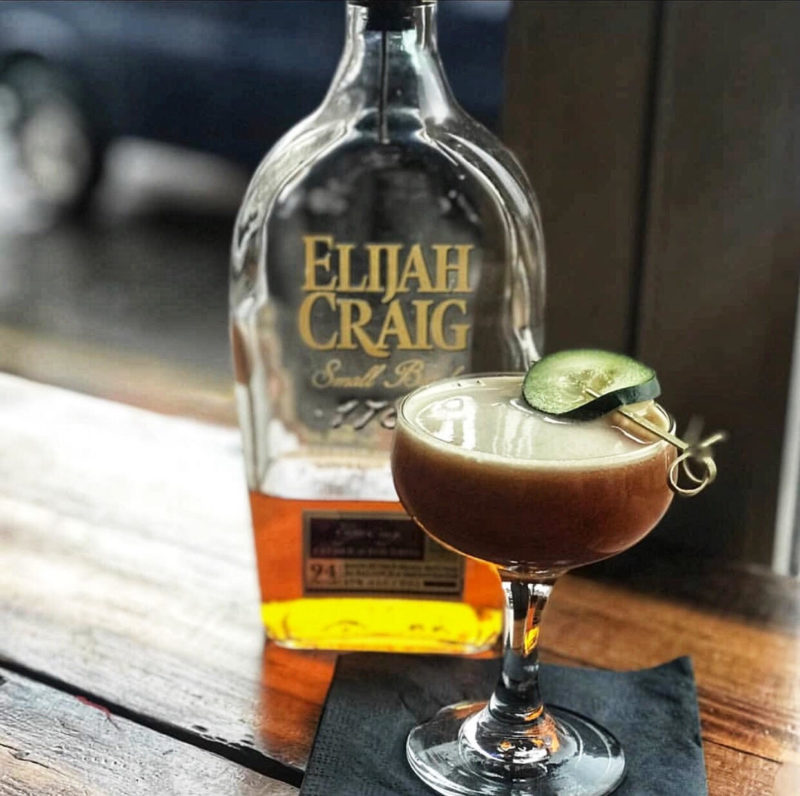 G: So you have over 740 bottles of whisky, what do you do to keep knowledgeable about the market and the whiskies?
David: I suppose reading up on what is going on. For my team here, we have been bringing in brand ambassadors and having them do a tasting as well as a educational session. It's been great for engaging them and also for allowing them to taste a much broader selection of what we really have to offer. Myself, personally, it's the new things that intrigue me.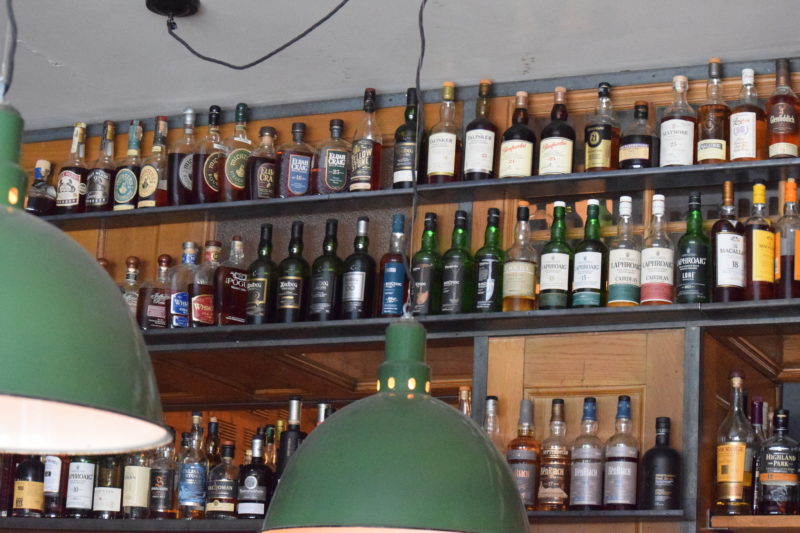 G: Would you say you created Wheated looking at yourself as the demographic?
David: Yes, Wheated was definitely created as a venue that I would go to and enjoy eating at. It doesn't take itself too seriously. Obviously the food and the drinks are good, but it's not white napkin or white table cloth style.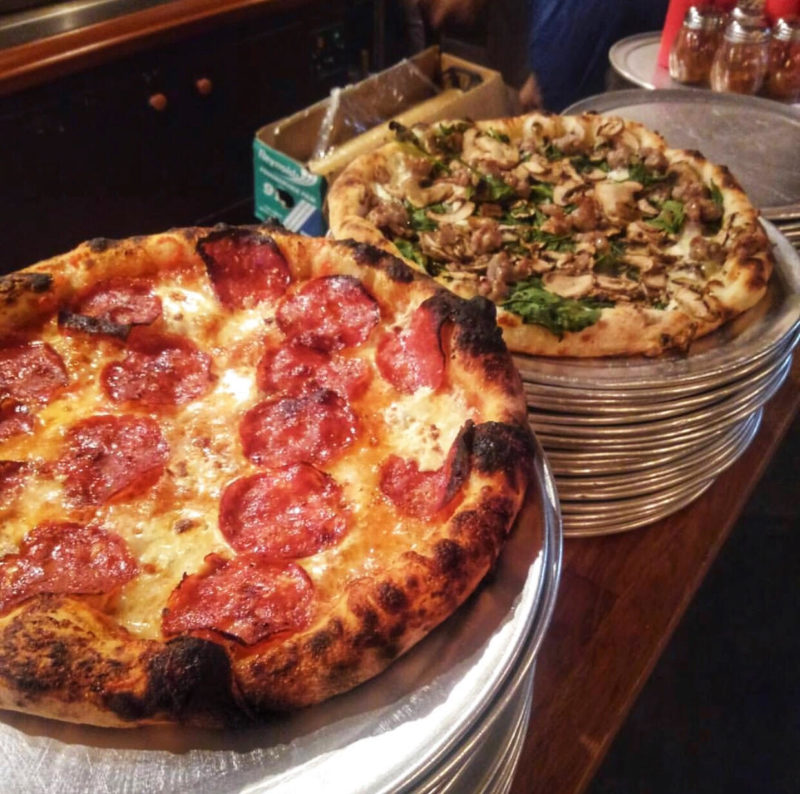 B: How did you come up with Pizza? Is that something that you just like, "Hey, I've always wanted to do Pizza or did you have a background in Pizza?
David: I have been doing bread baking for a while. I guess that's probably where it started. I was playing around with sourdough starters and it grew into pizza. When we lived in queens I used to do pizza in the a Suneam stove. It's like a cheap gas stove that all the inexpensive apartments in NY seem to have, and it has a boiler underneath that has no temperature control so you can get it really hot, which is a key to good pizza, add a lot of heat in a short period of time. From there it grew into building an oven in my backyard. About that time I had met Paulie G, and knowing he did the same thing I was trying to do, which was to go from amateur to being a professional. His input was very helpful. If nothing else it helped me realize that we can do it. That is probably the most important thing that I was ever told was "you can do it".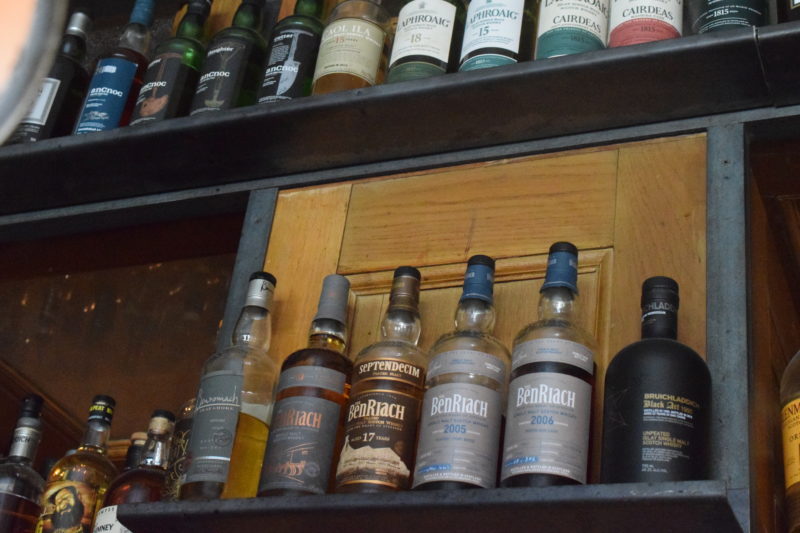 B: What do you think the hardest challenge was to overcome, whether on the pizza side or on the liquor side in establishing Wheated?
David: We have 20 employees. Employees are probably the most challenging. They are also the most rewarding. Getting all those people hired, getting them trained. We actually lucked out, up until about 3 years in; we still had employees from our first hire.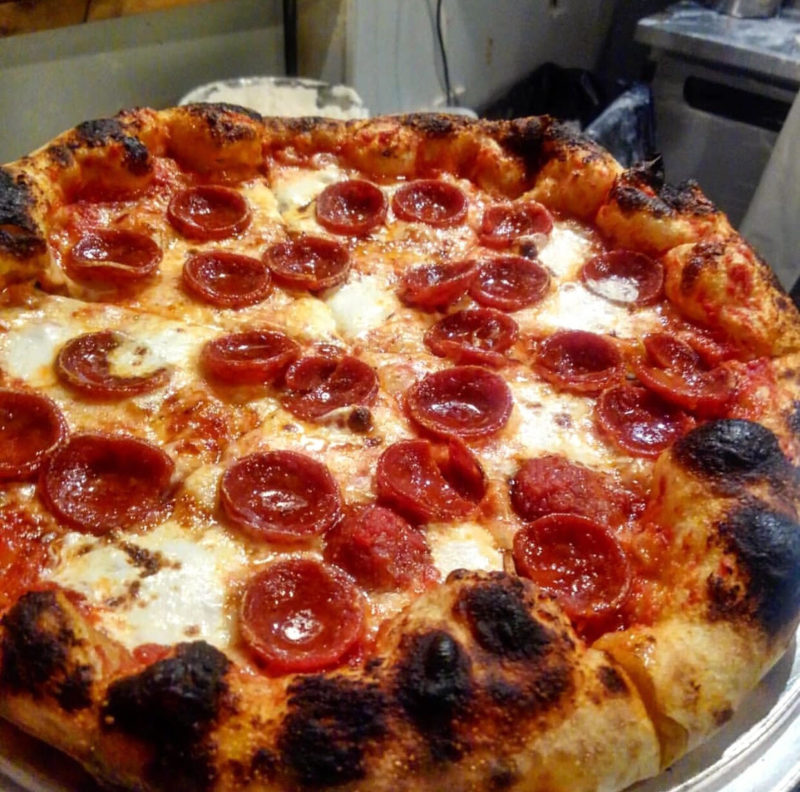 G: Would you consider Wheated to be a cocktail bar with a great food selection or a restaurant with a great whisky collection?
David: It's the latter. It was originally conceived to be a restaurant. So it's a restaurant/bar. The whisky kind of came along for the ride, but it's not the focus of Wheated.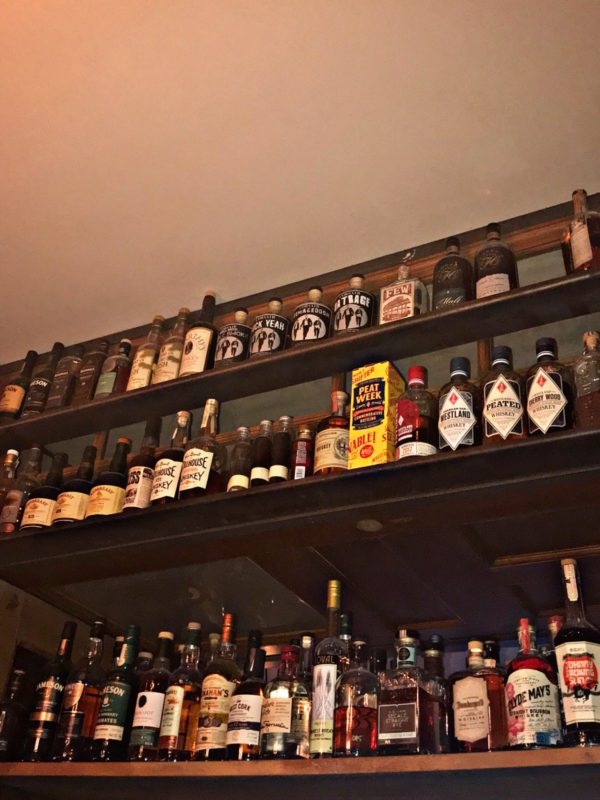 B: Single barrel proof bourbons, the reason why you like them, is there anyone besides you who is involved in the picking of them, or is it strictly yourself?
David: So far it's been mostly me. The Four Roses we went as a group. It was my wife, myself and a group of friends down in Kentucky went to the Four Roses warehouse and picked there. The other picks, the reps brought the samples over here. It's a less intimate experience sitting with the rep. Regardless of where it is, it's about the same thing, you're going to be given 5 or 6 different choices. You sit there nose them, taste then nose them again, and then narrow it down.
David: I've been working with my staff to have a conversation with the customer. So when you come in, it kind of starts out with I'd like to try a whisky and our first question would be, what have you had that you liked? Do you want something similar or something that is different? Also price is a very important factor. We have just finished updating our list with all the prices on our spirits menu. That's helped a lot. People automatically know what area they want to be in. It is very common to have someone come in and say I've had Macallan and I'd like to try something Sherry and just go from there.
B: You've mentioned prices. Do you think customers now are making decisions based on price? Or do you think whisky is so popular now that its more about the experience or trying a specific whisky?
David: There are customers that fit into both. There are people that will travel a distance to come here and try something that we have. We publish our whisky list online. And for these people I think the prices are less of a concern. They want to try something before they purchase it or something that they won't have a chance to own. And then there are people who have a budget and need to fit in that budget. There is definitely a large swap of good whisky that is in the $10 to $20 range a pour. One of the services that we provide is to help steer you in the right direction when you do not know what you want.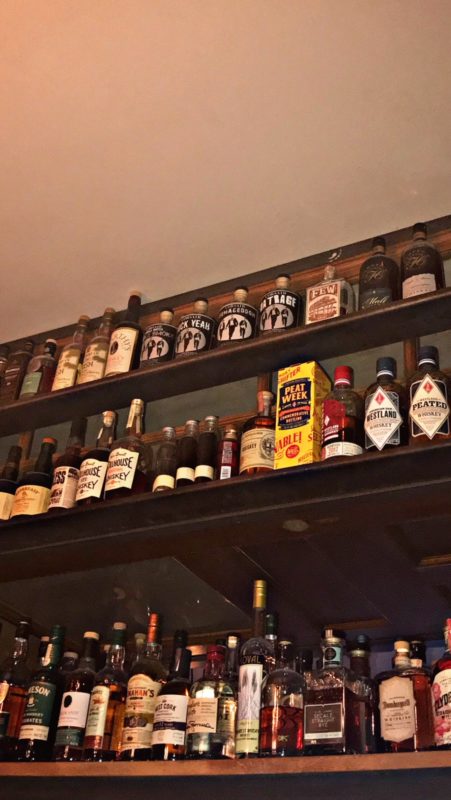 B: Are there any bottles here that you are especially happy to have in the collection? Not necessarily the most expensive, but I am happy I got this at the time that I got it?
David: Recently, a Bruichladdich 30 release. The one that we were fixated on for a while was the Lagavulin 25. We're lucky to have a few of those bottles.
G: Let's talk cocktails. When you were creating the cocktail menu were you looking to go over the top 10-20 ingredient cocktails or are you more about the classic cocktails?
David: Wheated is all about pizza and classic cocktails, more so than contemporary cocktails. Our opening cocktail menu was all classic cocktails. They would be modified for today's palates but we stayed pretty true to our original concept. We have branched out a bit recently doing more original cocktails, but we still remain true to our classic cocktail theme.
What would you say is your proudest moment since opening Wheated?
David: Opening the doors was a really big one for me. It took us about 5 years from originally saying we're going to do it to actually getting it open. My proudest moment is walking into Wheated, looking around and thinking, wow,  people are enjoying themselves. It still blows my mind that someone is going to come in here and give me money for something I did. It still hasn't sunken in yet. Wheated as a whole is my proudest moment so far.