As you know from time to time we interview these Instagram personas of people who really share something special with their accounts. Today we feature Andy or as he is known in the whisky community on Instagram @whiskyprism. Let's kick things off with the basics.
Andrew, let's just kick things off with an easy question. How did you develop an interest in whisky, and why you decided to launch a whisky focused Instagram account?
AS: It started with my wife, who was a big whisky aficionado long before I was, going back to before we even started dating in my mid 20s.  She introduced me to Scotch, and in the beginning I drank strictly to get a better understanding of one of her interests.  For love, you know?  And for a while my Scotch drinking was really only done socially, usually at weekly poker games and when we'd go hang out at a really cool cigar/Scotch bar.   It wasn't until after we got married that I really started to explore more, and it wasn't until after we had kids that I truly started to appreciate it.  That was maybe 5 years ago.  Up until then my wife was the only Scotch drinker in the family, but along the way even though I was dabbling, I picked up some up some nice bottles for the home bar.   Most are long gone but I still have a few left, and all are opened being slowly enjoyed.
When I started my account I was completely new to the platform, and I wasn't a big social media guy.  I had a Facebook account to keep up with friends and I use Twitter for stocks, but I didn't have an Instagram account.
When I signed up I had no idea how IG could be used.  I just assumed that it was used for people to post personal stuff, but didn't know it was being used to focus entirely on single interests as well.  Then one day I was browsing around on IG and searched on "Yamazaki".  Instantly this whole new world of whisky opened up to me.  It was amazing!  All these people were creating gorgeous content, posting stunning pics and well-crafted and informative text.  I was blown away.  I thought to myself, "Hey, I like whisky, I have some decent bottles, can I do this too?"  This was less than two years ago and by then already had a sizable collection.  So right then and there I decided to give it a try.  The worst thing that could happen is that my account would be terrible and then I'd stop doing it.  That's how I got started.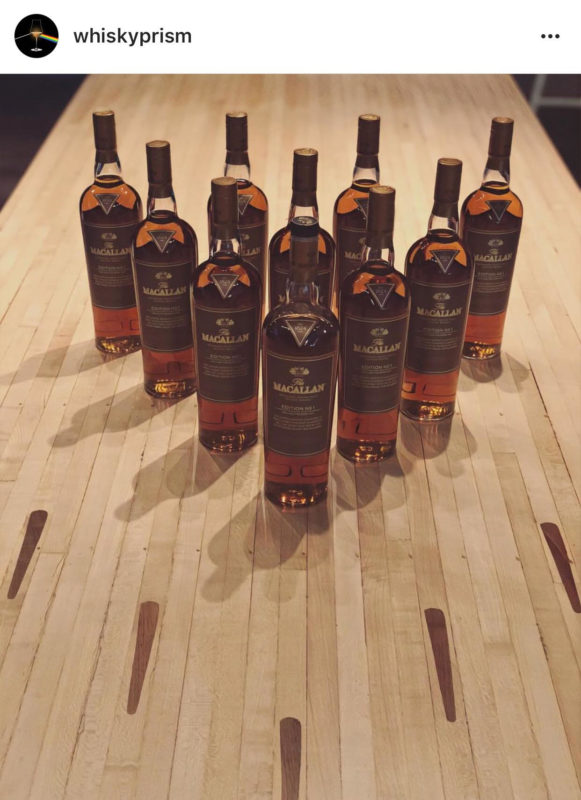 You run a Whisky Instagram account "WhiskyPrism". Can you tell us about the name? Does it have some special meaning to you?
AS: Ha, only a handful of people on IG know the true origin of the name for my account.  When I was brainstorming ideas for a name, the words "spectrum" and "prism" came to mind.  Both suggest a wide range of something – specifically color in the case of prism.  I had no grand plan for my account at all, no clue, but I thought one of these two names would give me wide latitude for things to post about.  I settled on "prism" because it was also a play on the word "Prisma", the popular photo filtering app.  My genius idea was to use Prisma filters to make my pics stand out from everyone else's.  If you look at my earliest pics they are all heavily filtered.  I soon realized that this was in fact not a genius idea but a hokey, dumb idea and changed my approach to focus on taking better pics with better writing.  There are really no shortcuts to having a quality account.  Despite my change in approach, I still liked the whiskyprism name and kept it.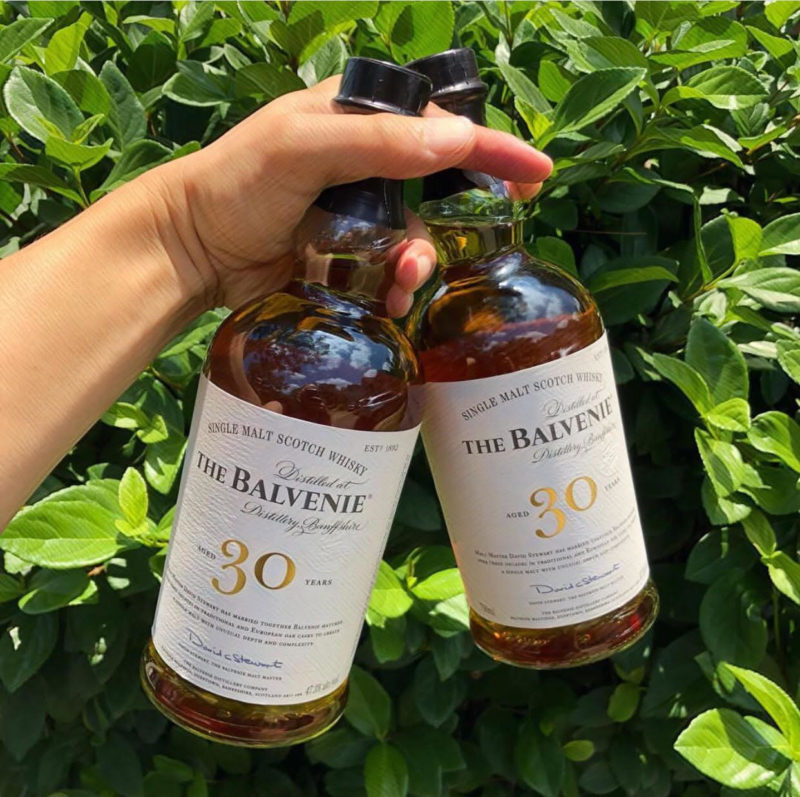 You have quite an impressive whisky collection from some very rare hard to find spirits to the classics that you picked up at a great value. A lot of people refer to this as whisky hunting. Do you see yourself as a whisky hunter? Or just someone who loves a great dram. Maybe both?
AS: I definitely enjoy a great dram, but I do also enjoy collecting and definitely use "whisky hunting" as a way to grow my collection, but I've never referred to myself as a "whisky hunter."  It's a bit much, and anyway I think pretty much everyone these days does some variation of whisk(e)y hunting, whether it's looking for dusties, trying to beat everyone to the latest limited releases, or finding that elusive Japanese age statement.
That said, I do enjoy going out and looking for interesting, discontinued bottles, and it's awesome when I can land one, especially considering the number of times I strike out.  And I strike out a lot!  That just means it's all the sweeter when I do find something good.  Of all the ways I buy whisky, I get the most satisfaction when I find an old gem in the wild at a great price.  But you know what?  There's a finite number of stores I'll be able to check out, and once I've hit them all in town, that will pretty much be it for that method of hunting.
I've heard about crazy stories where guys will fly halfway around the country into a city, and then drive home, hitting as many stores as possible in the way back, trying to pick up choice bottles.  To each his own, but to me that's just nuts.  It's a hobby for me, and while I do get a ton of joy from finding these gems, it's not an obsession.  No crazy road trips like that will ever be in my plans.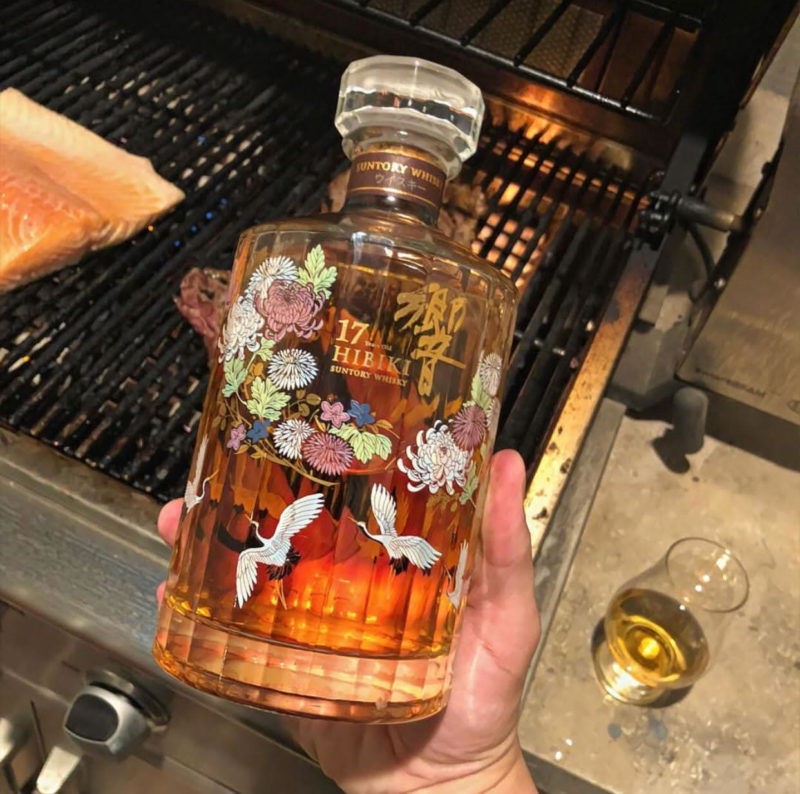 In what single way has social media changed your life?
AS:  It's made me part of an incredible community of enthusiasts around the world.  I learn something new or am inspired almost every day.  And it's free!  Well not really, as I'm spending more money these days on bottles than ever.  I've connected with so many cool and interesting people, many of whom I'm now lucky to call my friends.  It's pretty amazing.  For example, over the last year, it's been through the IG whisky community that I've become friends with a great bunch of Japanese whisky enthusiasts in Japan and other countries as well.  Last summer I even attended a tasting at the home of @whisky.enlightenment in Yokohama during my yearly trip to Japan.  We had some great pours that night, but they were made memorable because of the people I was there to share them with.  An experience like that wouldn't have happened for me without Instagram and my account.
What central message do you hope to impart on your followers through your posts? Why do you think you have garnered such a positive reception of loyal followers?
AS: That's an interesting question.  Aside from "@whiskyprism really likes The Balvenie", I just hope that I am helping those who are following my account to be more enthusiastic about whisky.
As far as why others like and support my account?  I think there are a few factors.  I try to do a wide variety of posts – some outdoor shots, tasting lineups, breaking news, tasting notes, bottle comparisons, whisky pricing, thoughts on marketing, occasional nonsense, just a bit of everything, hopefully told in an interesting/fun way.  I definitely like to mix things up with my content.  However, of all the factors, and this ties back to your previous question, I think whisky hunting hauls is the biggest.
I've been fortunate to have had some really nice hauls, and the response to these posts has been very positive.  As a fan of other people's whisky hunting successes, there's just something so much fun about a post where someone finds a rare bottle for a price way less than you'd normally expect to pay on the secondary market.  I love these posts myself.  I think these are universally liked, and my account has gotten its share of that positivity.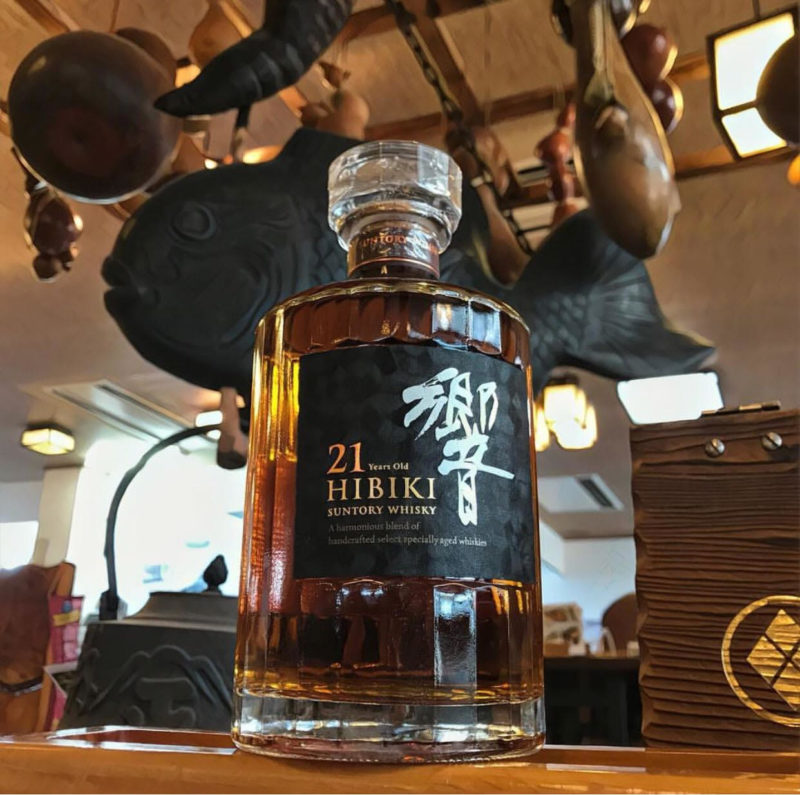 Let's get a bit personal.  What is your favorite single malt of all time and why? Do you lean more towards heavy peated whisky or sherry bombs? Maybe a nice balance in between?
AS: The Balvenie 21 PortWood is my all-time favorite whisky.  The PortWood has the classic Balvenie characteristics of vanilla and honey, and the Port pipe finish gives it an ever so slightly bitter note that I love.  Its age gives it a nice level complexity, and at $200, while not cheap, it's one I can enjoy often without thinking twice.  Also, since it's release in 1997, every packaging change its had has come with a change in the way it tastes too.  Every version tastes different!  And they are all great!  And because the old ones cost the same as the new ones, I have acquired a good supply of the many variations to enjoy for years to come.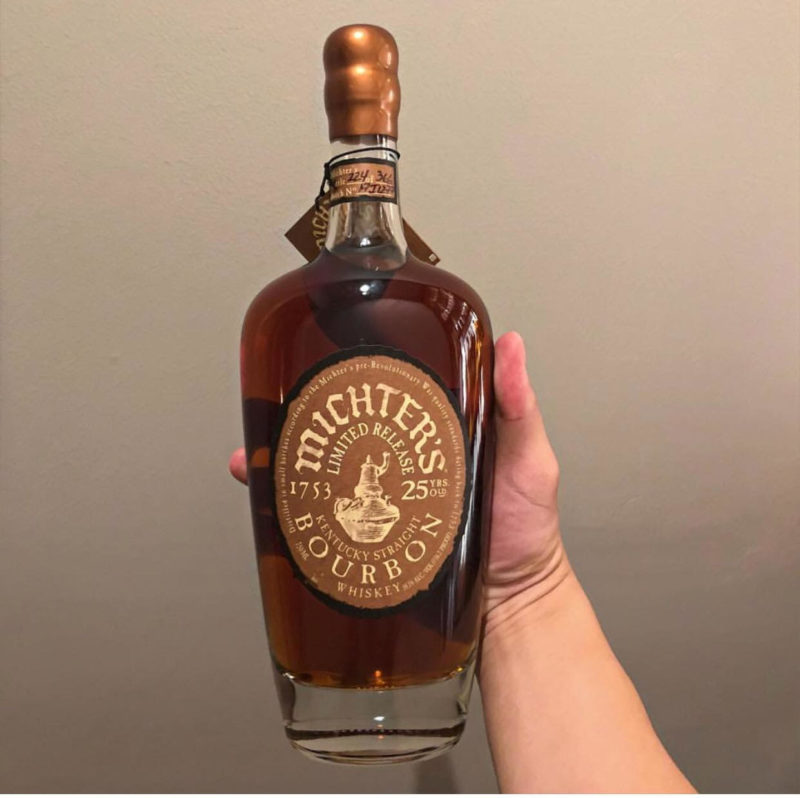 Are there any unicorn bottles out there, that you have yet to get your hands on?
AS: The two that immediately come to mind are both from the Balvenie.  The Balvenie Tun 1401 Batch 1 and the Balvenie 1976 Vintage/Single Cask, my birth year.  These are my two dream bottles.  The problem is I don't want to pay unicorn prices!   I recently had a shot at the 1976, but the price wasn't the best and it ended up being sold to someone else who had first dibs.  It's okay.  I'm happy for them to remain unicorns in the wild.  I'm good with admiring them from afar.  I'm afraid if I landed them I'd chase some other more expensive ones, and my wife wouldn't be happy about that.
What two pieces of advice would you give to someone interested in starting their own whisky instagram account?
AS:  Just have fun with it, and embrace the process of creating.  Whatever style of account you have, it has to be fun.  For me, it's been a creative outlet from the very beginning, even though I was bad at it.  If you're not having fun and not enjoying the process of crafting posts then it's time to take a step back.  Create, share, engage, support – that's what the whisky community is all about.
One more piece of advice – yeah, don't buy likes and followers as a shortcut to a big account.  It's lazy, and most accounts that do it are easy to spot.  People know.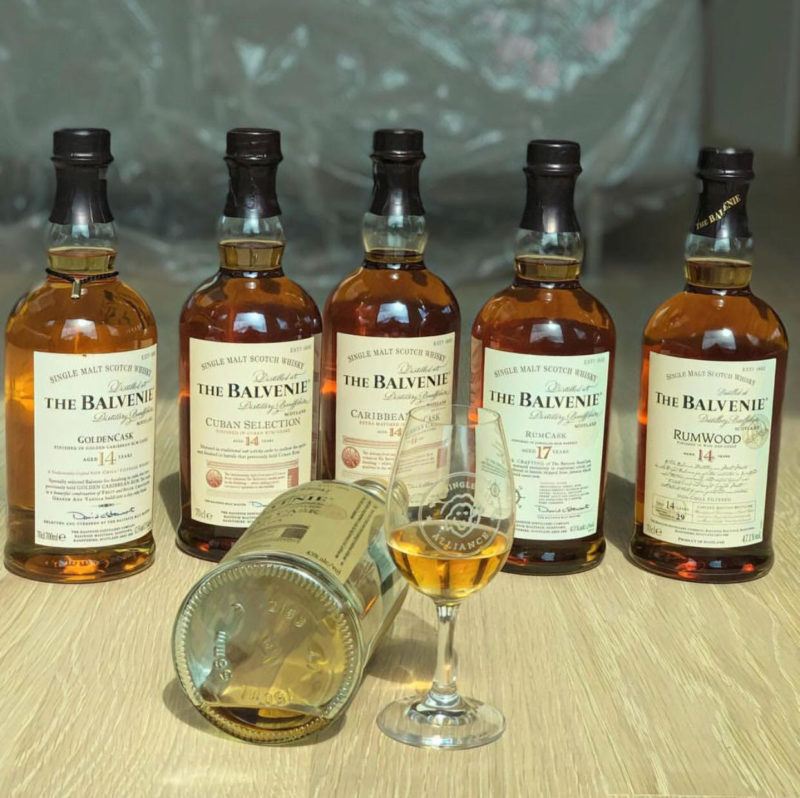 How would you say your content has changed since your first post till now?
AS: I think the kind of bottles I post have stayed the same.  Having a better camera on my phone has helped with the photos.  I shoot everything on my IPhone X.  I've also gotten better at gauging what the best shot will be in a particular environment.  For example, let's say I'm going to take a photo of a bottle on a table.   There's a million different ways that shot could be taken, from where on the table the bottle sits, the direction of the light, at what angle, etc.  I've improved at quickly finding the right setup.
My writing has evolved just through practice and finding my own voice.  When I go back and look at my old posts I see quite a difference.  I think there's more of my personality now in my writing, and my feed has benefited from me opening up a bit.   It's like with anything, getting a higher comfort level through practice and repetition.
You have a very clean Instagram, with whisky being the major focus of every photo. How do you go about composing the shots. Is it just on a whim or is there some planning involved?
AS: A mix of both.  Some posts I think about in advance, maybe a couple days before or the night before.  Others I just do on a whim if I'm drinking something and I can quickly think of some good text to go along with it.  If I don't have anything fun or interesting to say then I'll pass on posting and wait for the next chance.  Some accounts let the photo do all the talking.  For mine, I want to make sure that the text adds something to every one of my posts.
As far as composing a shot, I'm a total amateur when it comes to photography, but I did some design work when I first started working.  There are some basic design tenets I try to follow:  make sure the bottle is framed well, cropped correctly, is shot with a good background, has the correct lighting, and always make sure the bottle is in focus with the label as clear as possible.  So regardless if I'm inside or outside, if it's a shot I've thought about ahead of time or am doing on the fly, I try to follow these basics.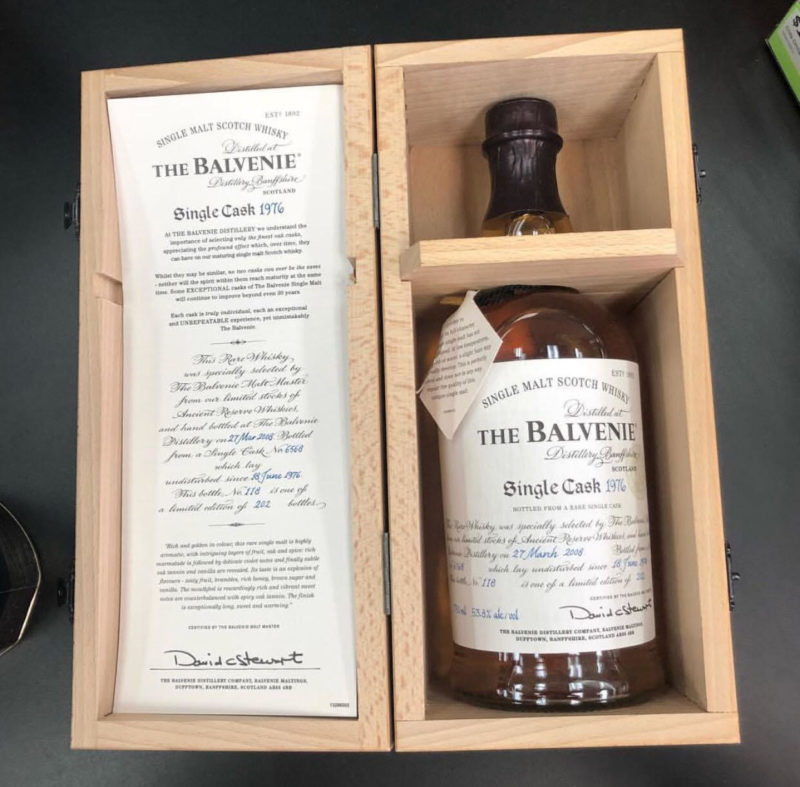 Is there a certain distillery or brand that is your favorite. What is it about this brand that appeals so greatly to you?
AS: The Balvenie – their expressions line up the best with my palate.  I love just about everything that place puts out.
I am sure over the years you've had some amazing drams. Give us your top 5 of all time?
AS: There are so many more bottles I'd love to try, but here are some ones I've really enjoyed.
The Macallan 30 Sherry Oak in the blue box – my first big bottle purchase, for my wife actually.  This is the expression that really opened my eyes to the power, complexity, and beauty of whisky.  It's also the one I can't kill off – there's tons of sentimental value in that bottle, plus it looks so good on the shelf!
The other four would be the Hibiki 30, the
Balvenie 30, Glenfarclas 40 and the Yamazaki 25.
The Hibiki 30 and Yamazaki 25 I had at the Hakushu Distillery last year.  It was a quiet Tuesday with no one else in the distillery bar except for my wife, my brother-in-law and myself.   We had the place to ourselves.  I would have loved these anywhere, in a dark alley even, but having that place to ourselves made it a perfect experience.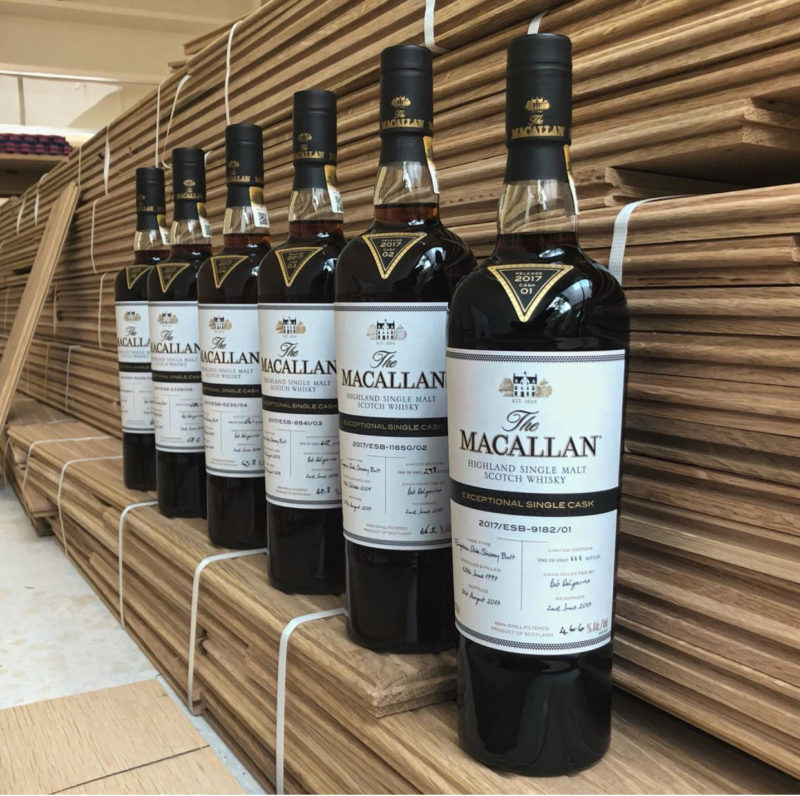 I would imagine you have some special bottles tucked away not seeing any light of day. Would you be able to give us a jealous sneak peak at what you got?
AS: Keep following my account to find out!  I still have many bottles that I've yet to post.  None them are say, more impressive than the Macallan ESC 01 I grabbed a couple months ago, but I do have some fun stuff left in the bunker.  Stay tuned!
Andrew, anything else you'd like to share with our readers and your followers?
AS:  Gene, thanks for giving me the opportunity to be interviewed.  I hope your readers have enjoyed it.  To those following my account, thank you for the support!  And I'm having a great time dramming and posting.  I hope you all get something out of each of my posts, even it's just a smile.  Cheers!