This is the first Amrut single cask bottled exclusively for the U.S. market, and it's a peated single malt matured in a Port wine pipe. The cask was filled in March of 2013 and bottled in October of 2017. So four and a half years in the Indian heat. One of 480 bottles released.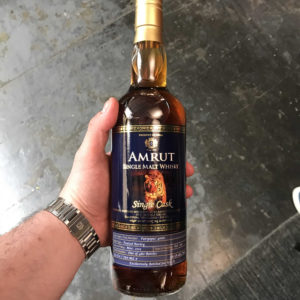 Amrut is a brand of Indian single malt whisky, manufactured by Amrut Distilleries, and launched on 24 August 2004 in Glasgow, Scotland. It is the first single malt whisky to be made in India.
Now as more and more Indian quality whisky is being released, Amrut finds itself creating different variety of finishes and casks to stay atop a growing International Whisky market.
This was one of the bottles we selected for our whisky club, and came out to be the best bottle of the night. This says a lot when one of the bottles among the group was a Samaroli Highland Park 22 year old whisky.
Indian whisky has come a long way and now is considered by many to be one of the great whiskies available for purchase in the United States. Not to say that they do not have more growing to undergo, but the hot climates in India really help the maturity of whisky. In only 4-5 years it can be comparable to a 12-15 year old Scotch, which is almost unfathomable.
Distillery: Amrut
ABV: 56.5%
Nose: The aroma starts off quite sweet and peppery. Nice initial spices with molasses and almost campfire like. The sweetness could either be caramel or honey, could not really hone in which one it was. Some red berry fruits and cinnamon really make the nose inviting, dark and rich. The port wine pipe brings out more notes of dark chocolate and licorice with a drop of water to bring the ABV down a bit.
Palate: Nice spicy mouth punch with nutmeg, clove and slight menthol berries. When you swirl the whisky in your mouth for 10 seconds, letting it coat all the senses of your tongue you start to pick up a nice sweet port taste as well as vanilla and creme bruele cake. Nice oily rich complex flavor. Almost feels like I am drinking a cask strength PX scotch.
Finish: Long and spicy. Notes of tree bark, char and candied apples. Lasts for a good minute or so. Mouth smooth oily and a hint of velvet.