Tenth Ward Distilling Company is a small distillery, locally owned by Monica Pearce (the boss lady) and business partner Kyle Pfalzer (the boss man) and is located in downtown Frederick, Maryland. Our whiskey and barrel aged brandy bear our unique approach. We pride ourselves on challenging the traditional style of distillation while making a quality, delicious product with the most sustainable means possible.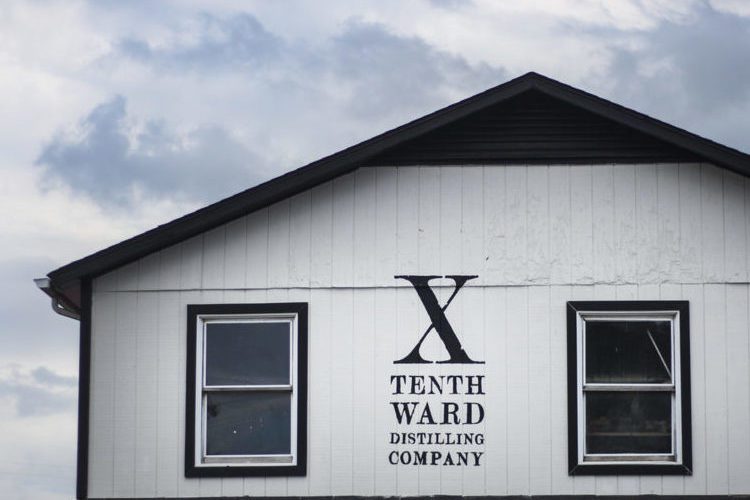 Kyle, tell us about yourself. What were you doing before you got into Spirit Distilling?
KP: At the time I started working with my business partner Monica to get the distillery going I was working for a financial services firm in downtown Frederick, not far from where we ended up opening. I really liked the job but sort of always knew it was an intermediary step into something else. My background is in the Civil War and 19th Century American history, which is always where I saw my career going. I still work in the history field part time as a Licensed Battlefield Guide at Gettysburg National Military Park. Several years ago I started homebrewing as a hobby which was my introduction into making craft booze.
Give us some history on Tenth Ward Distilling. What challenges did you see in the beginning? What has been your proudest moment thus far?
KP: Our name comes from the fact that the City of Frederick was divided into ten wards in the late 19th and early 20th Centuries.  Our location is within what was the Tenth Ward, which was home to most of Frederick's industry.  The biggest challenge for me was to figure out how to operate a manufacturing facility with no formal training or professional experience.  You can know all there is to know about making the stuff, but doing it on a large scale and staying consistent in both quality and volume is where the challenge is. 
I remember my first brew day in the distillery very well.  I did my first 70 gallon batch of rye, when the largest previous batch I had done was 5 gallons, and learned a lot of lessons the hard way.  There were many other rough patches in our months of operating before opening to the public, too.  Because of that I think I felt proudest at the end of our opening weekend.  There had been mountains of stress and uncertainty leading up to it, so finally getting open and getting customers in the door was a great feeling.
Great lesson Kyle, thanks for sharing with us. What type of Whiskey do you currently produce and how do they all differ?
KP: We produce three types of whiskey – two ryes and a corn – all unaged at the moment. Our ryes include our White Caraway Rye Spirit (which we have to call a spirit and not a whiskey because of the way we produce it), and our 120 proof plain white rye. The caraway is meant to be a unique experience that you can enjoy neat, on the rocks or in a cocktail. The 120 proof white rye is meant for folks to take home and oak themselves. Our corn whiskey is special because we use smoked corn from our farmer. This gives it a smoky scotch-like quality.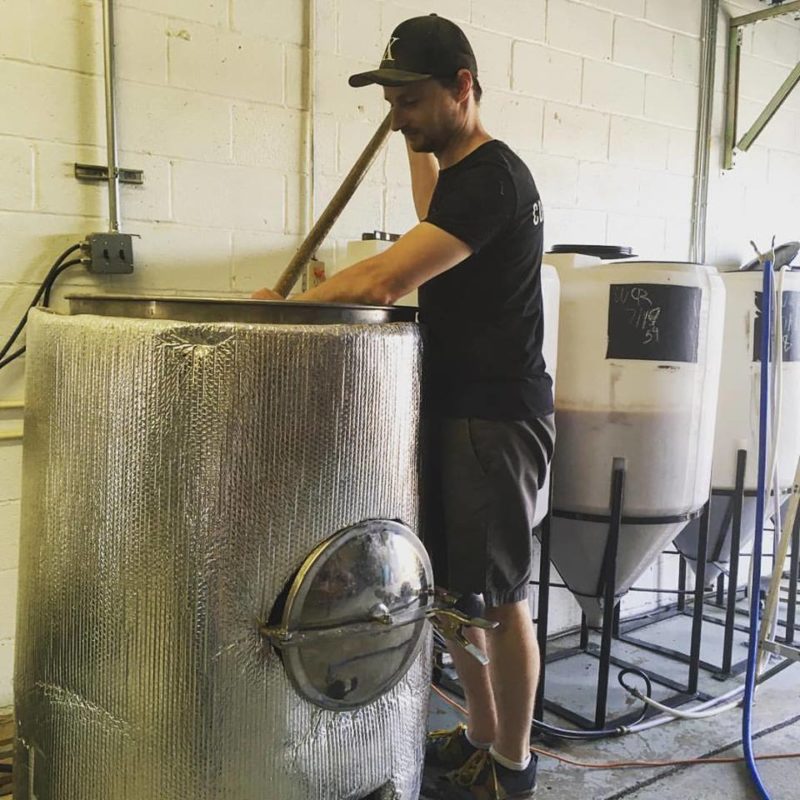 Can you walk us through the distilling process of your whiskey. From the grain to the bottle. 
KP: All our grain is grown and malted at Ripon Lodge Farm in Rippon, WV, just 30ish mins away from Frederick without traffic.  I'll usually pick it up a half ton at a time a few times a month.  Our brewhouse is much more like what you'd find in a brewery than a distillery.  We ferment off grain, meaning we lauter the wort from the spent grain after the mash, whereas most distilleries don't.  All the rye and barley we use is malted, which is also unusual for a distillery.  I'll brew in 70 gallon batches at least five times a week, let them ferment, and then start the distilling process.  We use only pot stills at the moment and will double distill with a hot and fast stripping run first, followed by a low and slow spirit run.  So every week I'm brewing five times, doing five stripping runs, then a spirit run.  We also produce apple brandy on top of that.
What is your philosophy when creating spirits?
KP: Let the ingredients do the hard work and stay local.  We could get the "best" grains and malts from whatever part of the world we want, but then I feel like we'd miss out on the local character that using exclusively local ingredients will give you.  Unless I wanted to do something so off the wall that it required a specialty malt/grain not available locally, I wouldn't consider getting it anywhere but a local farmer.  I have this philosophy even with our water.  Most places I know filter the hell out of their mash water, but I use unfiltered city tap.  It might not be "good" water by many peoples' standards, but it has a chemistry unique to Frederick that can't be replicated.  When we cut our spirits, we use spring water that we hand collect up on Catoctin Mountain just to the west of Frederick.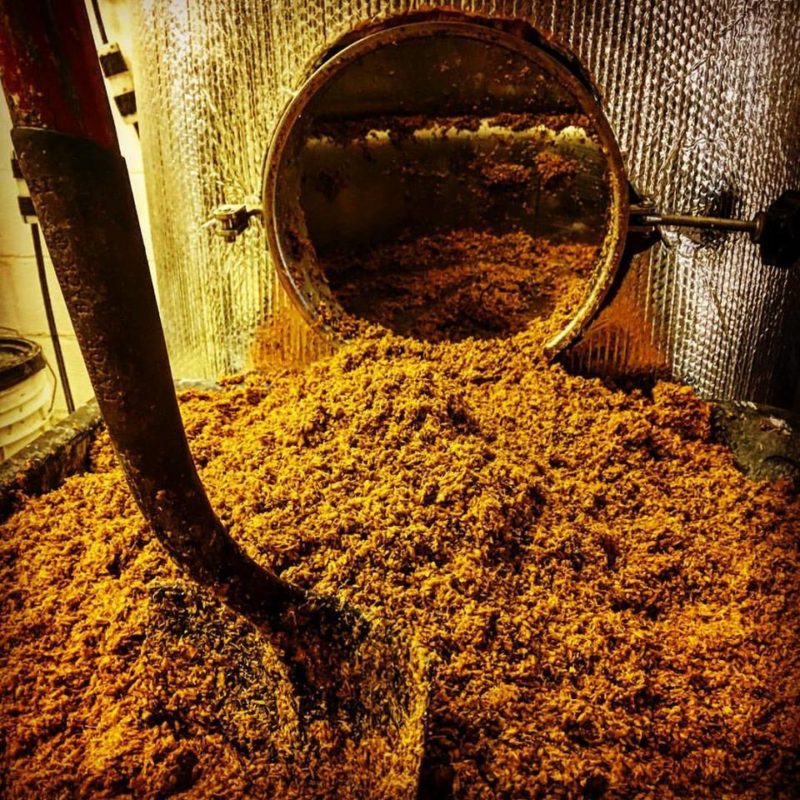 What features and attributes did you take into account when making or having your still built?
KP: Simplicity and reliability.
What is the best bit of advice you have ever had for creating the product you are making?
KP: Don't overthink it.  Making spirits is as complicated as you want it to be.
Who do you look up to in the distilling world today?
KP: My business partner Monica.  The best word I could use to describe Monica is indefatigable – she has an untiring focus on getting shit done and knows the business backwards and forwards.  There's no way I would be able to call myself a distiller today without her.  I also look up to my buddy Jesse Puckett, head distiller at MurLarkey Distilling in Bristoe, VA.  I met Jesse while briefly interning at Copper Fox Distillery in late 2015 before he left to head up the operation at Murlarkey.  He's a seriously talented distiller and when we were having all of the problems leading up to opening he offered many invaluable nuggets of wisdom.
Kyle, what would you say is the most rewarding part of your job?
KP: The part that I feel most distillers like least – giving tours of our facility.  I'm normally a pretty quiet guy but you get me talking booze or the Civil War and I'll prattle on for hours.  It feels great when you share your story with someone really passionate about what you do, and then watch them leave proudly carrying a bottle of stuff you yourself made.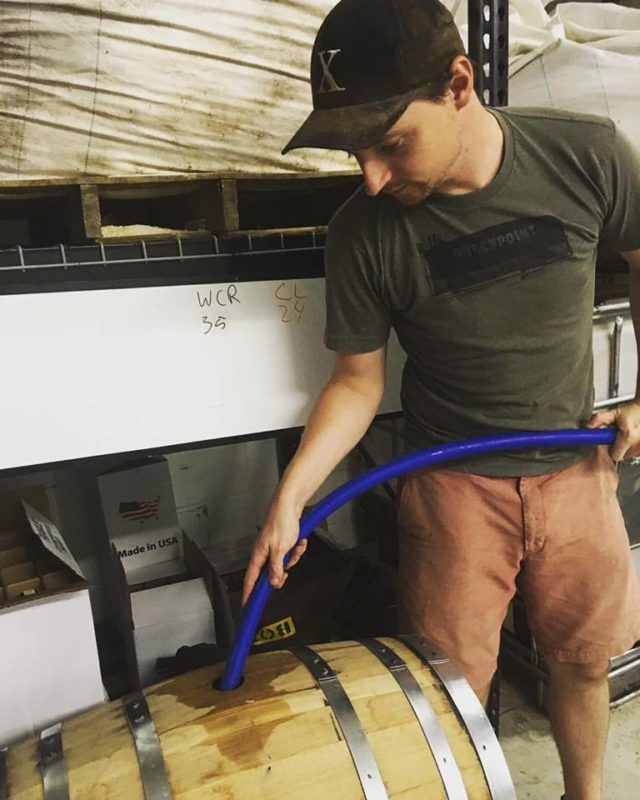 Is there anything in the pipeline you can share with us in 2017?
KP: I'm most excited for our Honeyjack, which is what we're calling mead we distilled and have been barrel aging since early fall.  We worked with a local meadery and winery called Orchid Cellars to make us a batch of mead specifically for distilling.  It was a fun creative process and the product is going to be unique.
What product do you want to be known for in 10 years?
KP: If the white whiskies we opened with are still in demand and being enjoyed in ten years, I'll be really proud of that.
Do you believe now is the most exciting time to be a whiskey lover?
KP: Assuming you can't go back in time to pre-prohibition days?  Then absolutely.  The amount of diversity in the whiskey world is exploding.
Great pre-war humor. Describe your whiskey in 5 words.
KP: Forward facing yet historically rooted.
Is there anything else you'd like to share with our readers?

KP: Don't let anyone tell you what makes a good whiskey.  You have your own pallet and preferences, and just because something wasn't aged in a new 53 gallon charred American white oak barrel doesn't make it bad.  I feel the need to say this because I've had folks in my tasting room leave without sampling anything simply because our whiskies are un-aged.  Maybe they would have indeed hated it, but the assumption that it's not worth even trying is toxic to our industry.  This is a great time and place to be alive as craft spirit/beer drinkers.  Have an open mind and try everything.  Someone like me won't bust their ass to offer you craft spirits if we don't believe in our heart of hearts that what we make is worth enjoying, so always approach craft spirits with an open mind free of assumptions.