Instagram has become the number one social platform for Spirit Aficionados and Lovers. There are so many accounts out there, you just can not stay in contact with all. Also due to instagram new algorithms you probably will not have the opportunity to see many of the accounts in your newsfeed. So we at Taste the dram decided to put together the top 20 Spirit accounts worth your Like.
@Singlemaltdaily – Nate the user behind the account is just a cool all around dude who is way too humble for the amount of followers he has.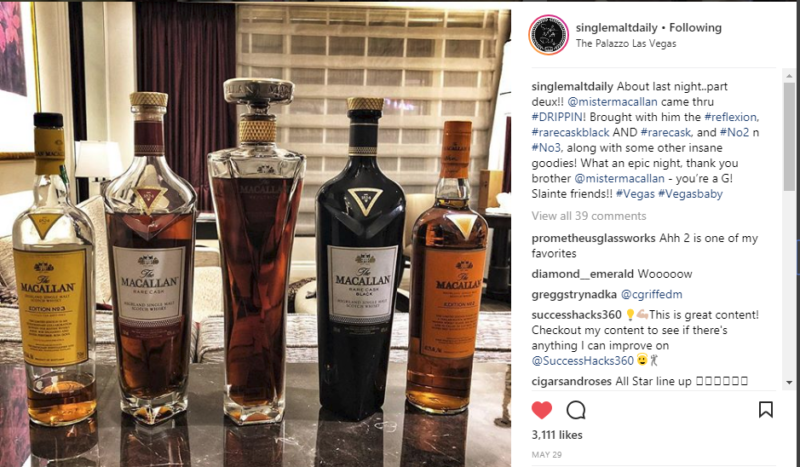 2. Scotchminisz – Saul a big jolly man who collects mini whisky bottles. I mean this guy probably has more mini's than most people have actual bottles. And it's not just mini's, its some of the most rare mini's that are just not available anymore.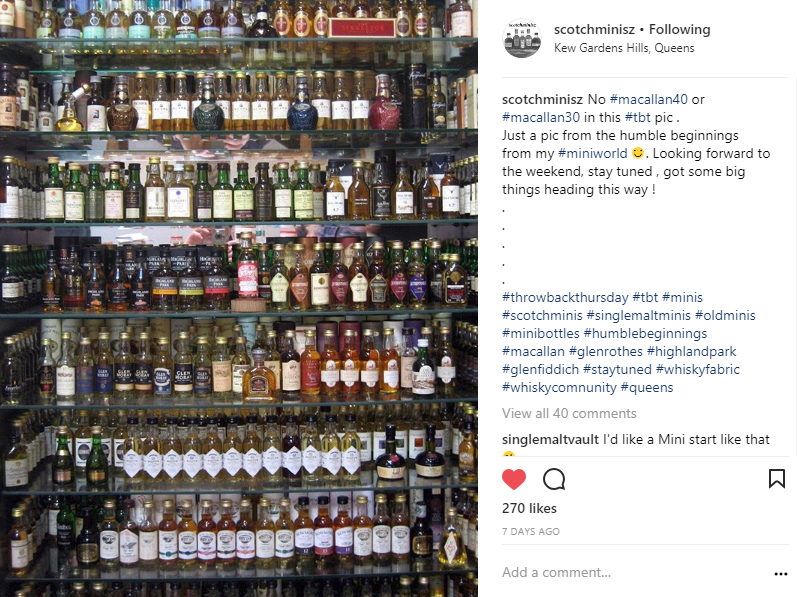 3. @Scotchandtime – Eric as people know him by is a big whisky and watch collector. He has some of the rarest pieces of both you can find. Eric also does some crazy whisky events that are free to attend (for a certain type of influencer). No better time than the present to become an influencer to get an invite to his event.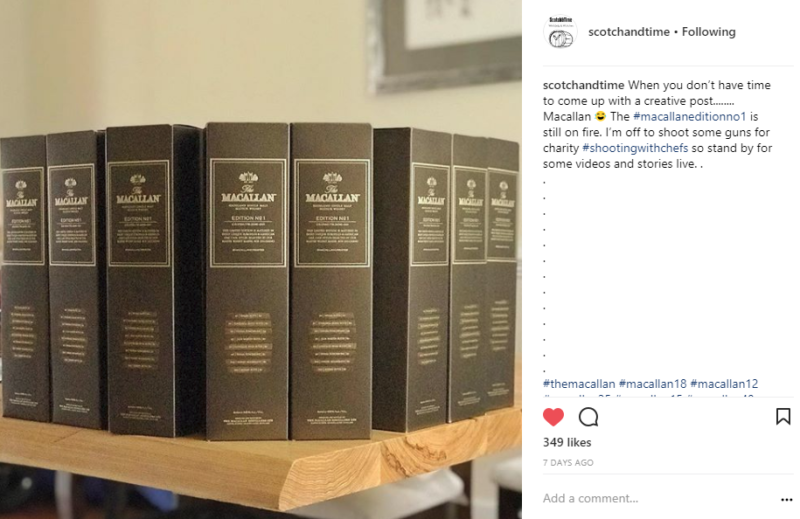 4. TheScotchFather – Jay well what I can I say about Jay that will do him any justice. This man collects some of the rarest Balvenie and Macallan bottlings available. I would follow him just to see how the 1% lives.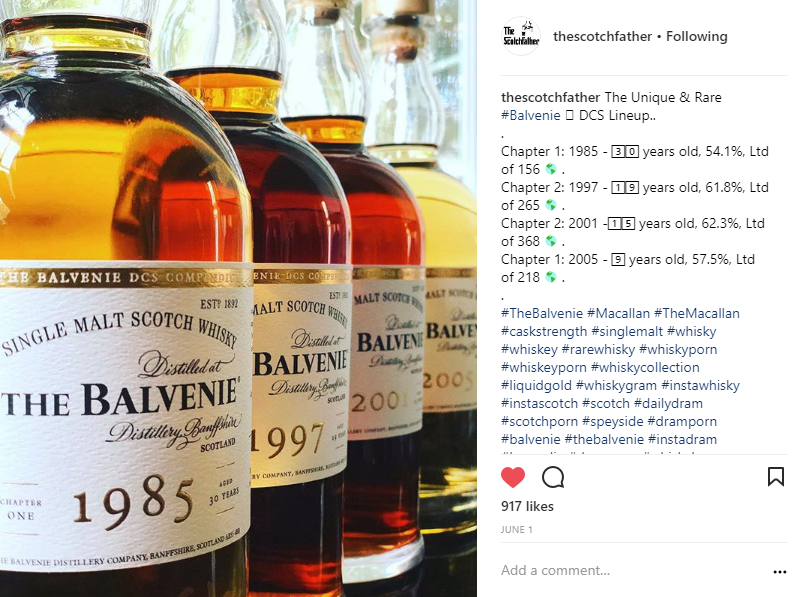 5. MatthewJRyan8137 – Matthew is not your typical account with 10's of thousands of followers. And frankly he does not have to be. What Matt does have is a huge and are collection of some of the most rare bottlings of Port Ellen, Lagavulin, Talisker. I mean some of these bottles are just so snazzy, they are out of the world. Also this guy is like Wikipedia, he knows everything there is to know about the brand.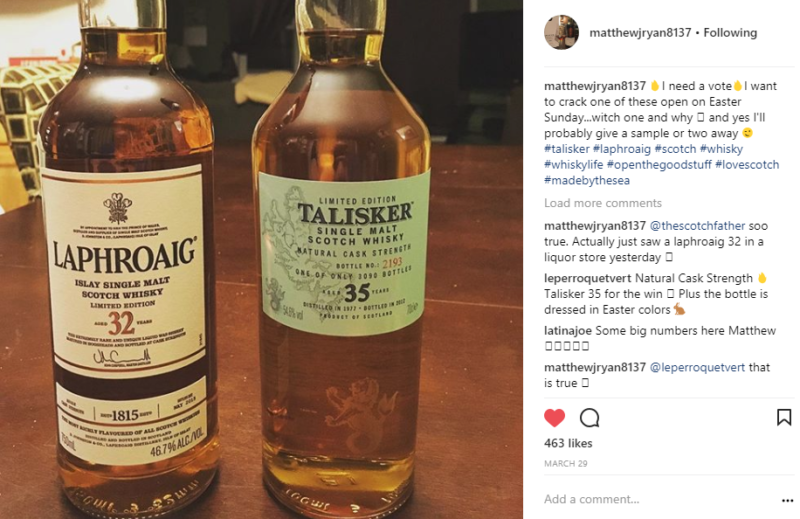 6. BookersBrye – Brian is a comedian I think that owns whisky. His comedy is hilarious sometimes. He also does reviews of whisky sometimes. Why follow Bryan, well because he won't give the time of day to Taste the dram to do an interview with him. So I say follow him, follow him out of spite!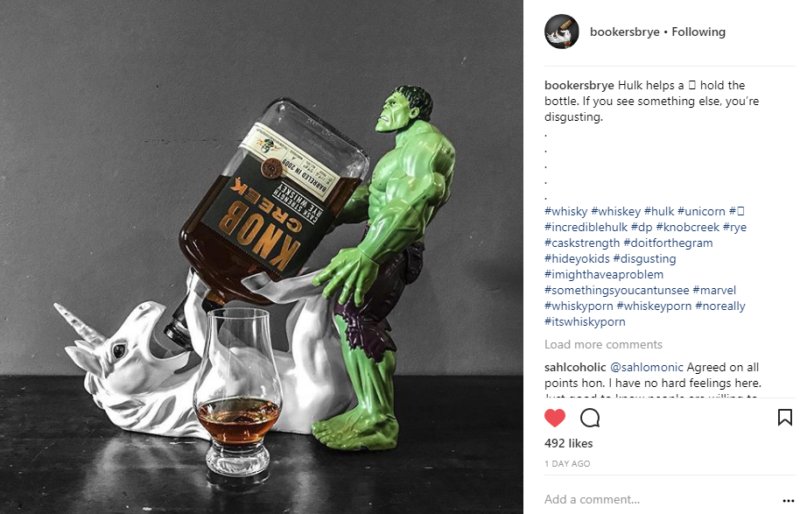 7. TheScotchWhisperer – Ely aka Mr. Moneybags aka craziest collection of whisky I've ever seen. Ely posts are clean, organized and just of whisky you've never even known exists. Ely also holds contests almost everyday and gives this whisky away. Follow Ely if not for his giveaways, but for his crazy whisky collection. This one dude will not let you down. I mean just look at the picture below.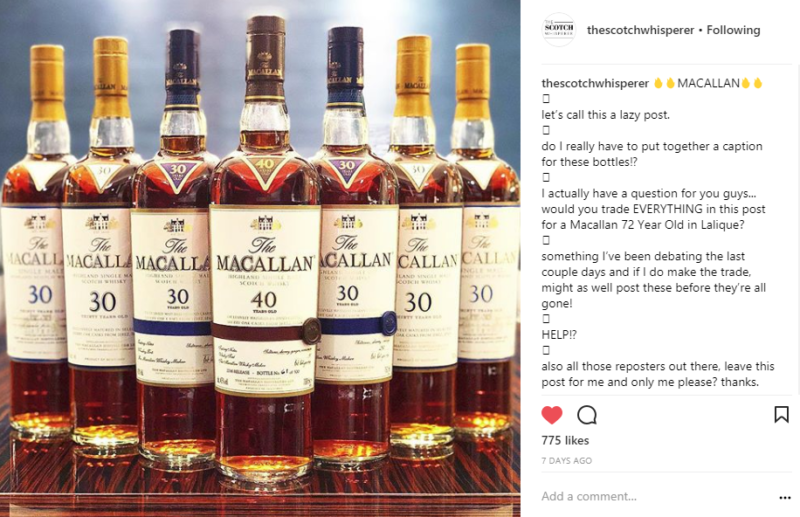 8. Projectcarbon.us – Alan smokes cigars and drinks fine whisky. He also served for our country and designs some ultra trendy carbon fiber cigar cases. But that is not why you should follow him. You should follow him because  you LOVE America, and Alan stands for America. He bleeds red, white and blue, and sometimes whisky.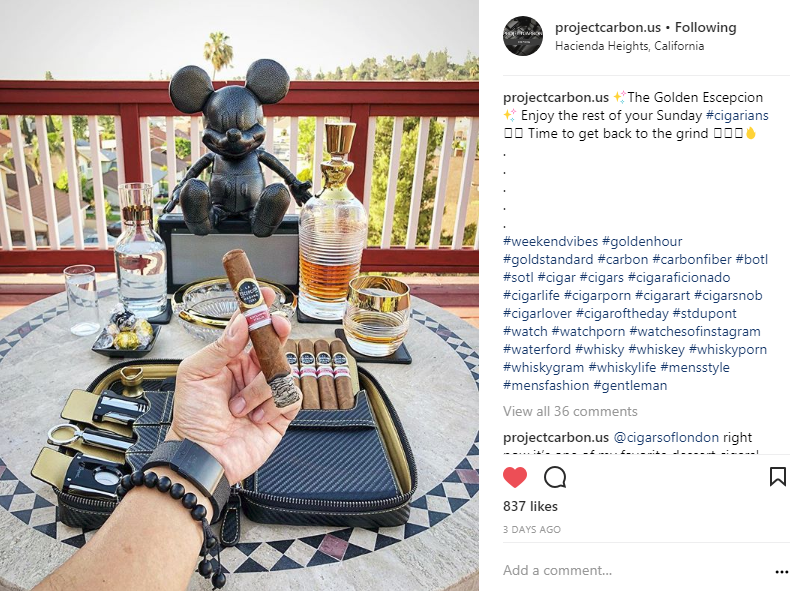 9. Knowyourwhisky – So Josh is Canadian, and I would leave it at that but… hes a cool dude. A generous dude who hooks you up with whisky across the globe just because you wanted to try something from his collection. Josh also does charity events to raise money and awareness. So if you can, be like Josh.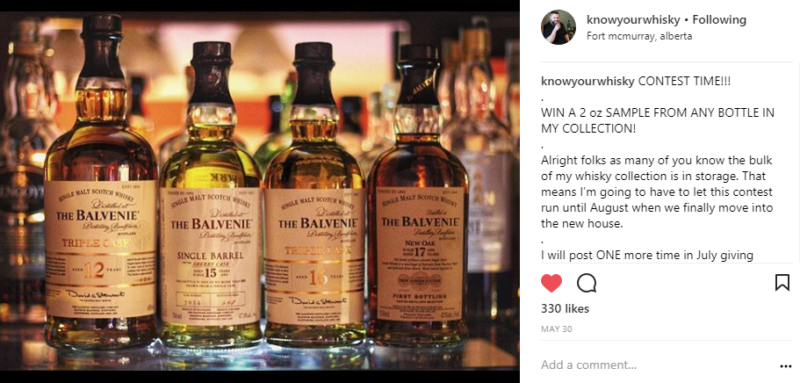 10. WhiskyAnorach – Linh is quirky and nerdy and a crazy amazing artist. Her art can be found at brand ambassador homes all over the world, or all over the US, which is pretty much the same thing. Linh draws. Linh draws well. Follow Linh and buy her art.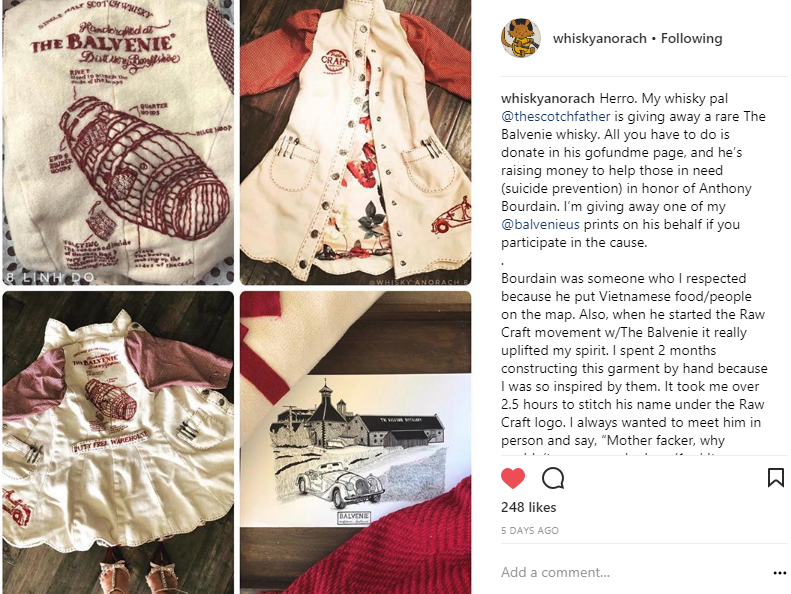 This concludes our list of Top 10 Accounts to Follow in 2018. Stay tuned as next month we will feature another 10 accounts you need to follow!