With Valentines Day around the corner, you may find yourself looking for gift ideas for your significant other, the whisk(e)y lover in your life. Spending money on Whisk(e)y does not need to be a tedious or an expensive process, if you follow our simple guide. There are usually two categories that most people fall into when you get a gift on valentines day, you either love it or hate it. So in case you're having a little trouble deciding what the perfect gift might be, we're here to help. Get ready to rock this Valentine's day.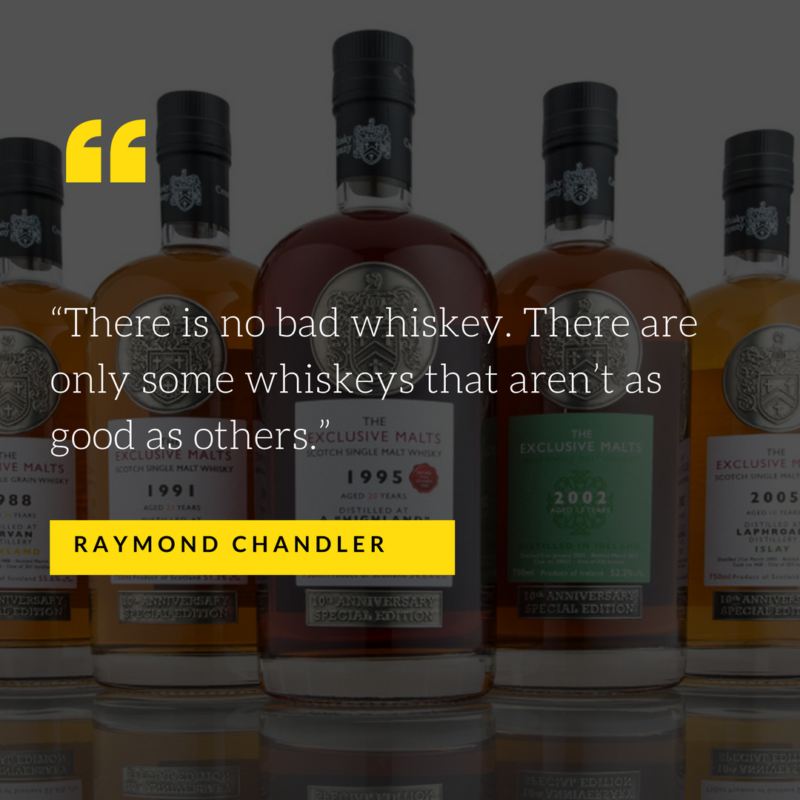 I LOVE THE SMELL OF PEAT IN THE MORNING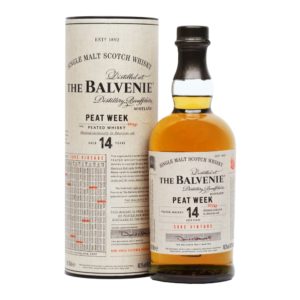 With so many different Peaty Whisky available on the market, looking for the right bottle could be too stressful. The Peat Classics include Talisker, Lagavulin, Ardbeg and Laphroaig. While these are all great and affordable gifts, why not switch it up and get your loved one something more masculine and unique.  The Balvenie 14 year Peat Week Single Malt is a great example of what entry level Peaty whisky should taste like. The peat smoke and the delicate balance of butterscotch sweetness, citrus and vanilla honey, make this whisky a stand out in the crowd. Surprise your loved one with something that is so unique yet affordable, you both will make new memories while sipping on this dram. Priced at around $89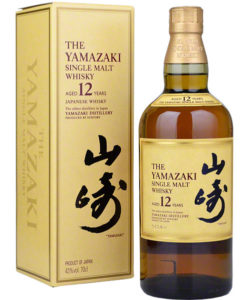 YAMAZAKI, I LOVE YOU SO MATCHA
Sometimes you want to give something out of the normal scope of known Whisky. Most people that think Whisky either think Single Malt Scotch from Scotland, or Bourbon/Rye, American Whiskey from Kentucky or Tennessee. But the world of Whisky is so much bigger than we actually realize. Whisky is currently made globally, with countries like Japan, Taiwan, India, South Africa, Australia and others producing world recognized spirits. The  Yamazaki 12 is a classic entry level staple in the Japanese Whisky Market. This nutty and zesty almost citrus like whisky, is elegant and not presumptuous. Its delicate on the palate and offers a nice balance sweetness from the tropical fruits to the floral sweet finish at the end. Give your loved one a little bit of culture with this beautiful Japanese Dram. Priced at around $99
LET'S HAVE A SHERRY GOOD TIME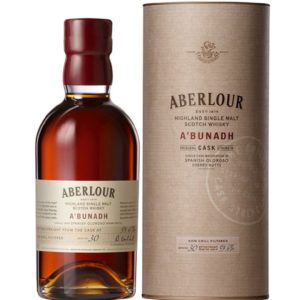 Sometimes you might want to give your sweetie, well a sweet Whisky. Nothing is better than a Sherry bomb. Now, don't get me wrong, not all sherry bombs are created equal, but for the most part, anything with a Sherry finish, will be the opposite of the Peaty Monster counterpart. There is a difference between fully sherry matured whisky and those that are finished in sherry casks. Without going off on a tangent, let's just stick to whisky that has been finished in Sherry Casks. Simply meaning, once the whisky finished aging in a particular barrel, it was then transferred to a sherry cask to finish aging for a particular amount of time. (The time can vary based on the distillery and the master distiller). The classic example of an affordable beautifully made sherry bomb, would be the Aberlour A'bunadh. Bottled at Cask Strength this beautiful dram is matured in Oloroso Sherry Casks and has notes of orange, allspice, dried fruits, dark bitter chocolate, butterscotch, sherry and oak. These notes playfully exercise fully on your palate and express a rich and mellow flavor. Priced at around $89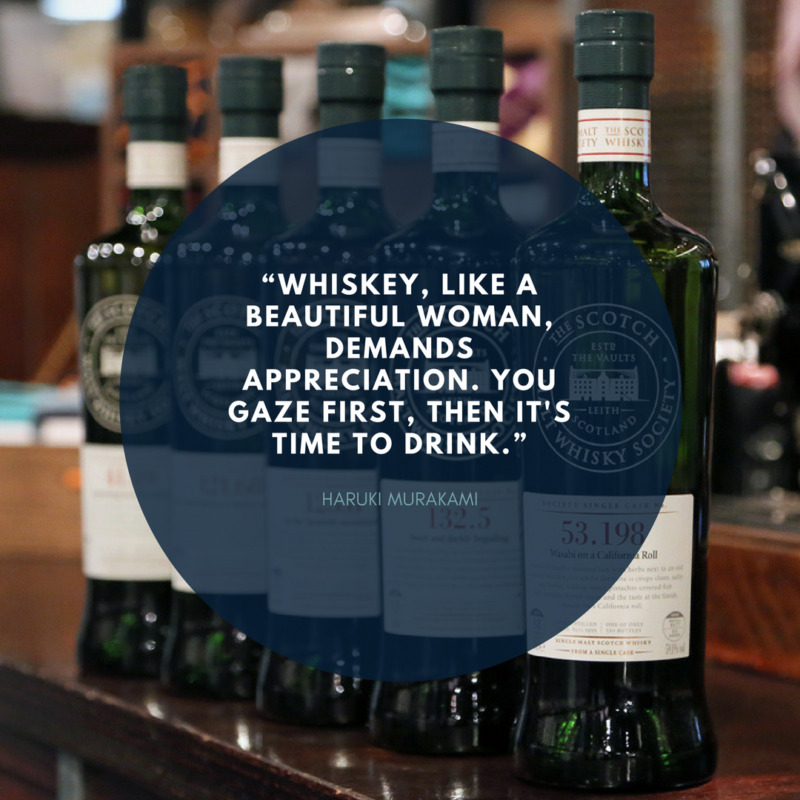 YOU KNOW WHAT RHYMES WITH WHISKY? THE SCOTCH MALT WHISKY SOCIETY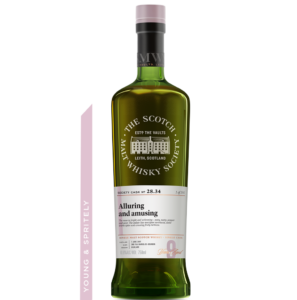 Now if you really wanted to leave a special impression on your loved one, you might consider opening your wallet a little wider ajar and picking up membership to the US Scotch Malt Whisky Society. Now you could be saying to yourself, why would I do such a silly thing, pay $99 for membership and then another $110+ for a bottle. How is this affordable Gene? Well, simply put you get more out of the membership in the days to come, not just Valentines Day. Why not kill two birds with one stone ? Or don't kill any birds and just get some really special whisky. The Scotch Malt Whisky Society, on a monthly basis releases some rare limited amount of whisky casks, that once they are gone, they are GONE! No coming back, no releasing in the next few years, they are gone! For the gift, I would go with Cask No. 28.34 – Alluring and Amusing. This cask comes from Tullibardine distillery with notes of floral meadows, marzipan and nougat with pear ice lolly sweetness. Think apple turnovers and pistachio. Beautiful cask worth giving to your loved one. And with the one time membership fee you can come back monthly, and pick up other drams that are as lovely as the one you'll gift. Priced at $100 + Shipping.
COFFEE BY DAY, BOURBON BY NIGHT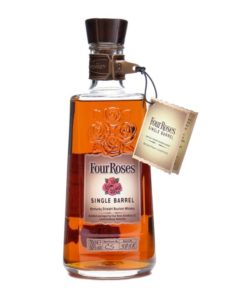 If you're going to stick to American Whiskey, there is nothing better than a classic bottle of Bourbon. Bourbon is a type of American Whiskey, barrel aged distilled spirit made primarily from corn and must be aged in new charred oak barrels. Now that we got the history lesson out of the way, I would personally go with the Four Roses Single Barrel Whiskey. Not only is this bourbon affordable, it's full bodied and complex yet surprisingly smooth and delicate. With Fruity, spicy, floral, caramel, vanilla and maple syrup notes, this bottle is robust in flavor, with a delicate and smooth finish. A great gift for an everyday drinker. Priced at $45.
Well there you have it. No matter what you go with, this is a great starting point to explore from. There are other spirits within each brand listed above that are just as fantastic as the once mentioned. Go out explore and pick up two bottles, one for your loved one, and one for yourself.