Alley 6 is truly a small batch craft distillery that delivers you a one of a kind experience. The distillery produces premium spirits in small batches using traditional distilling techniques. A 132 gallon Alembic Copper pot still named Horton chugs away to help create the complex spirits. Every part of the process is done right here at the distillery in Healdsburg, Sonoma County, California—from milling the grain, to mashing, fermenting, distilling, barreling, and bottling. As a grain to glass distillery, Alley 6 is focused on quality ingredients, a hands-on process and unique flavor profiles. Experimenting with every step in the process has helped to better understand the effects of subtle choices on the final product resulting in spirits with deep complexity and character unlike anything you've tasted before. We spoke to the High School sweethearts behind Alley 6 Craft Distillery – Jason Jorgensen and Krystle Jorgensen about whiskey.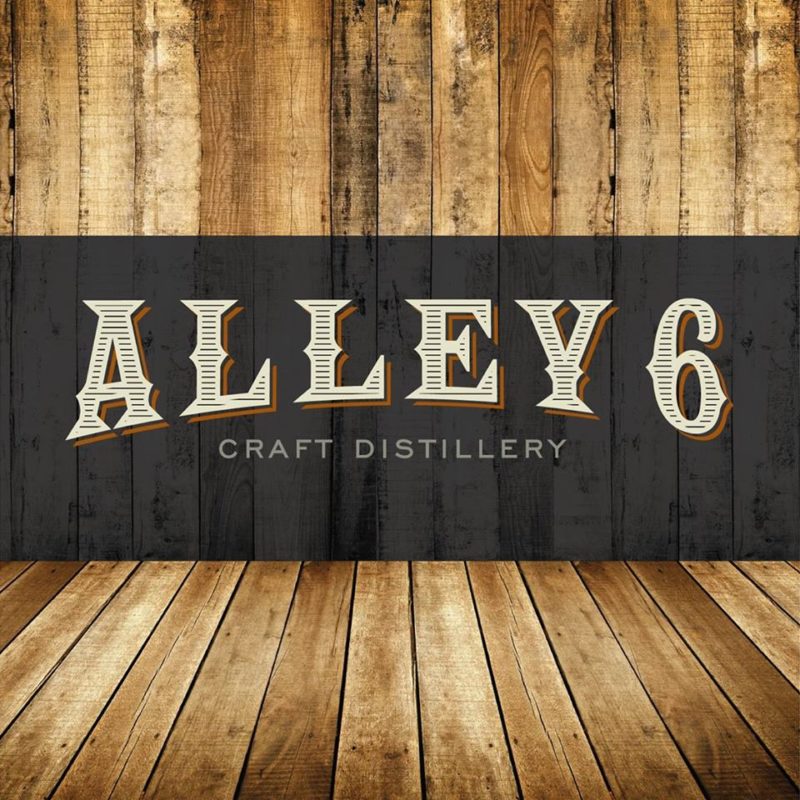 Jason and Krystle tell us about yourselves. What were you two doing before getting into the Spirits Distilling business?
KJ: Jason was bartending and has been in the bar & restaurant industry for over 15 years. He first started in restaurants as a cook and eventually got into bartending when he pestered a manager weekly for a kitchen job and he finally caved in hiring him, but did a great favor and hired him as a bar back. Soon enough, he was the head bartender and even went on to becoming bar manager at another bar. He tried his hand at a few different things along the way like culinary school, landscaping, and carpentry, but always found himself back around booze. Eventually he worked his way around to wine and passed the introductory sommelier test.
I am a designer – interior design, web design, graphic design. We share a passion for beer making and spirits, especially whiskey.
We are high school sweethearts and have been together for 19 years, married for 10. We grew up in Colorado and moved around quite a bit before finally making our way to Sonoma County. We were living in Arizona prior to coming to California. After graduation, I headed to San Francisco in 2010. Long story short, we ended up in Santa Rosa on a whim. Luckily, we were able to secure a lease in a townhome with no deposit and no jobs to speak of. From then on, things started to fall into place.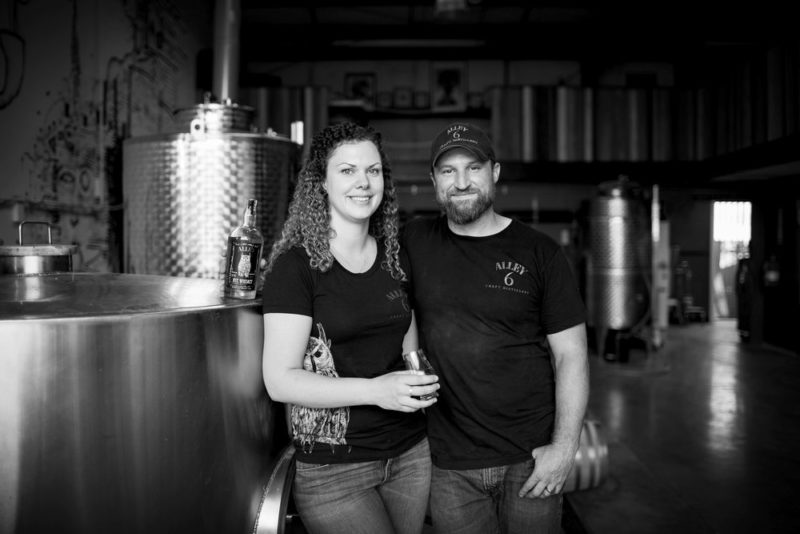 That's a great story. We feel honored writing about you guys on Valentine's day of all days. So tell us, how did you come up with the concept for Alley 6 Distillery?
KJ: After moving to California, Jason's brother gave him a beer making kit and we began making beer on a regular basis. We even dabbled in wine making. On Jason's 30th birthday, we traveled to Scotland for a research trip to see if our dream of owning a distillery was something we actually could make happen. We found that Scotland was like Sonoma County, only with whisky. There were so many selling points, we decided we had found what we wanted to do and quickly signed up for distilling seminars and courses to further our interest.
Does the name Alley 6 have a meaning?
JJ: There are just 6 alleys in Healdsburg and we live off the 6th.  We wanted a name that reflected the spirit of our small town without being readily apparent.
What was the overall vision for your distillery?
JJ:
We want to produce unique products that stand apart from the rest, that has a interesting story behind them and can be easily enjoyed by all walks of life drinkers.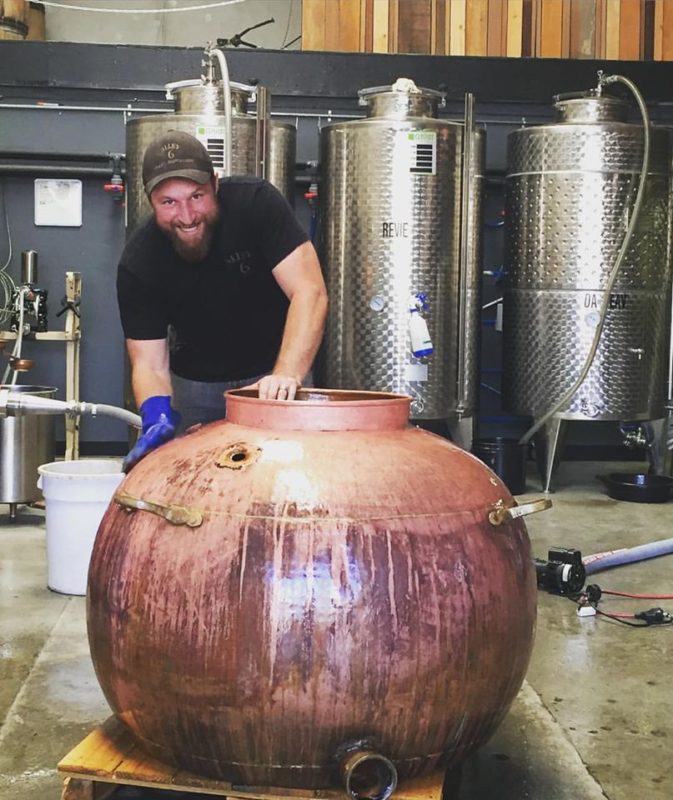 Tell us, what are typical days like for you?
KJ: 12 hours day and nine days a week we work. This is not an easy business to start up, but we fully enjoy it. We do a low and slow distillation process, so first thing is getting the still running. Having a cup of coffee and getting some office work done, then cleaning.. Lots of cleaning all the time. Never thought I'd enjoy mopping, but when it's yours to mop it seems a little more fulfilling.
Was it more of a hobby or a business venture?
JJ: Hobby in the front, business in the back.
Do you have any role models in this industry?
JJ:
Any distillery that is doing something unique and interesting, that has stepped out side the box. Willet is one of our favorites as well as corsair distillery for their unique and innovative techniques.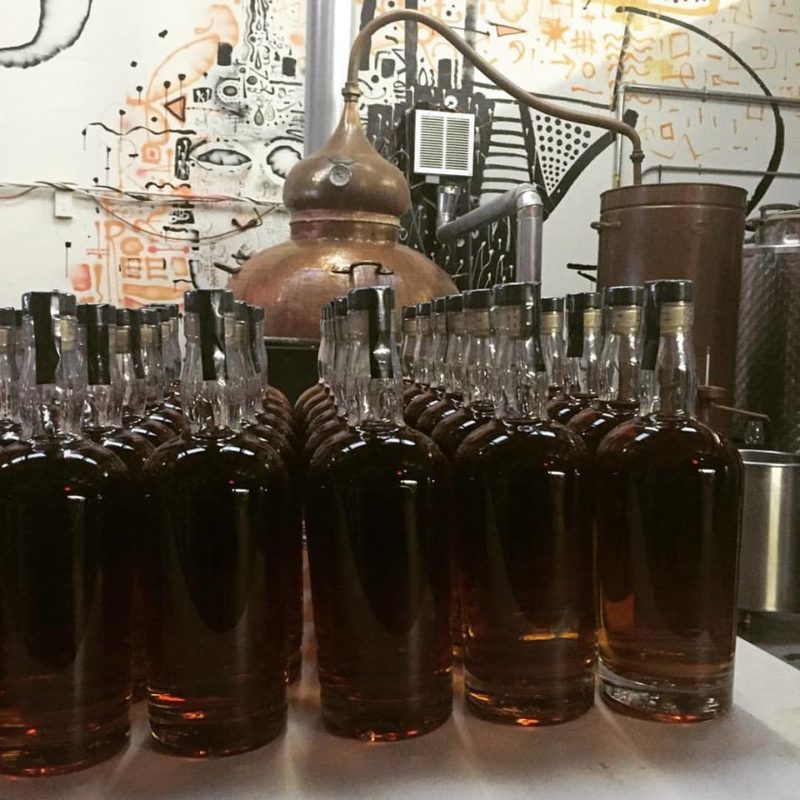 What type of Whiskey do you currently produce?
JJ: Rye whiskey, a few single malts, also we do a few gins and bitters.
JJ: We start off by milling our grain then introducing it to some hot water in the mash tun. We separate the sweet liquid from the grain like a brewery would do make a beer. Then ferment for 5 or so days. Once done fermenting we do a two distillation run, first is a stripping run that we strip all of the alcohol off the fermented wash. Collecting it then we distill it again for the final run called a spirit run. That is when we do our separation cuts of the heads, hearts & tails. When we have collected all the hearts, which is the good booze, we toss it into a 15 gallon heavy charred American white oak barrel. Then we wait for a minimum of 9 months or longer depending when it tells us it's ready. Drinking time.
What challenges (if any) did you come across when first starting out? What advice can you give to others looking to get into this business?
JJ: It turns out it's a lot more expensive than you would think. Getting the city's approval was probably the hardest thing we had to deal with. We are kind of the pioneers of our city when it came to distilling so we had to somewhat educate them and ourselves about all things flammable and seismic being that we live in a shake area.
For more information on the distillery, please visit the links below: