We setup the Instagram Influencer section of our website because the whisky community on Instagram is just so phenomenal and there are so many great personalities in this community as well. Matthew J. Ryan is one of those personalities. On instagram hes known as @Matthewjryan8137.
Matthew became a Lagavulin enthusiast and lover, which transitioned him into a serious collector. But what I feel sets Matthew apart from some of the other interviews we did, was his knowledge on the history of Lagavulin. It's quite refreshing to see this in another human being.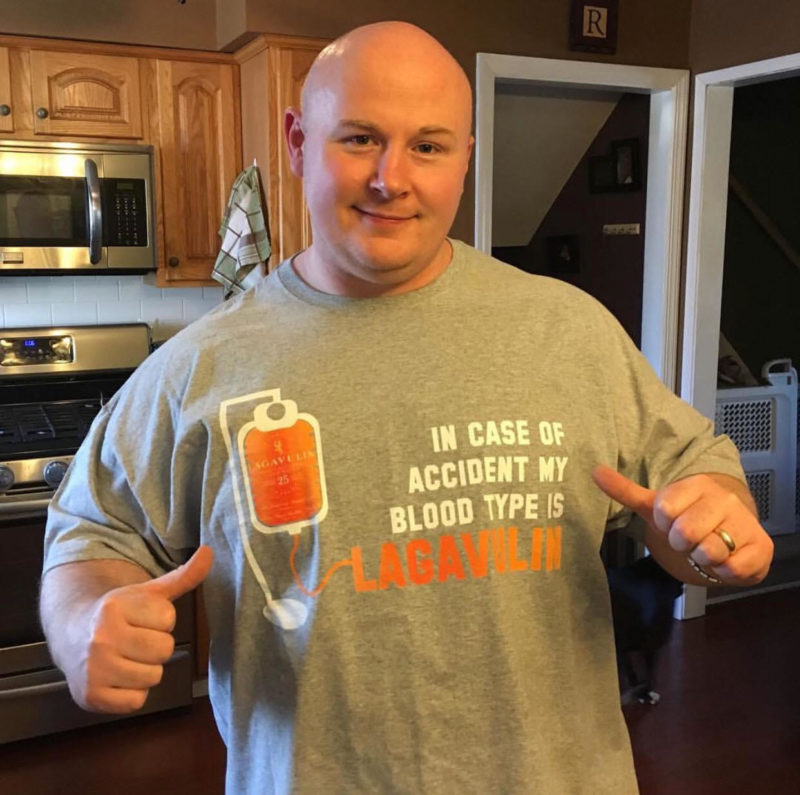 Matt, let's just jump right into this. You are known in the Instagram community as the expert when it comes to the Scotch Whisky Lagavulin. You also refer to yourself as a Lagavulin aficionado. What is it about this particular whisky that really drew you in when you first tasted it?
MJR: First of all, thank you. I feel expert is a very strong word and reserved for men and women who are at the distillery everyday but I'll take the compliment. This is going to sound sappy but can you really explain falling in love? I started out trying many different whisky's when I started to figure out what was my taste is.  I started seeking out whisky's that had the profile I liked and it led me to my first bottle of Laga 16. It was really all over from there. After learning about the rich history of the distillery, I started learning about the different offerings from the distillery (the core range, rare independent bottlings and special releases) and I just found such a rich depth of flavors and identity in the whisky. I was hooked and have not looked back ever since.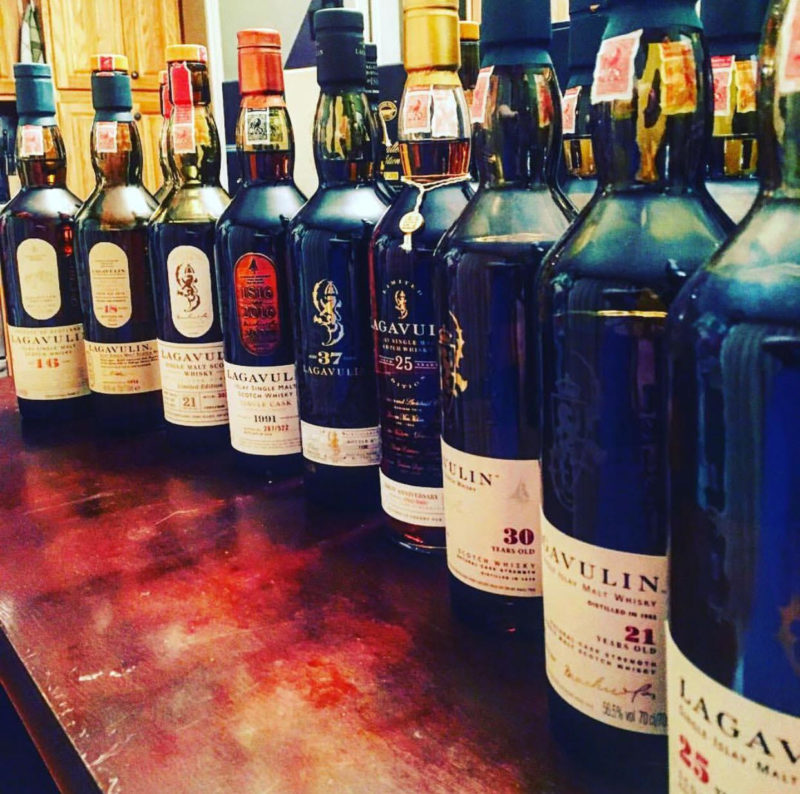 Why did you decide to bring your love of whisky to Instagram of all social channels? What is it about Instagram or the whisky community that you find so inviting? 
MJR: At first it was just the easiest. But after the last few years, it is seeing the great community of people, how it reaches people all across the world and how many people are sharing a common interest. It truly inspired me to expand my knowledge of whisky and share what I have learned with others within the Instagram whisky community.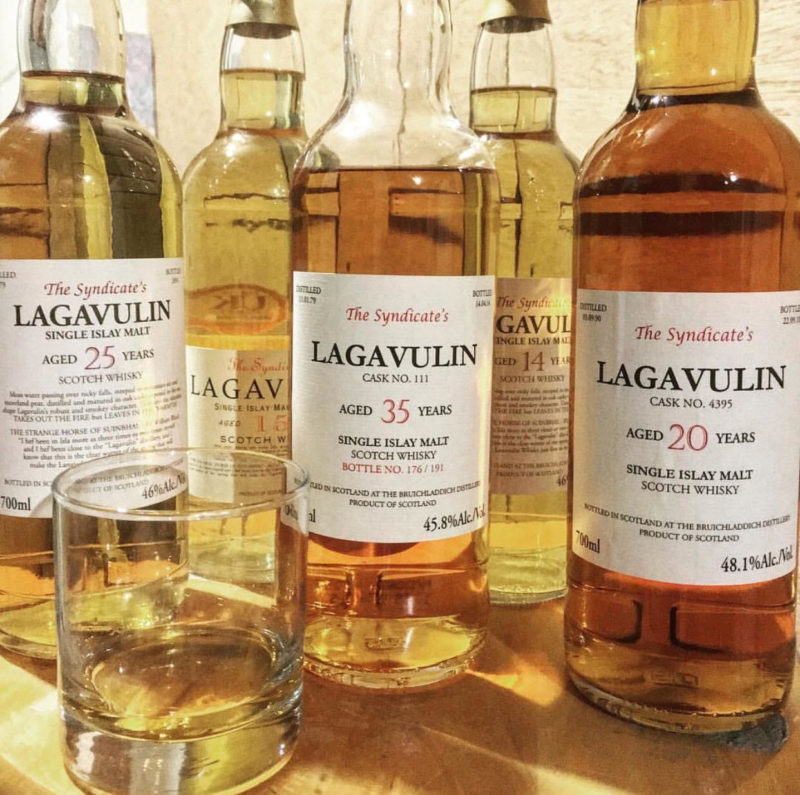 Matt, you currently own some of the rarest Lagavulin's available. You also seem to know a lot about this particular brand. Give us some interesting facts that most people might not even realize about this brand?  
MJR: Well what I find interesting is that Lagavulin up until the sixteen-year-old which was released in late 1988 there was only a 12 year old offered. For a distillery with over 170 years in operation (at the time) there has been such limited offering. It's only in the last 25 years that the brand has expanded to the Distillers edition was released in 1995, and the annual release of the cask strength in 2002, and the now permanent release of the 8 year old. The special releases and independent bottles are a product of the last 25 years.
How do you go about sourcing some of these rare bottlings? Do you get them from auctions or trades, maybe some duties you find in the stores?
MJR: I have found that for the rarer stuff you need to watch the auctions every month: it's the best way to find older and discontinued vintages. They have been kind in the last few years, but prices in the last few years  for older Lagavulin's have just skyrocketed. The Instagram community has been instrumental in my sourcing bottles from all around the world.  Making friends goes along way. I like to cold call liquor stores all around the world- their website may say out of stock but there have been times it's not the case.  I have scored some good, hard to find bottles at more than decent prices. And a kind conversation goes a long way.  They remember you.  If it's something they know you called for and it has come into the store, they give you first crack at it. It's a beautiful thing.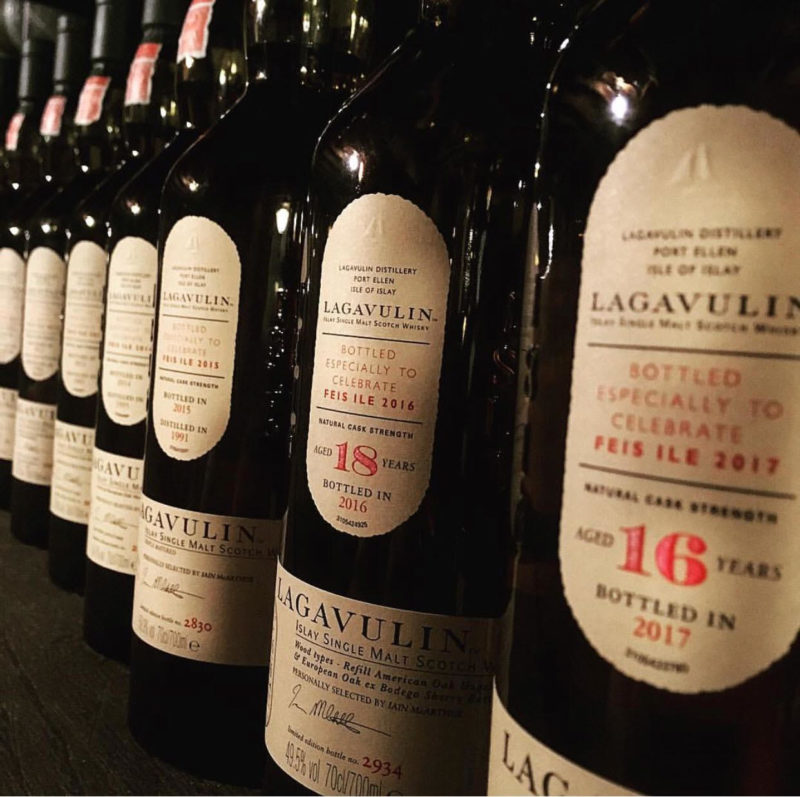 Besides Lagavulin, what other brands do you find interesting and you personally love to collect.
MJR: A close second for me is Talisker. I love the quality and profile the distillery has to offer.  I feel the Talisker 10 is one of the best values for single malt according to price.  Beyond that I have a particular palette.  I enjoy quite the phenolic, smokey, peaty, dirtier kind of whisky, so I search out whiskies with that kind of profile. Single cask Bowmores of the early 2000s are particular of that quality, and single cask Laphroaigs. They share that beautiful quality that Islay has to offer.
We've had the pleasure to try some cask strength 21 and 25-year-old Lagavulins. They were just phenomenal. I am sure you've tried even more than we can fathom. Based on that, what is your favorite release and why? 
MJR:  There have been many awesome single casks and other vintages I can talk about but my love goes to the 2012- 21 year old special release.  To me it personified the exact qualities I enjoy in a whisky and what Lagavulin is to me.  I can write paragraphs about this dram.  I even had a painting of it made of it for my house. Yes, the nose is aromatic and beautifully phenolic, the pallet is oily mouth coating rich with minerality, flavors of rich sherry-soaked Tabaco, herbs, tar resin, on and on.  I can taste it for hours after done drinking.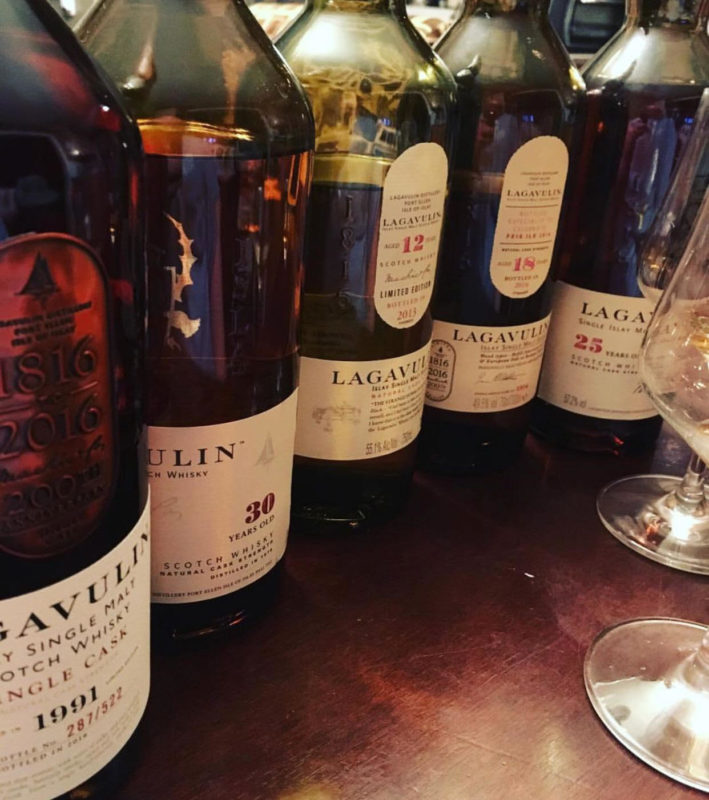 If you met the Master Blender for Lagavulin right now, and had a few minutes to speak with him about anything at all, where would the conversation go?
MJR: WOW maybe one day! I would love to talk about cask management and how casks are sampled and vatted to maintain consistency with each release. It has always fascinated me the amount of planning has to go into an ongoing release of whisky such as the Lagavulin 16 to sustain global demand of such a well-aged whisky.
Matt, you seem to be a pretty big guy who goes to the gym to lift heavy things. Does the whisky stand in the way of exercise, or can you do both in moderation?  
MJR: I guess everything is in moderation. Maybe. If I know I'm going to plan a tasting, it's always on an off-gym day.  When I usually get a new bottle I like to spend time with it. I rarely taste a new whisky back-to-back.  I keep tasting sessions small and spaced out that way they don't interfere with each other.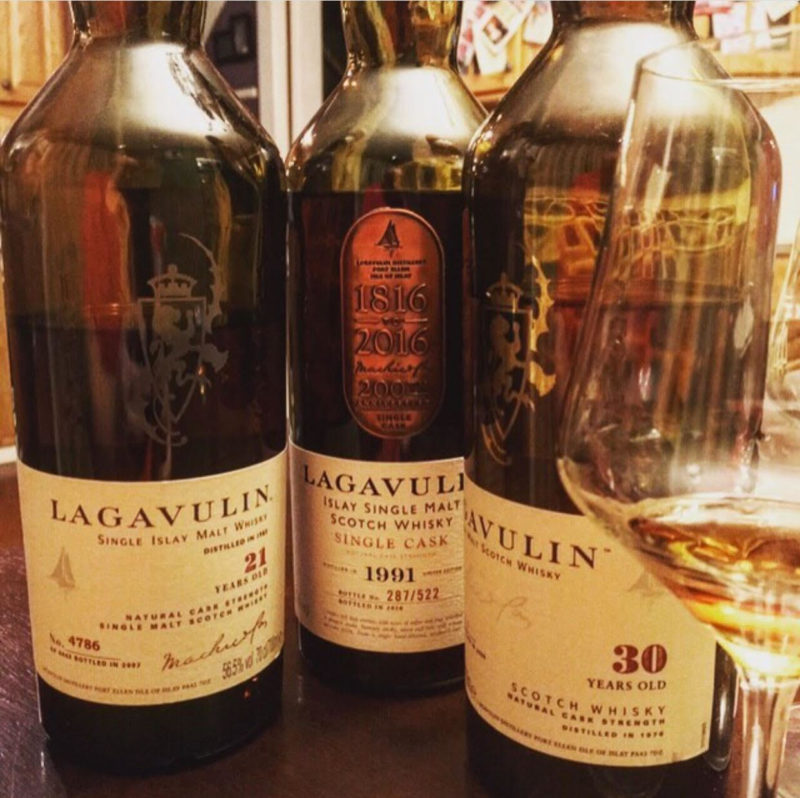 Let's get a bit personal. What would you say is your guiltiest pleasure?
MJR: I think we're talking about it, I like to think I take pleasure in the small things in life. But I say it in my Instagram profile…family…Lifting heavy…scotch. I'm a simple man.  I stick to those things and I'm very happy with that. Just being honest.
Are there any Lagavulin's that you have a multiple of?
MJR: Most LOL.  But the one I have the most of is the anniversary 8yo. When it was released, they said it was a limited run so I was grabbing as many as I could. I have about 30 maybe more lol   I'm glad it's now a part of the core range.
Give us your unicorn list from 5 to that 1 bottle that you absolutely need in your life and one day will have. 
MJR:
5\ Talisker 34yo Boat Case 2011
4\ Lagavulin 38yo The Syndicate 2017
3\ Talisker 40yo 2018
2\ Lagavulin 12yo 1960s Spring Cap
1\ Lagavulin 23yo Casks of Distinction 2016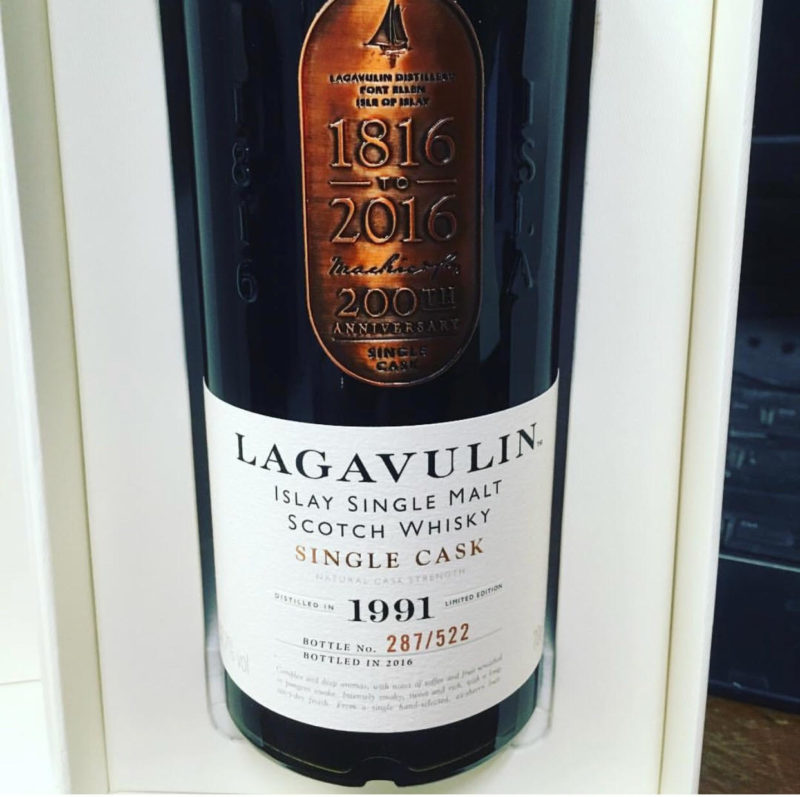 Anything else you'd like to share with the followers
MJR: Stick to what you love and don't let others influence you in a negative way.  If you're passionate about something, run with it.