Manatawny Still Works was developed to produce world class spirits with character in small batches. Our distillery is modern, but our practices are based on old world production with a reverent nod to the history of the region. From the Lenape Indians, whose name for the nearby creek we borrowed for our distillery to historical figures of importance, for whom we named some of our very first spirits. The spirit of Manatawny is focused on quality, but rooted in the past. We spoke to Randy McKinley the President of Manatawny Still Works and Max Pfeffer the Head Distiller about what it takes to make it in the whiskey business.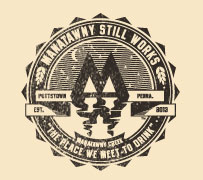 Max, Randy, tell us briefly about yourselves. What are your backgrounds before Manatawny Still Works?
RM: In a nutshell…I went form "shoes to booze" – I was in the shoe  business for over twenty years with companies like Champs Sports, AND1 – The Basketball Company, and Triple Five Soul Footwear.  At the time,  I was with BEARPAW Footwear, running their Marketing and International Business – working out of my house, traveling, and loving life.  Building a great brand and fighting the good fight against the big brands.   
I've been friends with John Giannopoulus – the owner of the Sly Fox Brewery for years – seems like forever,  he came to me one day and said, "…hey, do you wanna run a craft distillery" – and as they say, the rest is history.   It's been a blast, building something from the ground up, learning as we go, making mistakes and falling down  – learning from those hurdles and overcoming them. To sit back and see what we've accomplished so far feels great, but we know there's still so much more to do.
MP: I was once primarily a beer guy.  I graduated from Penn State with a degree in Chemical Engineering.  I had gotten into home brewing there and when it came time to find a job, I decided to put that off for a little longer and instead I found the Master Brewer's program at UC Davis.  That was a pretty intensive course on all aspects of beer production.  With my education I was able to get a job brewing for Victory Brewing Company.  After three years there I moved over to Sly Fox Brewing Co.  After three years at Sly Fox that is when I turned to the whiskey side.  One of MSW's original founders, John Giannopoulos is also the COO at Sly Fox. 
One day I was running their fancy German brew house when John called me into his office.  I remember being nervous because that was not a normal occurrence.  I sat down and he got right to it.  He asked me "Hey Max, I am starting a distillery, want to run it?"  I was speechless at first because I had never distilled before and while I knew a lot about beer, I knew nothing about spirits.  The only thing I could muster was an "uhhh yes, but John I do not know how to distill."  He just said "ehhh, you'll learn." And that is how I got into the distilling business.
Wow seems like you both just took hold of a great opportunity that seemed to have paid off. So tell us Randy, what was your vision for Manatawny Still Works? Did it come to fruition smoothly, or were there bumps and challenges on the road? If so, can you tell us about some of the challenges you faced?
RM: Wow…thank goodness I've forgotten some of those bumps and bruises. The key is to learn from them and move on quickly – not to let them hold you down and look at them as obstacles. As a start up – you've got to keep pushing forward and not let those things stop you. We were so naive at first – make good juice and everyone will want it. We thought we'd be selling cases of our spirits to bars and people would come from miles just to get our spirits. Oh were we wrong – the idea of locally distilled craft spirits is still so new to most consumers…it's all about educating them to the fact they have choices, "…they don't have to drink what they stole from their parents." For the most part – everyone makes good stuff – it boils down to creating that emotional connection with the consumer so your brand and spirits are top of mind with them.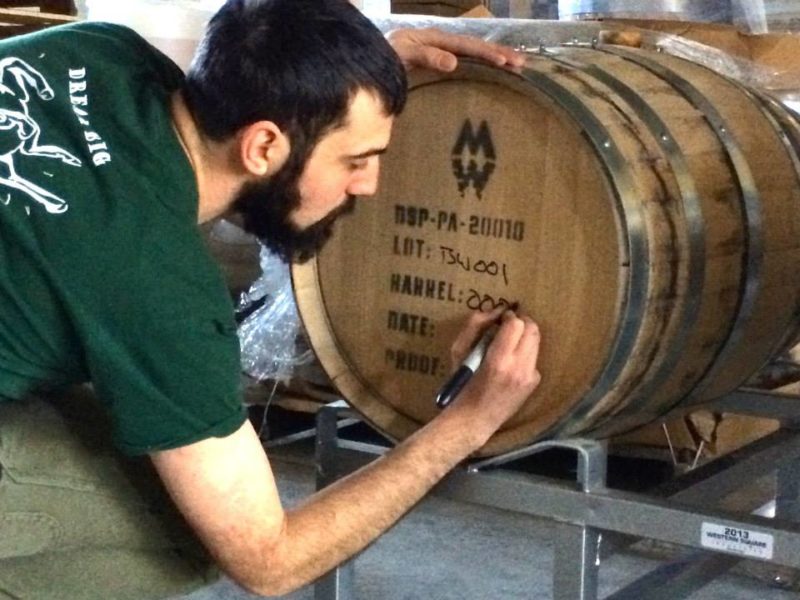 Max, what do you feel is the most important aspect of being a head/master distiller?
MP: Patience!  Especially at as a start-up you have to be patient.  Nothing happens quickly in this business, from the government paperwork, to dialing in the process, to aging the whiskey, it all happens at a snail's pace.  With that slow pace you can lose focus but you need to make sure you cross all your t's and dot all your lower case j's along the way.  I have been making Whiskey for almost three years now and it will be many more before I am going to be really happy with it.  We are yet to release our flagship whiskey, PA Whiskey, because it is not quite ready yet.  It is hard to operate a business when you have to wait at least 3 years for your primary product to be ready.  I am happy to say that we are going to release a limited amount of our PA whiskey on our three year anniversary in April.    
We cannot wait to taste it! Ok guys, tell us about the whiskey you currently produce? NAS or Aged? Sherry, Port Finish? What kind of casks, etc.
MP: We have been really focusing on craft whiskey. What I mean by that is that we do not make bourbon, rye, Canadian, Scotch, Irish, or Japanese whiskey. We make craft American Whiskey. Coming from the beer world, what made craft beer so special was that it was not like the stuff that was being mass produced. Craft beer expanded the definition of what beer can be. That is what we are trying to do with craft whiskey. Our whiskey is not quite like anyone else's. We do a four grain no corn whiskey, malt, wheat, oats, and rye. We distill off the grain, getting our wash from Sly Fox Brewing Co. which is located across the street from us.
We are running two Barison stills, a continuous stripping column and a hybrid pot still. I like to think of our PA Whiskey as a cross between Scotch and Bourbon that was inspired by Weise beer. The recipe started off as a variation of a Weise beer and eventually evolved into the four grains mash bill. It has more of a scotch-like base but it is aged in #4 char new American oak 53 gallon barrels, giving it the wood character of a bourbon. We also do our small batch series that allows me to play around with different mash bills, barrels, techniques, and time. For example our Batch 12 which is currently out is our four grain blend aged in used 30 gallon barrels. Our Batch 13 whiskey which will be out next month will be our four grain whiskey that was finished in a port barrel. Each one is unique and made in very small amounts. Once they are gone, they are gone for good.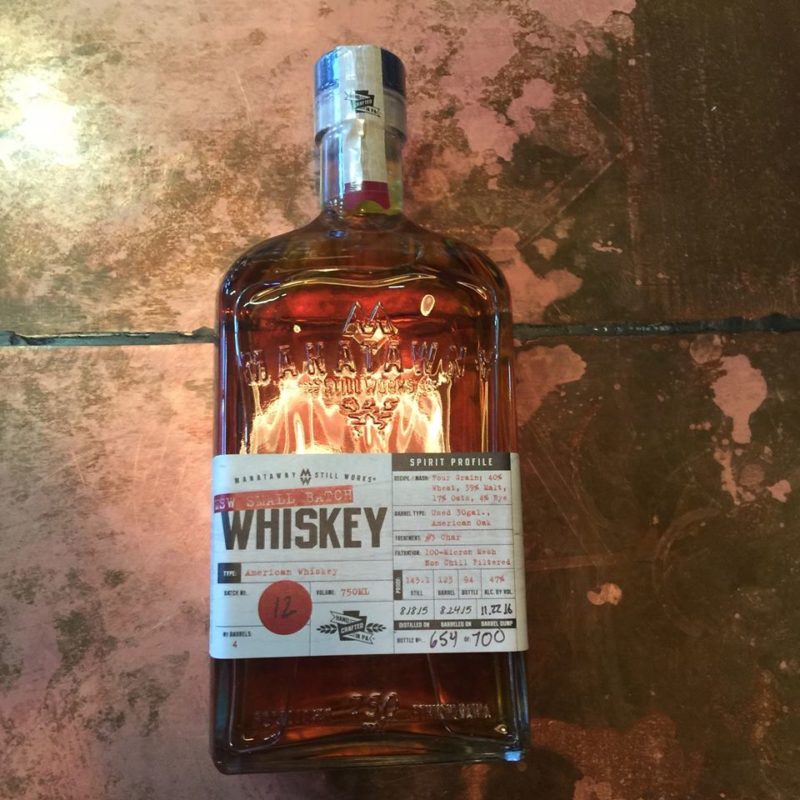 Randy, Max, what are your proudest moments at Manatawny Still Works?
RM: Opening our tasting room in Pottstown definitely ranks up there.  When we first wrote our business plan, we knew we had the ability to operate a tasting room as part of our distillery.  A place consumers could come in and taste our spirits in hopes they'd buy a bottle.   We took full advantage of the opportunity to create a destination – we're located in the middle of business park.  
Our name, Manatawny…translated to it's native Lenape Indian definition means, "The Place We Meet To Drink."   We built out the space using a ton of recycled materials – most of the wood inside the tasting room is from old reclaimed barns and buildings from the area.   Our hand finished copper bar really creates and inviting environment for customers to sit and enjoy a variety of our signature cocktails.   We've worked hard to create a place where people can come out and enjoy each others company.
---
"As a start up – you've got to keep pushing forward and not let those things stop you." – Randy McKinley
---
Randy, can you describe your role with the Distillery?
RM: You name it…and we do it.   Our approach is "…the works gotta get done so it's all-hands-on-deck."  Directly, I oversee the sales and marketing for the company – working with our distributors, the PaLCB, and on-premise accounts.   I try not to interfere with Max and the actual distillation process but I have to admit, I love it when he ask me, "what do you think."
Have you guys always been whisky drinkers? First Drams every tried? 
MP: I grew up in a Dewar and soda house hold but I was mostly a beer guy until a few years ago.  I had my first proper dram when my dad let me try his single malts.  I believe it was a Macallan 12.      
RM: Growing up in the south – it was Jack.   Back in my shoe days, I was a Crown & Ginger guy – it was kind of my go-to cocktail.    I guess if I had to say the "good stuff" – it was with Max – educating me as we were building out our space.
What is your everyday go to whiskey, besides your own?
MP: I like strange whiskey.  I take pride in the diversity of my liquor cabinet.  Lately I have been enjoying a Glenfarclas 12 and Anchor Steam's Old Portero 18th Century Style Whiskey. 
Describe your whiskey in 3 words.
MP: Craft American Deliciousness
RM: Taste The Difference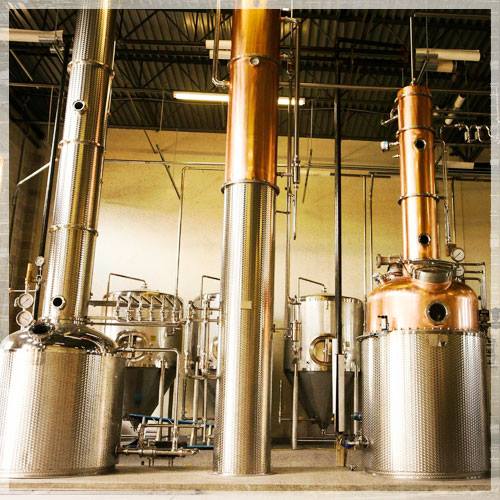 What are the most important factors affecting whisky distillation? How do you ensure that these are carefully balanced to produce a consistently high quality product?
MP: This is a tough question because there are so many critical points along the way when making whiskey.  I would however like to shine the spot light on yeast.  Yeast are the most underappreciated thing in the whole process.  Without yeast all we have is sugar.  Yeasts ability to turn sugar into ethanol rivals the ability of a pig to turn an apple into bacon.  But yeast do so much more than just make ethanol.  All the other organic compounds from esters to phenols help make whiskey interesting even if it is much more subtle than the grains or the barrel.  
How do you stand out in this highly competitive craft whiskey market?
MP: We don't make bourbon or rye.
RM: You gotta get out and talk to people – making good juice won't cut it – there's too much competition.  You've got to spend time in the market and get to  know your consumers.   They're looking for something and love the fact that you're willing to put in the effort to get to know them.  You're not going to see the big guys out and about in the local bars in Pottstown, PA – Cherry Hill, NJ – La Plata, MD – just to name a few.  I love spending time talking to people. 
Is there anything else you'd like to share with our readers?
MP: Drink PA Whiskey!
RM: "…try it, you'll like it – taste the difference."