Tastethedram had the pleasure to speak to Brad Irwin, the founder of the Oregon Spirit Distillers.
Oregon Spirit Distillers was founded on a dream to do what we love resulting in an end product that shows the integrity and playfulness of our work. We sought to create spirits that bring an experience to the consumer, which we can be proud of and excited to share with them. From the beginning we wanted our spirits to participate in the cocktail and we think that they do that well.

Brad, tell us about yourself. How did you get into this business, the whiskey business?
B: I was a bartender for many years.  I love Whiskey, particularly American Whiskey.  My fascination was in the different nuances and how I did not have a preference between many whiskeys even though they taste very different.  In order to further my education about whiskey I started researching different production methods and grain bills.  I was trying to identify what made each whiskey flavor profile unique.
That's very interesting Brad. so what was your vision for Oregon Spirit Distillers? Did it start off as a hobby or a full fledged business plan?
B: So why wouldn't you start up a little home still, purely for research purposes of course. I was not intending to start a business, I was just trying to investigate flavors and not burn my house down. I found out that I love the fermentation/distillation process. It is part art, part science, and it makes whiskey, what is not to love. I started thinking about what a business might look like. Is it feasible? What are the resources that you need to make great whiskey? Well, you need great grain, you need great water and you have to have a spirit or passion for making excellence. Oregon has all of these things!
Give us a bit of history on the Oregon Spirit Distillery. 
B: We are a grain to glass distillery.  We do not contract out the mashing or the distillation.  We know others do and that's OK.  But making it from the grain is what what we do. 
We spent 2007 and 2008 in planning.  We got our license in 2009.  We immediately started barreling whiskey.  For the first 2 years I kept my bartending job at night and distilled all day. My wife had a day job and helped with the books and accounting at night.  We were in a 4000 square foot industrial space for the first 4 years.  At the end of 2010 we released an Absinthe called Wild Card and a Genever called Merrylegs.  They are both awesome and we still produce them today.  
In 2014 we purchased the 3 building space we are currently in.  It took 2 years to build, but it is fantastic. We added production space, and a great deal of barrel storage space.  Our tasting room got bigger and brighter and we were able to add the Barrel Thief Lounge.  It is a 45 seat bar and restaurant with cocktails and fantastic food.  It has a viewing window of our production facility, so you can watch the whiskey being made while you drink a cocktail made with it.  Plus it is fun to watch other people work.
It is fun Brad! Your ingredients, are they all sourced locally?
B: Using the local agriculture is very important to us. We work with a local farmer broker who sources or grows all of the grain that we use for our whiskeys. The wheat, rye and barley is grown here in the Oregon's high desert, and the corn comes from the wet side of the mountains in the Oregon Willamette Valley. All of our water comes from the Cascade Mountains.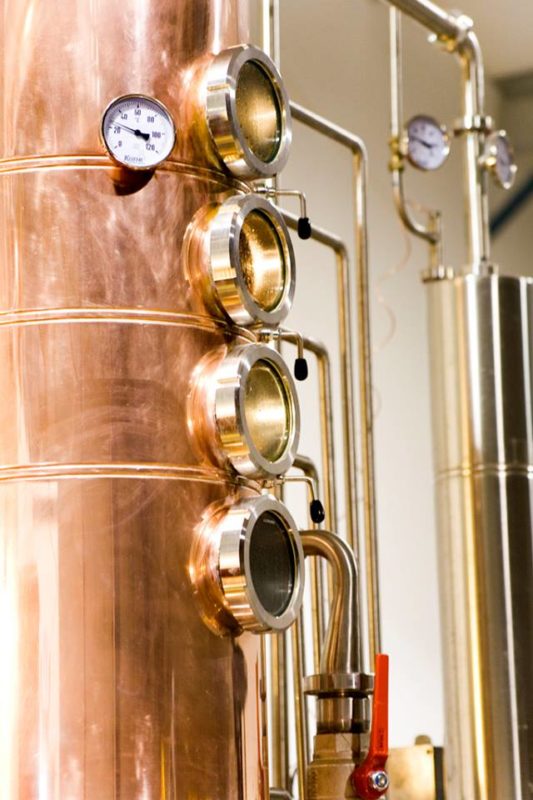 What type of Whiskey expressions do you currently produce and how are they different from each other?
B: We make 3 different Straight American Whiskey:
     1) C.W. Irwin Bourbon, released in 2013, this is our largest selling whiskey.
    2) Ottis Webber Wheat Whiskey was released in 2014.  This whiskey won a Double Gold in 2016 and a gold in 2015 from the San Francisco Spirit Competition.
     3) J. Becher Rye Whiskey was released in 2016.  This whiskey won a Double Gold in 2016 from San Francisco Spirit Competition.
If you had to describe your whiskey in 3 words, what would they be?
B:Bold, Authentic, Integrous
How do you expand your whiskey nationally? Any plans to do so?
B: Until this year we have been limited to Oregon, California and Washington.  We barely had enough supply to satisfy those markets.  2017 is the first year that we have enough inventory to release a 4 year whiskey through out the United States.  We have a deal with a national retailer that will bring us to all the major markets this summer.  We are very excited!  More information to come.
Where do you see your distillery 5 years from now? 
B: Our whiskey production determines where we will be four years from now.  We are going to make 240 barrels this year.  So we will have 240 barrels available in 2021.  We intend to continue making great whiskey and expanding.  We will continue to focus on our 3 American Whiskeys. You will also see bottled in bond expressions of each of those three.  The Bottled in Bond is currently available in our tasting room, but you will see these in the national market as well.
Let's get personal. Tell us about your first dram. 
B: In high school I watched M.A.S.H a lot.  I built my first still from parts that came from Chemistry class. Thankfully I did not have access to the internet back then (it wasn't invited yet).  I failed because I did not understand fermentation completely.  That did not prevent me from continuing to try though.
We love your determination Brad! If you had to pick one whiskey to drink for the rest of your life, that is not your own, which one would it be?
B: There are so many great whiskeys of the world.  If I had to pick one, it would not only have to be a Straight American Whiskey it would have to be Bottled in Bond.
Is there a particular flavor profile you are looking for when doing fermentation and the wash?
B: For us the most important flavors of American Whiskeys is the balance between grain and oak. During fermentation and distillation we are really trying to keep the grain flavor profile so that plenty of oak will not over power the grain.
Is there anything special in the pipeline for 2017?
B: 2017 is going to be awesome.  With our national distribution we are going to see improved packaging and some new branding.  I know that is boring but the whiskey was great in 2016 and it is going to be the same great whiskey in 2017.  For me personally I am going to continue to focus on the great team of people that we have working with us now.