It's not everyday you get to interview Brett or as most of you probably know him as the Scotch Trooper. We are very blessed to bring this interview to our readers, as Brett is someone who took his passion and hobby and turned into a living. There is a saying "When you love what you do, are you really working?" or something like that. Well, from what we can tell Brett really loves what he does. For every person out there who aspires to do what Brett does, it's pretty easy as he says "Just follow your passions and have fun, and the rest will come".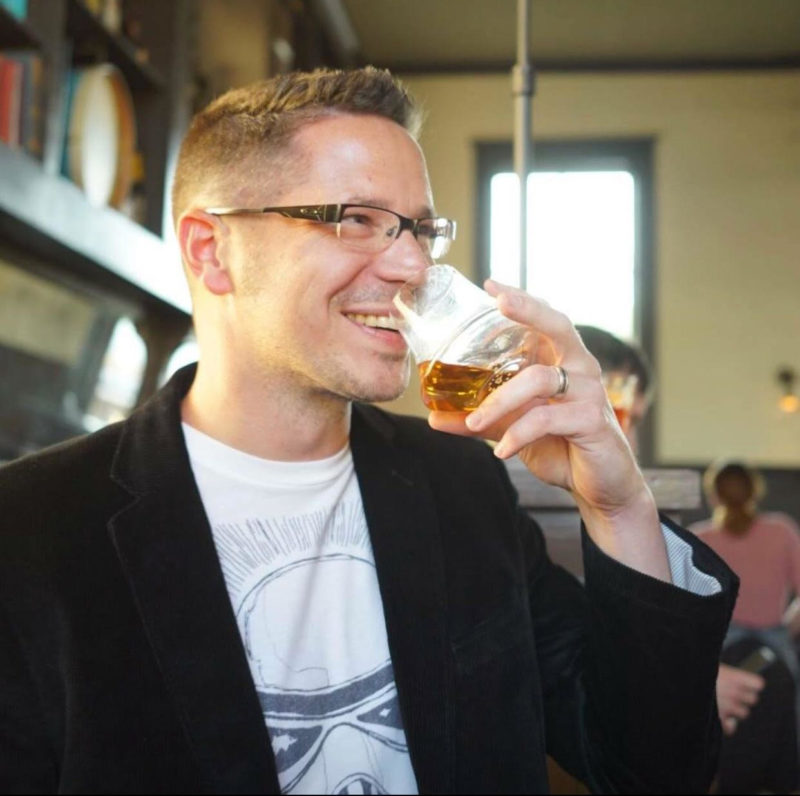 Brett, describe yourself with 3 words.
BF: Oh man… right out the gate with a tough one. I would say; Fun, Sarcastic, Nerd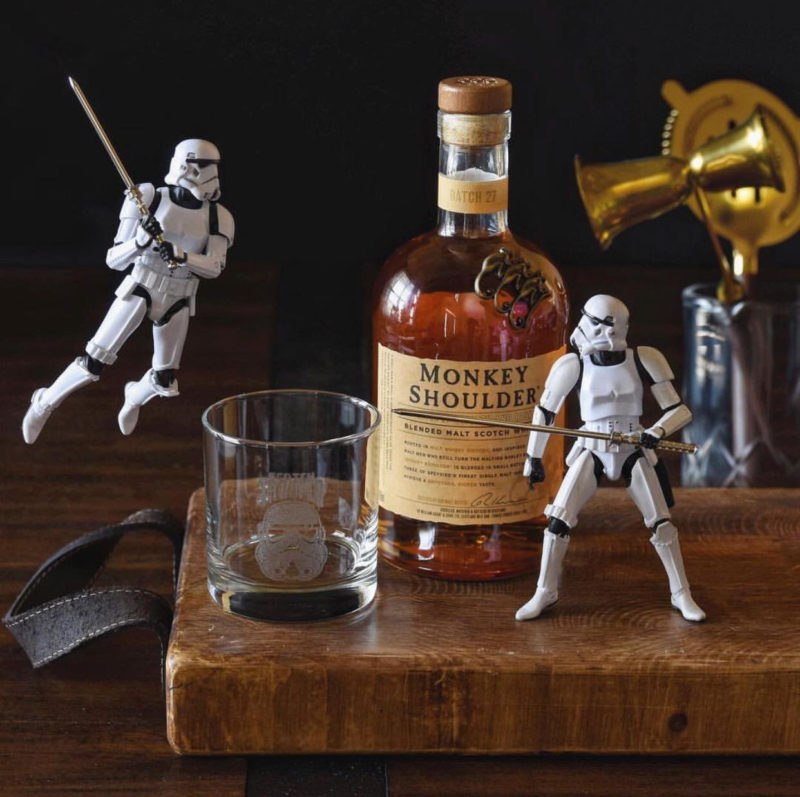 Do you remember your first dram ? Tell us about that. 
BF: I love telling that story. It's only too fitting with my love of music. A buddy of mine, who was trying to get me into whisky, and I were gifted box seats to see Rush at Bridgestone Arena. As we were sitting there enjoying the show we saw there was Glenlivet 12yr behind the bar and thought it was as good of a time as any to give it a try. It was love at first dram. I started my Scotch Trooper Twitter account that next day.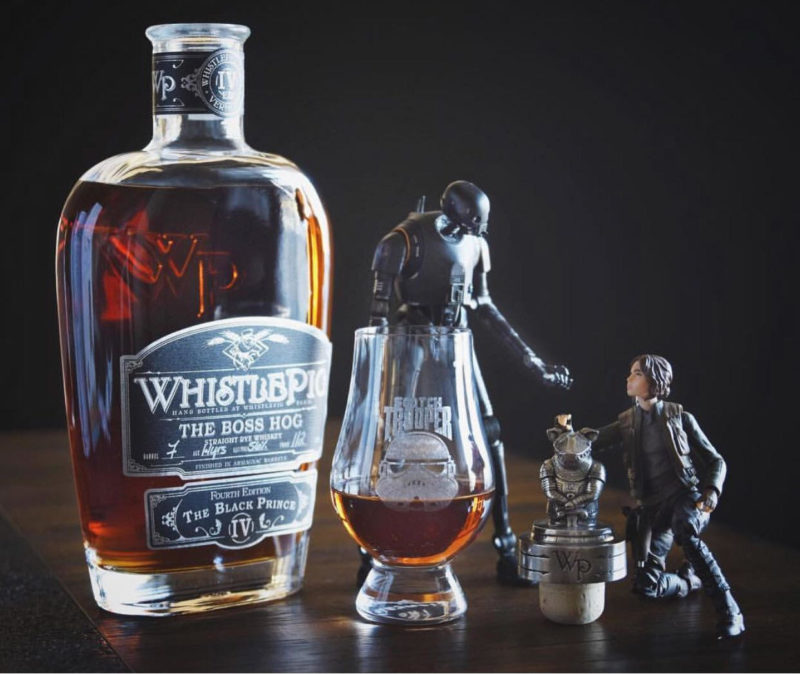 What made you decide to become a whiskyprenuer and leave the web development world behind?
BF: That was one of the best and hardest decisions ever. Between the photography, tastings, blogging, and social media management I was quickly running out of time in my daily life. Not to mention the work I was doing on the side for brands. Oh, and I had to fit my full-time job in there somewhere. Something had to give. My wife and I worked on a budget and once I landed a few extra clients found it was time to make the jump. But contrary to what people believe, it's not the Scotch Trooper side of things that allowed me to make the jump. It's more the work I do on the side that has given me the freedom to pursue this full time.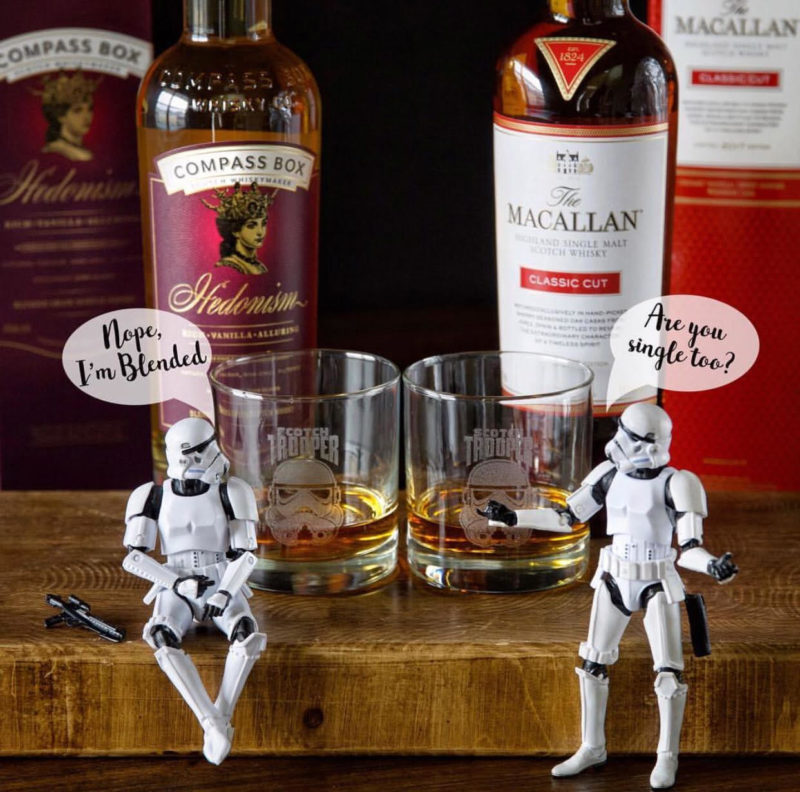 Brett, I am sure you've tasted some amazing drams. Give us your top 5 list.
 BF: This is always one of the toughest questions. Because some of my favorite drams end up being less about the dram, and more about the people I was around and experiences that surrounded enjoying each one. These are in no order of importance.
-The Balvenie 30 with David Laird at St. Andrews in NYC.
-The Macallan No.6 in D.C with some of my favorite whisky Instagrammers.
-The Ardbeg Dark Cove on a boat, in a cave on Islay with Ardbeg Distillery Manager Mickey Heads (with two seals watching us)
-Port Ellen 1979 (24yr) with Lagavulin Distillery Manager Georgie Crawford
-Glenfiddich Rare Collection 1973 (44yr) First tasted with Brian Kinsman at the Glenfiddich distillery from cask samples. Then later got to taste the bottled release in Chicago with another wonderful Instagrammers meet up.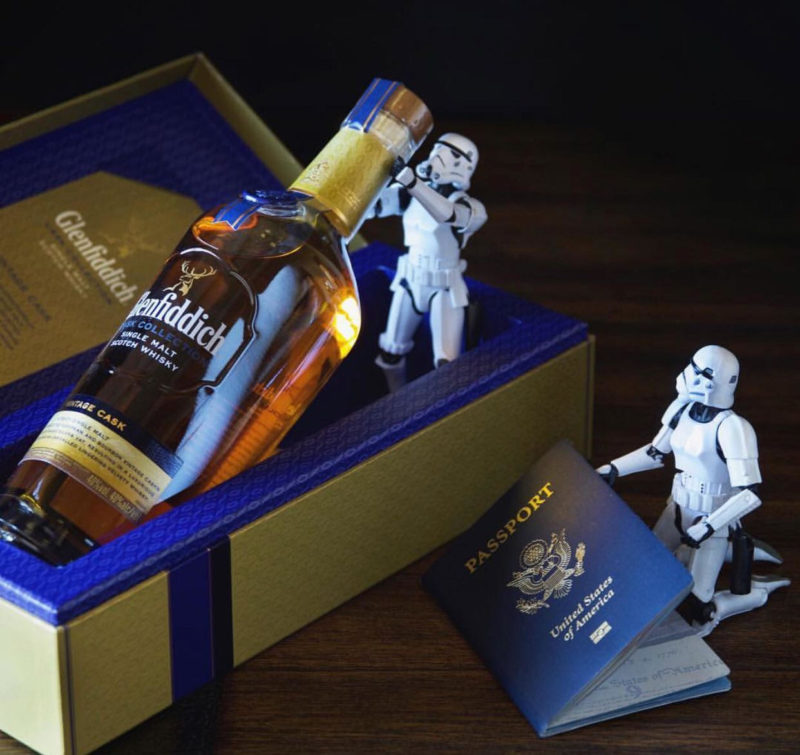 Is whisky more of a pleasure or business for you? Maybe its both ?
BF: Obviously there are moments where it feels like a business. Mainly in part because it is and I like to keep food on the table for my family. But first and foremost, it's pleasure. The main purpose of Scotch Trooper is to Entertain, Inform and Interact. I feel like I exist to make whisky fun and accessible to people who may have viewed it as an elitist and luxury item that was too serious or pretentious to get into. When that ceases to be fun, it's time to take a step back and rethink things. But for now, I am just having fun playing with my toys and whisky.
---
"But over-all, the biggest bit of advice I can give, it's not about followers. It's about what your passion can bring to the industry. Just have fun and keep posting, the rest will follow." – Scotch trooper

---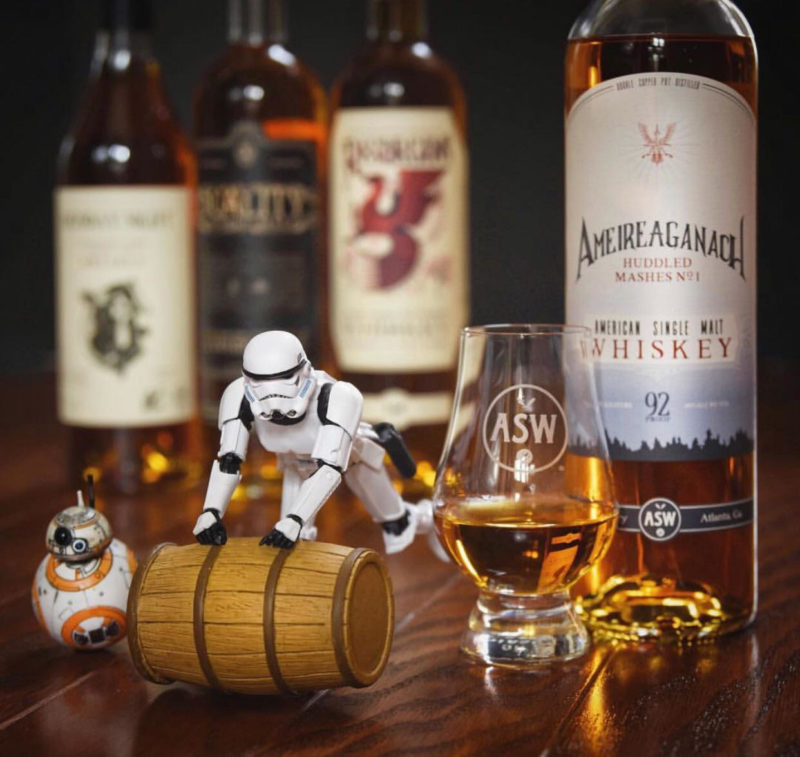 We know you're a huge star wars fan. Do you remember your first collaboration between star wars and whisky. What led to that inspiration?
BF: When I first started my Social Media accounts for Scotch Trooper it was mainly to interact with other enthusiasts using a handle that no-one would take seriously so they wouldn't think I knew anything. Because… I didn't. I started sharing bottle shots, which got some interest. But then I put one of my daughters Stormtroopers in-front of a bottle of Balvenie. Their global account shared it the next day, and I gained a few hundred followers. A light bulb went off and things just grew organically from there by trying new figures and layouts. Then I landed on the 6inch figures you see today, and have stayed with those for almost 2 years.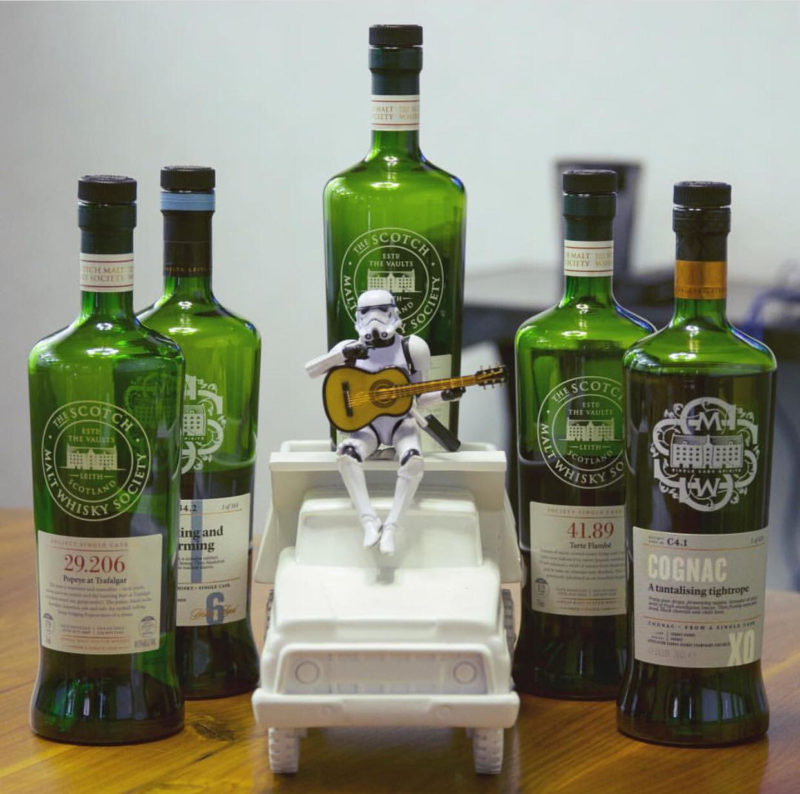 What is your opinion on the golden rule, buy 2 bottles, one for drinking and one for saving?
BF: That's a good rule if you have the money to do so. I personally only purchase one bottle at a time. Which makes things difficult at times when there is a bottleneck in my photos. I have a good collection of bottles I've purchased, but haven't opened yet because I haven't been able to photograph them yet. That said, I also believe that whisky is made to enjoy, not collect and sit somewhere collecting dust. But, that's a topic for another day.
You have become a social influencer through your instagram as the Scotch Trooper. Can you share some trade secrets with us as to how to grow a following.
BF: This is one of my most asked questions. And my advice is this… just have fun. If your #1 goal to opening an account is to become an influencer you are missing the mark and will probably be forcing things too much. But if you truly love whisky, let that shine through and find your own voice. There are so many amazing accounts out there, but right behind them are a multitude of others who are carbon copies which just ends up being white noise. But over-all, the biggest bit of advice I can give, it's not about followers. It's about what your passion can bring to the industry. Just have fun and keep posting, the rest will follow.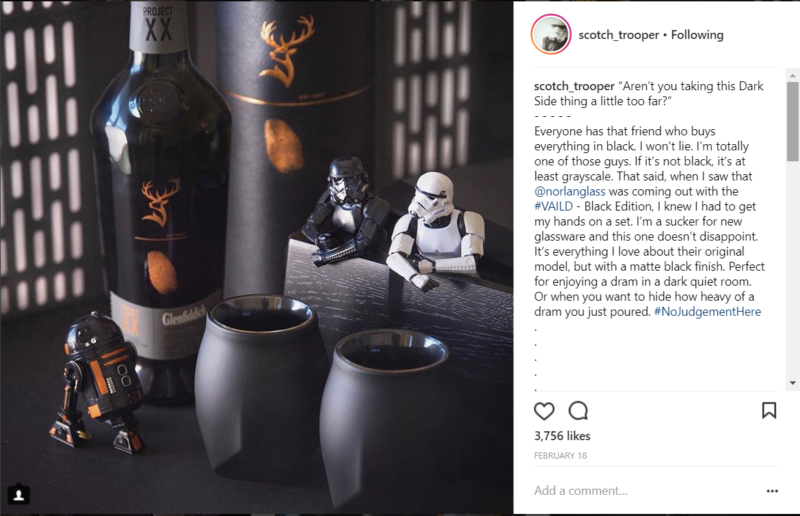 What life lessons have you picked up through running your business.
BF: Being as my business has been mainly online and through Social Media, my biggest advice is…. respect others. Whether we run an account for fun, a business, or as a brand, when all is stripped down we are all people behind a screen. Respect others first and foremost. Screen names are not a magic wall we can hide behind and treat people however we want.
How much work goes into one photo before it goes up on your instagram. Can you briefly walk us through the process.
BF: Each photo, from concept to completion takes a range of 30 minutes to 4 days. Some ideas come quick and the setup just flows perfectly and I'm almost done before even beginning. Others… not so much. Some shots I have taken a full day of photos, and hated each one. Only to come back the next day, a few more hours of shooting, and still hate every shot. Those are usually the days that every toy decides to fall, and can't get the lighting properly setup, or the idea in my head is just impossible or looks horrible… or all the above. But on an average, I would say each shot takes about 2 hours. My setups have been a bit more elaborate recently, and with building my own photo-studio, that is just going to increase. I am really excited about some of the ideas I have planned for future posts. It's going to be a great year.
Follow the Scotch_Trooper on instagram as he has many more exciting projects lined up for this year.