We had the opportunity to sample the rare and super limited edition of a new blended whisky called Son of Peat. Son of Peat was created by Flaviar for the flaviar community. The people behind the Flaviar Membership society, decided that it was time to give back to their loyal supporters aka members, by taking in their input of their favorite flavor profiles and careful and tediously putting together the perfect blended whisky that reflects these notes.
BATCH 01 is a remarkable marriage of eight of the most famous Scotch Single Malts from Islay, Islands and the Speyside region. The end result is a complex and commanding Whisky bottled at the peak of its powers—its spirit barely contained by the cork.
They treated each drop by hand to ensure the Whisky got the care it deserved.48.3% ABV strong, no added color and non-chill filtered.
Name: Son of a Peat Batch 01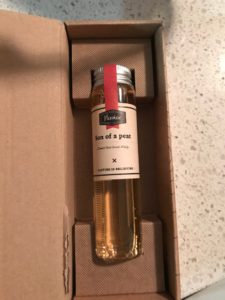 Region: Scotland
Cask Type: American White Oak and Sherry
Number of Blends: 8
Distillery: Mystery
Cask Strength: 96.6
Nose: At first we got sea salt, some smoke, wet floating wood. It was like being out on a calm sea, and having the waves splash some sea water on your boat. Calm, mesmerizing and almost luring.
Palate: At first we tasted some sweetness, almost butterscotch or caramel, or maybe a perfect mix of both. Vanilla, honeydew melon, green apples and raisins. Faint sherry, that was overpowered gently by smoke and more sea salt. Slight burn but nothing too intense. The mix of the smoke, the peat and the sweetness is a lovely marriage. If you let it sit for a few minutes, it mellows out quite nicely and the sweetness slowly recedes and allows the sea salt and smoke to become the main notes. Very interesting.
Finish: Light to medium. Slight burn and warm mouth feel. The finish reminds me as if I took a boat through the Islays, on a calm ocean and let the sea breeze just wash gently over me.
Score: 89/100